A 19-year-old teen was caught on surveillance video stealing an American flag from a Missouri business early Thursday morning — but Bill Hoaglin, the owner of Beacon Car & Pet Wash, had a better idea in mind than an arrest, KTVI-TV reported.
What happened?
Hoaglin posted the surveillance footage on Facebook, which led to people identifying Keaton Chandler, the station said.
"Keaton works the night shift at a local ice manufacturer, so he got off work and biked around my car wash, looking for loose change before he took the flag," Hoaglin told Yahoo Lifestyle, which added that Chandler lives with grandmother.
So Hoaglin alerted the Pacific City Police Department, and a few hours later there was a call from Chandler.
"He said, 'I am the guy who accidentally stole your flag,'" Hoaglin recalled to Yahoo Lifestyle. "I said, 'There's nothing accidental about stealing.'"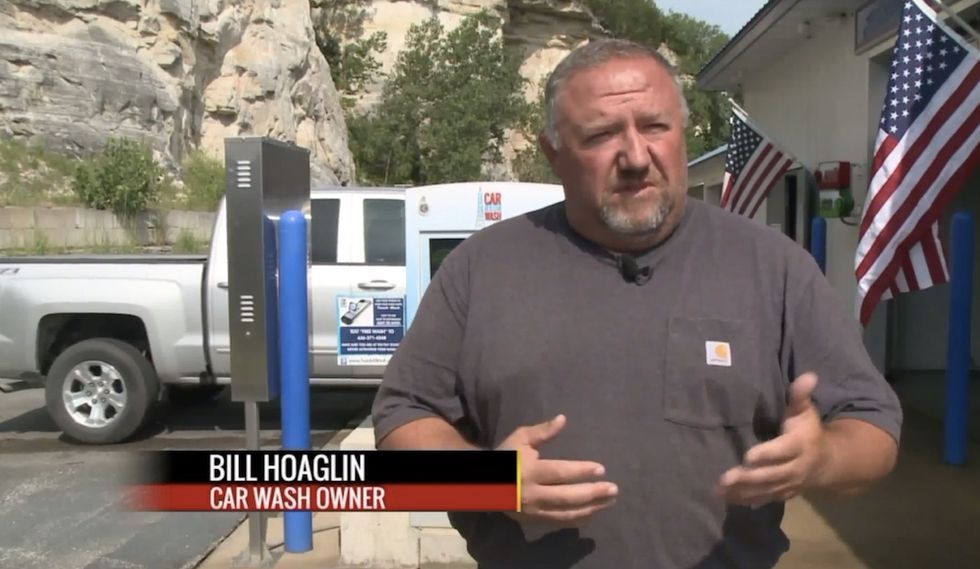 Image source: KTVI-TV video screenshot
Hoaglin told the outlet that Chandler offered to return the flag if Hoaglin removed the Facebook footage. But Hoaglin, a former cop of 18 years who specialized in community issues, offered Chandler a deal: Return the flag and avoid criminal charges by carrying out a symbolic punishment, Yahoo Lifestyle said.
"I sent my daughter to Walmart to purchase more than 150 miniature American flags for Keaton to pass out to customers," Hoaglin added to the outlet.
'I just feel this is a better learning experience'
When Chandler arrived at the car wash, Hoaglin and a police officer greeted him, Yahoo Lifestyle said.
"He apologized and said he wanted the flag to decorate his bedroom," the business owner noted to the outlet. "He shook my hand and agreed to pass out flags to avoid jail time."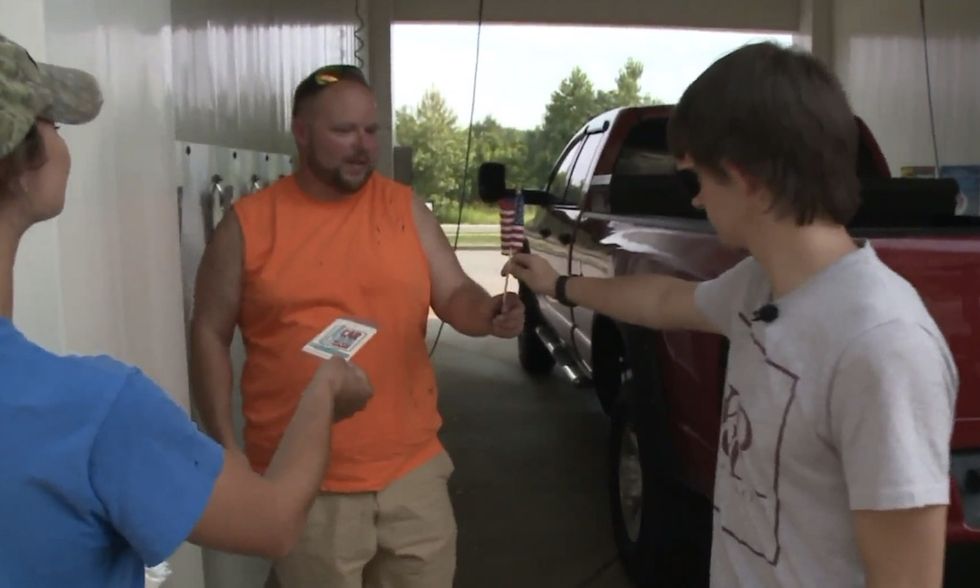 Image source: KTVI-TV video screenshot
For nearly five hours Chandler distributed every single flag to customers, Yahoo Lifestyle reported, adding that Hoaglin noted that Chandler "said he would do whatever it takes."
Hoaglin, who's also a veteran, told KTVI he wanted Chandler to learn a life lesson instead of getting arrested.
"I just feel this is a better learning experience for the young man and potentially for other people who know he is here doing it," he said.