Editor's note: This story has been updated to include LeBron James' explanation for his original tweet targeting the officer.
LeBron James publicly threatened a Columbus police officer on Wednesday, posting a picture of the officer's face on Twitter to his 50 million followers with the message, 'YOU'RE NEXT."
The image of the officer was captured from video in the aftermath of the fatal police shooting of 16-year-old Ma'Khia Bryant from the day before, when an officer intervened as Bryant attacked another young woman with a knife.
What are the details?
Bryant was shot at around 4:30 p.m. Tuesday, and can be seen on bodycam footage in an altercation with one female and shoving her to the ground before swinging a knife at a second female.
The officer responding to the scene fired at Bryant before she stabbed the second woman, and Bryant later died at a hospital.
Despite the footage showing Bryant attacking others with a deadly weapon, James targeted an officer on the scene, blasting out the officer's picture with the message, "YOU'RE NEXT" with an emoji of an hourglass and the hashtag, "#ACCOUNTABILITY."
Note: TheBlaze has edited the officer's face out of the image below.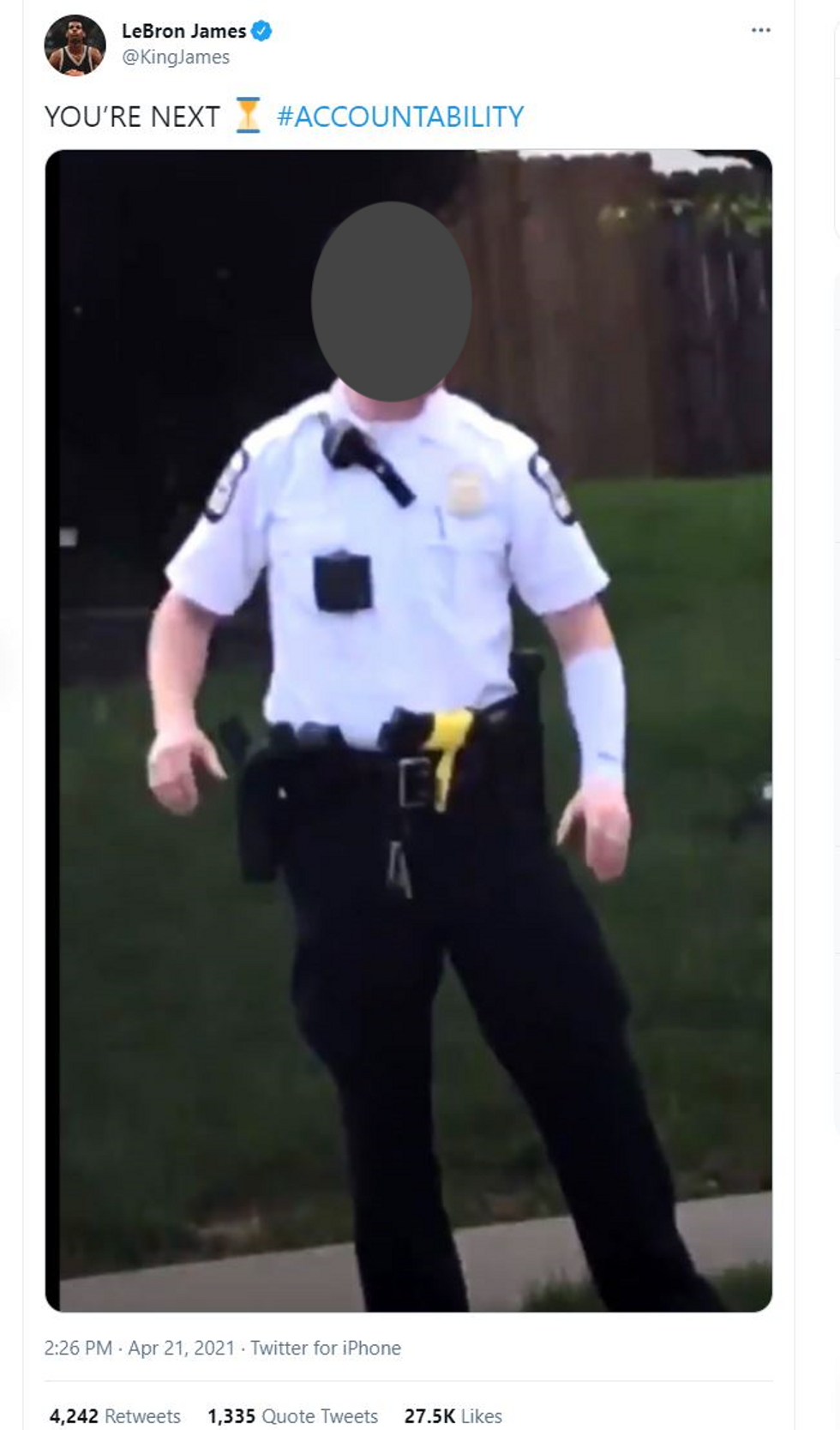 James' tweet was deleted more than an hour later, as others on Twitter expressed fury over his threat.
Sen. Tom Cotton (R-Ark.) tweeted in response, "Lebron James is inciting violence against an Ohio police officer. This is disgraceful and dangerous. Is the NBA okay with this? Is Twitter?"
Outkick founder Clay Travis replied to James, "Did you even watch the video, bud? He shot a woman armed with a knife trying to kill an unarmed person! Here's his perspective. This is even more shameful than you shutting up and dribbling for your boy Chairman Xi in China."
Conservative writer Carmine Sabia told the Los Angeles Lakers star, "You are a buffoon. He saved a black girl from being murdered. Believe me he will not even lose his job for it. He did his job. You should be in prison for endangering this man's life. Give up your police protection LeBron. Then you can allow teens to stab you if you want."
The National Fraternal Order of Police responded, ".@KingJames, with his vast resources & influence, should educate himself and, frankly, has a responsibility to do so, on the facts before weighing in. This is disgraceful & extremely reckless. The officer saved a young girl's life. No amount of gaslighting will change that fact."
Anything else?
As outrage continued over James' deleted tweet into the evening, the basketball player sent two more follow-up tweets explaining his original message targeting the officer. He did not apologize.
"ANGER does any of us any good and that includes myself!" he wrote. "Gathering all the facts and educating does though! My anger still is here for what happened that lil girl. My sympathy for her family and may justice prevail!"
ANGER does any of us any good and that includes myself! Gathering all the facts and educating does though! My anger… https://t.co/NkW6ZGJSN6

— LeBron James (@LeBron James) 1619047341.0
James added, "I'm so damn tired of seeing Black people killed by police. I took the tweet down because its being used to create more hate -This isn't about one officer. it's about the entire system and they always use our words to create more racism. I am so desperate for more ACCOUNTABILITY"