© 2023 Blaze Media LLC. All rights reserved.
Teen girl swung knife at two people before police fatally shot her, bodycam video shows
But family members of the teen reportedly said she used the knife to protect herself after adult women began an altercation with her at a foster home where shooting took place
Police bodycam video shows that a teenage girl fatally shot by an officer Tuesday in Columbus, Ohio, swung a knife at two people before the shooting, the Associated Press reported.
What are the details?
The outlet said the the 10-second clip begins with an officer exiting his vehicle at a house where police had been dispatched after someone called 911 about being physically threatened, according to interim Police Chief Michael Woods.
The officer moves toward a group of people in the driveway when a black girl starts swinging a knife at another female who falls backward, the AP said, adding that the officer shouts several times to get down.
Image source: YouTube screenshot
The girl with the knife then charges at another female who's pinned against a car, the outlet said.
Image source: YouTube screenshot
Then the officer fires four shots, and the teen slumps to the ground, the outlet said, adding that a black-handled blade similar to a kitchen knife or steak knife lies on the ground next to her.

A man yells at the officer that he didn't have to shoot the girl, and the officer is heard saying, "She had a knife. She just went at her," the AP said.
The outlet said the girl was taken to a hospital, where she was pronounced dead, police said, adding that it remains unclear whether anyone else was injured.
Police did not identify the girl or her age Tuesday, the AP said, adding that one family member said she was 15, while another said she was 16.
Fast release of bodycam video
Police showed part of the video Tuesday night just hours after incident, an unusual decision for the department, the outlet said, as it contends with public outcry over police-involved shootings. What's more, the incident took place just minutes before the Derek Chauvin verdict was read, the outlet said.
Interim Chief of Police Michael Woods told WCMH-TV the quick release of the bodycam video is an effort to be transparent with the public. He added that state law allows police to use deadly force to protect themselves or others, and investigators will determine if that force was justified in this instance, the AP said.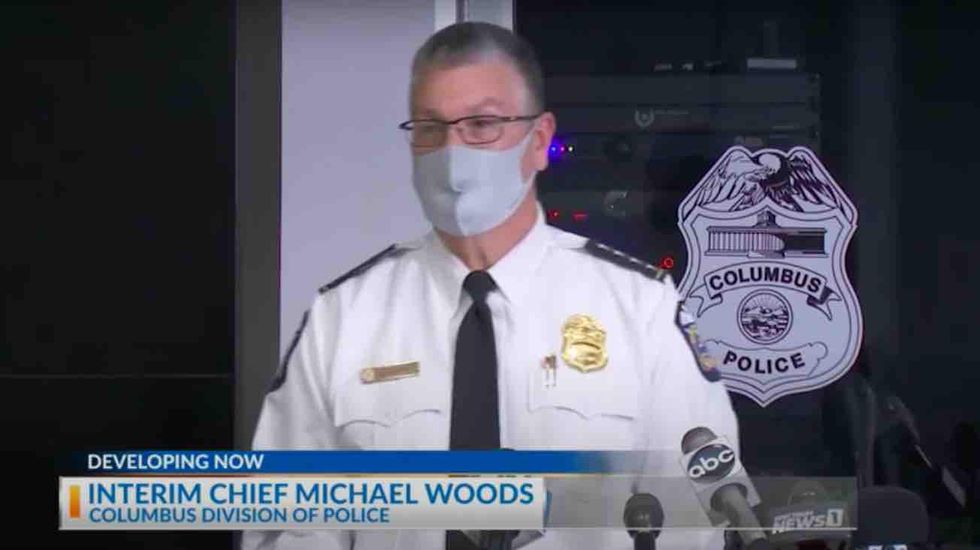 Image source: YouTube screenshot
Protest takes place
After the shooting, hundreds of protesters pushed past barriers outside police headquarters and approached officers as city officials were showing the bodycam video inside, the AP said, adding that many chanted, "Say her name!" and yelled that "she was just a kid!"
Officers with bicycles pushed protesters back and threatened to use pepper spray on the crowd, the outlet added.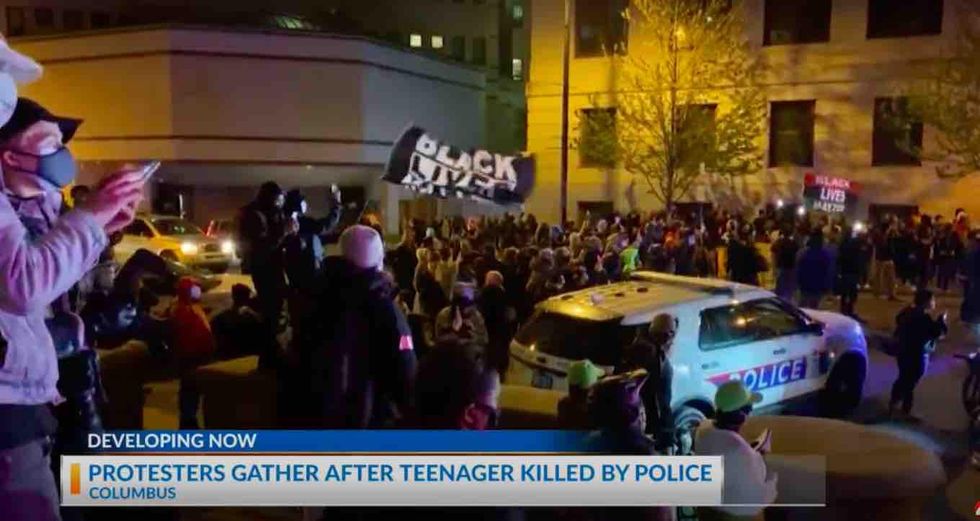 Image source: YouTube screenshot
Columbus Mayor Andrew Ginther defended the officer's use of deadly force, the AP said: "We know based on this footage the officer took action to protect another young girl in our community."
Columbus Police release body cam footage of officer shooting, killing girl, 16youtu.be
Family of teen girl with knife tells different story
The family of the teen girl with the knife, Ma'Khia Bryant, reportedly said she was trying to defend herself from women who confronted her and that she was the one who called police, the Daily Beast said.
"She was a good kid. She was loving," Hazel Bryant, who said Ma'Khia was her niece, told reporters, the outlet noted. "She was 15 years old. She didn't deserve to die like a dog in the street."
Bryant said Ma'Khia had been living in a foster home and that several adult women came to the home and began an altercation with her, after which Ma'Khia called police for help, as well as her biological father and grandmother, the Daily Beast said. Ma'Khia grabbed a knife to defend herself, Bryant also said, according to the outlet.
Bryant — who said the grandmother and father told her what happened — noted that Ma'Khia was in front of the house fending off a physical attack when police arrived, the Daily Beast said, and the police shot her without any warning.
"The police are going to lie. I'm so thankful that someone from the family was actually on the scene," Bryant said before the release of the bodycam video, the outlet noted. "The police are going to lie. The police are going to cover up for themselves. They don't care. At this point, I feel like they're just out to kill black people. They're not here to protect and serve. That isn't happening. That's been over a long time ago. They're not here to protect and serve. They're here to kill black folks."
Ma'Khia's mother, Paula Bryant, told WBNS that her daughter "was a very loving, peaceful little girl ... She was an honor-roll student, and Ma'Khia had a motherly nature about her. She promoted peace. And that's something that I want to always be remembered."
Want to leave a tip?
We answer to you. Help keep our content free of advertisers and big tech censorship by leaving a tip today.
Sr. Editor, News
Dave Urbanski is a senior editor for Blaze News.
DaveVUrbanski
more stories
Sign up for the Blaze newsletter
By signing up, you agree to our
Privacy Policy
and
Terms of Use
, and agree to receive content that may sometimes include advertisements. You may opt out at any time.