One day, we will learn the extent of the malicious war that was waged by politicians and Big Pharma against COVID treatments. But if the newest study on proxalutamide in COVID patients reflects reality, you can add one more drug to the list of treatments that could have saved countless lives but which were purposefully stifled to please the gods of lockdowns, panic, and experimental injections.
Last week, Kintor Pharmaceuticals announced the results of a randomized controlled trial of the use of anti-androgen proxalutamide, a prostate cancer drug, in mild to moderate COVID patients. It found that among the 721 American patients who received at least one day of treatment, there were seven patients in the control group who were hospitalized and one fatality compared to two hospitalized patients and zero fatalities in the proxalutamide group. Among patients with more than seven days of treatment (N=693), six patients who received placebo were hospitalized and one died, compared to no hospitalizations/deaths in the proxalutamide group.
Doctors who actually studied the pathophysiology of COVID came to the conclusion a long time ago that hormone levels helped facilitate the ACE2 and TMPRSS2 binding of the SARS-CoV-2 spike protein, and therefore, males seemed to be more vulnerable than females, and bald men seemed to be at greater risk as well. Brazilian board-certified endocrinologist and internist Flavio A. Cadegiani has been the leading voice in favor of using androgen blockers against COVID. A randomized controlled trial published by Cadegiani in 2021 demonstrated an 86% reduction in hospitalization. Another trial published later in the year showed a 78% reduction in mortality even among late-stage patients. This was all for the Gamma variant, which was regarded as the most fatal and pathogenic of all the strains of this virus.
Also, in 2021, a study of VA patients funded by the Department of Veterans Affairs found anti-androgens to be "associated with reduced incidence and severity of COVID-19 amongst male Veterans."
Proxalutamide is not an FDA approved drug, but because of this research, the FLCCC and doctors who proactively treated COVID used other anti-androgens, such as dutasteride and spironolactone, on COVID patients —particularly for the Delta variant, which seemed to utilize a lot of ACE2 and TMPRSS2.

Kintor is the maker of proxalutamide, but unlike Pfizer, Moderna, Merck, and Gilead, which all made billions off drugs that the companies personally made and studied, Kintor doesn't have the same financial incentive for corruption. The other drugs that were made standard of care are very expensive and come with automatic government contracts, whereas proxalutamide is available in Brazil for just $11 for a full course of treatment.
The use of anti-androgens is just one of many examples of how doctors who actually understand pharmacology and biochemistry will innovate to treat ailments rather than allowing people to die. Whether it's hydroxychloroquine, ivermectin, nitazoxanide, metformin, aviptadil, budesonide, fluvoxamine, fenofibrate, famotidine, cyproheptadine, methylprednisolone, and dozens of other vitamins and supplements, the medical industry has shunned all research on cheap treatments. Instead, we have made its drugs standard of care, and in some cases have allowed their use to be enforced by mandates, even though these therapeutics are expensive, and the research behind them is provided solely by the manufacturers.
Dr. Cadegiani recently wrote a paper posted at Research Gate accusing Pfizer of backhandedly sabotaging the research on proxalutamide and anti-androgens in general. Swedish researchers published a paper on enzalutamide in Dec. 2021, a similar drug to proxalutamide, in COVID patients and claimed a conclusion showing the drug elongated hospital stay, even though there were zero deaths in the trial arm. Enzalutamide is a Pfizer-patented drug used for prostate cancer and was originally developed by a much smaller Japanese company called Astellas.
Cadegiani theorizes that the reason the Swedish study wasn't published until late 2021, one year after the trial, is because Pfizer was waiting to see if its new drug, Paxlovid, would be approved. If Paxlovid failed, it reserved the prerogative to use enzalutamide for COVID. But all things equal, although enzalutamide is very expensive, if people would understand that the drug worked for COVID, they would gravitate to the much cheaper proxalutamide. So, Pfizer waited until Paxlovid was approved and then had this study published to essentially dump on anti-androgens.
He notes that this was an open label study where everyone involved understood the imbalances between the trial and placebo groups. He lays out 21 concerns with the trial presented in this graphic: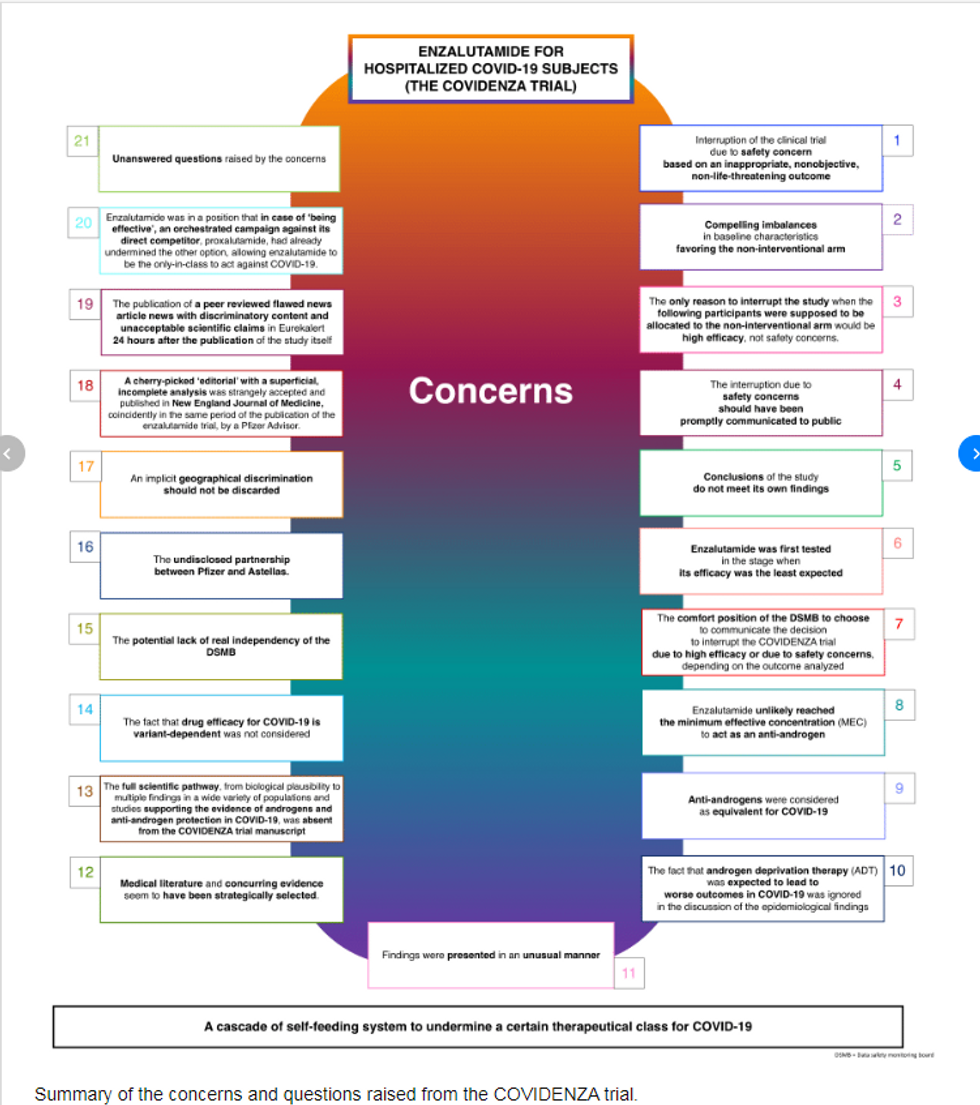 After the Swedish study was initially posted online, an editorial in the New England Journal of Medicine attacked anti-androgen use for COVID. The author of the article? Dr. Robert Dreicer, a consultant for both Pfizer and Astellas. Dr. Cadegiani also observes the bizarre timing of another hit piece. "One of the strangest concerning points from the COVIDENZA trial is that just 24 hours after its publication [December 15, 2021], some of the authors published a news article in [EurekAlert!], from Science [December 16, 2021], already peer reviewed," wrote Cadegiani who has researched numerous drugs in the hopes of saving people from the deadly Brazilian Gamma variant.
We need to understand that this is not just about COVID or any single drug. There is – and has been for quite some time – a concerted effort to stifle any research on efficacy of existing, cheap drugs for other viruses, autoimmune ailments, cancers, and so much more. Rather than spending hundreds of billions of dollars so Big Pharma can continue keeping us sick, how about auditing the mechanisms of every drug already on the market? Is this about saving lives, or saving the lavish lifestyles of the most powerful among us?