© 2023 Blaze Media LLC. All rights reserved.
The left is politically exploiting Maine mass shooting to push anti-gun agenda
When a mass shooting occurs, the first order of business, after catching the shooter, is to mourn for the victims with the loved ones they leave behind.
Unfortunately, neither of these things has happened. The manhunt for suspect Robert Card continues, and the left, instead of paying respect to the people who lost their lives, is using the tragedy as a means of pushing its anti-gun agenda.
On Wednesday, October 25, a shooter opened fire in a bowling alley, leaving 18 dead and 13 wounded. The prime suspect is an Army reservist who had recently been admitted to a mental hospital for psychiatric treatment when he admitted to "hearing voices in his head," reports Sara Gonzales.
However, the left, as usual, looks at this tragic situation and points to guns as the root issue.
"There are a lot of vultures out there lying in wait just to capitalize off the deaths of innocent people, foaming at the mouth to blame the gun and take away your right to self-defense, chomping at the bit to tie this obvious lunatic to conservatives or, better yet, Donald Trump himself," says Sara.
Some of these vultures include the Washington Post. Yesterday, the outlet released an article titled, "Twitter account of suspected Maine shooter 'liked' conservative posts," in which they reported that Card allegedly liked posts written by "Tucker Carlson, Dinesh D'Souza, Jordan Peterson and Donald Trump Jr.," indirectly suggesting that conservative opinions are to blame for the atrocious crime.
The worst of these vultures, however, is Gavin Newsom, who insolently tweeted: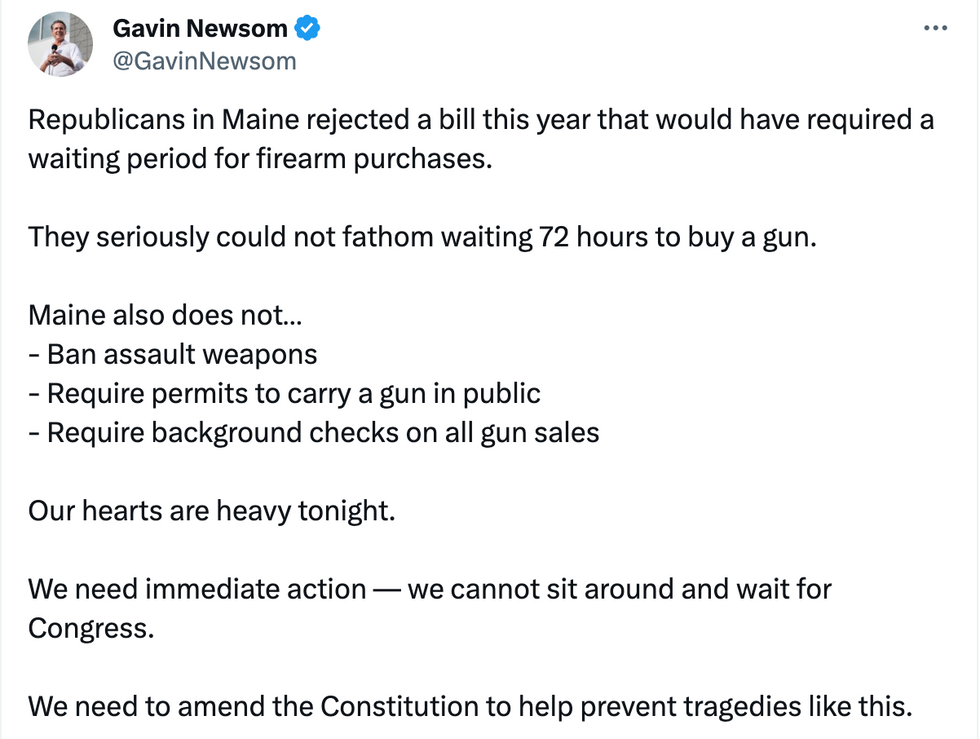 Allow us to point out the profusion of holes in Newsom's argument.
1. Banning guns and instituting gun-free zones does nothing to impede mass shooters. In fact, it likely encourages them "because they know that all of the people will be completely defenseless."
2. A rogue individual with sinister intentions is not going to be deterred by gun permits.
"I'm sure a criminal or a crazy person walking into a bowling alley intending to kill a bunch of innocent people will really be concerned with whether or not they have a permit to carry the gun in public; I bet it'll stop them right in their tracks," mocks Sara.
3. "They do require background checks [because] that's a federal law."
Further, "it's already illegal for someone who is committed to a mental health facility to own firearms," explains Sara.
Instead of criticizing legal gun ownership, instead shouldn't we be asking:
"How did he have access to [weapons]," given that his mental condition should have made it illegal?
Did he target "a gun-free zone, making it impossible for law-abiding gun owners to protect and defend themselves?"
"What kind of medications was he on?"
"Was this a failure of government to follow its own laws and procedures?"
One thing is crystal clear, however – it is fruitless to call for stricter gun laws that "wouldn't have actually prevented this tragedy," says Sara.
Want more from "The News & Why It Matters?"
To enjoy more roundtable rundowns of the top stories of the day, subscribe to BlazeTV — the largest multi-platform network of voices who love America, defend the Constitution, and live the American dream.
Want to leave a tip?
We answer to you. Help keep our content free of advertisers and big tech censorship by leaving a tip today.
News, opinion, and entertainment for people who love the American way of life.
BlazeTV
more stories
Sign up for the Blaze newsletter
By signing up, you agree to our
Privacy Policy
and
Terms of Use
, and agree to receive content that may sometimes include advertisements. You may opt out at any time.