© 2023 Blaze Media LLC. All rights reserved.
Horowitz: What is Governor Bill Lee's Response to Memphis killing spree?
Before residents of Memphis recovered from the shock of a young mother brutally murdered by a career criminal who was released early, they were forced to shelter inside Wednesday night because of a rash of shootings being livestreamed on Facebook by the alleged perpetrator. Now it turns out that individual also should have been in prison but was released early. The uncontrolled crime is yet another indication that big cities in red states are just as bad as blue states because Republican governors like Bill Lee have bought into the lie that we suffer from an over-incarceration rather than an under-incarceration problem.
On Wednesday night, Memphis police apprehended Ezekiel Kelly, 19, after he crashed a stolen vehicle, but not before four innocent people were left dead and three injured from an alleged shooting spree and two carjackings he livestreamed online. Just as in the case of Eliza Fletcher's alleged killer, Cleotha Abston Henderson, Kelly should have been behind bars and the victims should be alive today.
In February 2020, Kelly was charged as an adult with attempted first-degree murder, aggravated assault, using a firearm to commit a dangerous felony, and reckless endangerment with a deadly weapon. If we are a nation that truly is serious about "gun violence," he should have been behind bars for many years. But as has become the rule rather than the exception in the justice system, the prosecutor accepted a plea deal to convict him only on assault, which triggered a three-year sentence. Then, of course, Kelly failed to serve the sentence and was released after 11 months in prison in March of this year.
Everyone, including the Democrat mayor and the Soros prosecutor in Memphis, is feigning outrage over the early release, but in reality it is the culture of leniency that both parties have adopted over the past decade that has led to this crime wave. This year alone there have been over 100 kidnappings in Memphis. In both 2020 and 2021, Memphis set new homicide records and now boasts the ninth-highest homicide rate in the country and is ranked the most violent metro area in the country.
One could blame this on Democrat politicians, but Republicans control the state and should be able to set policies regarding sentencing. Yet Gov. Bill Lee has been one of the most passionate supporters of de-incarceration, even rivaling the liberal views of the New York and California governors on crime. When he took office, Lee promised to "empty our jails." He claimed, "We have to be creative and innovative and disruptive and challenge the way we've been doing things forever."
The homicide rate in Tennessee has gone from a low of 5.2 per 100,000 in 2013 to 9.6 in 2020. Motor vehicle thefts have spiked from 183 per 100,000 to over 300. Even smaller cities like Chattanooga have become increasingly dangerous. Where is the outrage from Bill Lee? It's not just the media that has been silent on the criminal spree.
Thankfully, the state legislature, led by state House Speaker Cameron Sexton, has gone in the opposite direction and recently passed a bill requiring violent criminals to serve 100% of their sentences. Bill Lee strongly opposed the bill. Had Bill Lee supported this effort during his tenure rather than pushing more jailbreak policies, both Kelly and Abston Henderson would have been in jail and their alleged victims would be living today.
Rather than promising tough-on-crime legislation, Bill Lee met yesterday with the phony "conservative" pro-criminal group "Right on Crime" to discuss "criminal justice reform." They are most certainly not referring to the reforms the residents of Memphis are demanding. Here is a now-deleted tweet from Right on Crime: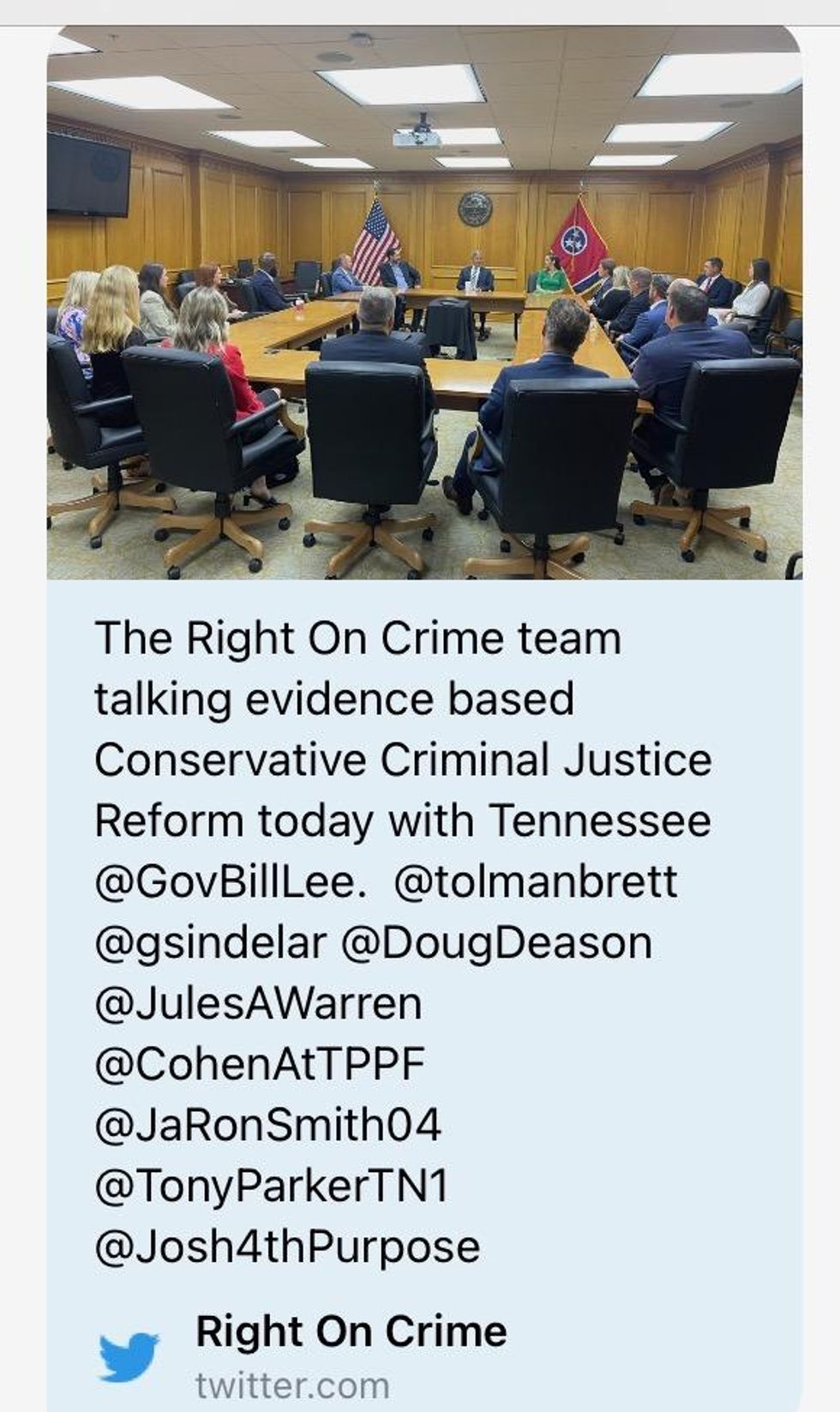 Even Republicans who don't officially identify with the Koch-funded pro-jailbreak organizations tend to focus only on policing or Soros prosecutors. But the bottom line is that GOP legislatures need to tighten laws on juveniles, repeat violent offenders, and pretrial bail for those who are a public safety risk. It's shocking how even the most violent perpetrators are able to plead down their charges despite clear evidence in this day and age, where cameras and DNA are everywhere. Somehow technology only seems to be used against us, but not against violent criminals. Every loophole throughout the trial process that allows people like this to escape full justice needs to be examined.
Moreover, it's time that Republicans stop ceding the large (or even mid-sized) cities in red states to Democrats. It's true that the left has the votes to elect pro-criminal judges and prosecutors in those cities, but state legislatures write the statutes for the entire state. There's no reason why cities like Memphis and Houston should be as bad as Los Angeles if Republicans actually did their jobs. Then again, that would require us to elect Republicans who actually share Reagan's view on criminal justice from the victim's standpoint rather than those of Bill Lee from the criminal's standpoint.

Want to leave a tip?
We answer to you. Help keep our content free of advertisers and big tech censorship by leaving a tip today.
Blaze Podcast Host
Daniel Horowitz is the host of "Conservative Review with Daniel Horowitz" and a senior editor for Blaze News.
RMConservative
more stories
Sign up for the Blaze newsletter
By signing up, you agree to our
Privacy Policy
and
Terms of Use
, and agree to receive content that may sometimes include advertisements. You may opt out at any time.