Imagine if we could have saved 81% of those who ultimately died from the virus by treating them early with a cheap, safe drug, along with other cheap therapeutic cocktails. Well, for one, more people might be alive today. But more important to the powers at be, there would have been no excuse to fear the virus and sow panic and tyranny. Also, there would have been no market for expensive therapeutics and vaccines that are much more experimental and unproven. Which could be why the WHO is refusing to recommend ivermectin for early COVID treatment, even as its own data suggest it could prove very effective.
On Wednesday, the WHO updated its guide on therapeutics and COVID-19. Under ivermectin, the meta-analysis shows an 81% drop in mortality among those who used ivermectin as opposed to standard care. It also shows a 64% decrease in hospitalization. Nonetheless, the WHO recommends against its use to treat Covid-19 outside of clinical trials because it claims the confidence level of supporting evidence is "very low."

Image source: WHO screenshot
"The issue with the Ivermectin is that based on initial study and the currently available data, it is not strong enough for us to advocate the use of Ivermectin for treatment of COVID or prevention of COVID," said WHO representative to the Philippines Rabindra Abeyasinghe on Tuesday. He claimed that using it without "strong" evidence is "harmful" since it would give "false confidence" to the public. They claim, furthermore, that the studies upon which these conclusions were based had potential confounders.

Gee, that sure sounds a lot like telling people if they wear a mask indoors, they won't get COVID. Tragically, when they invariably do get the virus, the global health elites have nothing to treat them with.
In total, there have been 49 studies, 26 of them randomized controlled trials, showing that ivermectin works against the virus. The pooled results show an 80% improvement when used early, 89% when used as prophylaxis, and even a 50% improvement at late stages. It is simply shocking that the global elites would continue to treat this long-used drug as experimental while treating novel vaccines that were only studied by the companies creating them as ironclad. Consider that the vaccines have not been approved by the FDA, on label or off label, there is no liability, and there is no data on long-term safety issues.
Ivermectin, on the other hand, has been dispensed billions of times for decades and has proven itself as one of the safest drugs around. William C. Campbell and Satoshi Ōmura were awarded the Nobel Prize for physiology in 2015 for discovering the drug as a cure to river blindness. Here is an excerpt from the press release of the Nobel Assembly:

"Today the Avermectin-derivative Ivermectin is used in all parts of the world that are plagued by parasitic diseases. Ivermectin is highly effective against a range of parasites, has limited side effects and is freely available across the globe. The importance of Ivermectin for improving the health and wellbeing of millions of individuals with River Blindness and Lymphatic Filariasis, primarily in the poorest regions of the world, is immeasurable. Treatment is so successful that these diseases are on the verge of eradication, which would be a major feat in the medical history of humankind."
That sure sounds like a dangerous drug, doesn't it?
The WHO itself lists ivermectin among its Model List of Essential Medicines for 2019, given its efficacy against parasitic infections and its track record of safety.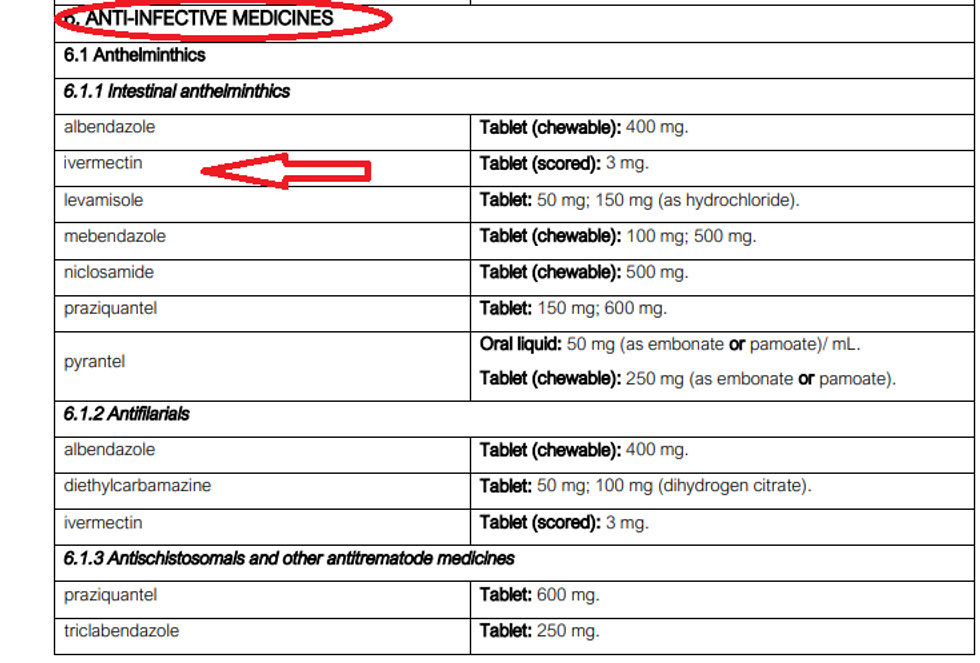 Image source: WHO screenshot
But suddenly when it comes to eradicating COVID and pre-empting lockdowns, masks, and vaccines, it's a problem! It's the worst thing known to man.

Consider the fact that even some unicorn idea of mask efficacy can only conceivably reduce transmission by a small amount, yet they treat masks as mandatory to the point that they enforce them against 2-year-olds, rape victims, and people with disabilities. Imagine if they poured that much vigor into promotion of ivermectin.
And as any doctor who has actually studied the early stages of the virus will tell you, this is not just about ivermectin or any single drug. It's about a cocktail of drugs. Aside from ivermectin or hydroxychloroquine, imagine if everyone with a positive test were given a cocktail with vitamins, steroids, and other drugs that have proven to work well over the past year, rather than waiting until someone has already experienced the inflammatory response, when it's much harder to treat.
In other words, how come the people who claim to care the most about COVID don't really care about saving people from it?
For example, if the global elites were really about saving lives, why wouldn't they have made vitamin D the new mask? The studies on the correlation between high vitamin D levels and positive outcomes with COVID have been impervious. The Karolinska Institute just published a comprehensive synthesis in the journal Lancet Diabetes & Endocrinology on how vitamin D offers a great degree of protection against all respiratory viruses. Based on an analysis of three randomized and placebo-controlled studies involving 49,000 people, they found that a daily dose of vitamin D offers extra protection against respiratory diseases. They observed this to be particularly important for people with low vitamin D levels, such as those with dark skin, overweight people, and the elderly.
Why has this information not gotten out to Americans? Why didn't vitamin D become the new toilet paper? Last week, Dr. Ryan Cole, a board-certified pathologist in Idaho who runs the largest independent laboratory in Idaho, where he's overseen 100,000 COVID tests, explained on my podcast exactly how vitamin D works against the inflammatory response to this virus. He showed how vitamin D is the master key of the immune system and prevents any dysregulation of the immune response that leads to the cytokine storm, which is responsible for most COVID deaths.
There are other cheap therapeutics that have been proven effective by respected research, such as low-dose aspirin. A recent study from George Washington University published in the journal Anesthesia & Analgesia showed that those given aspirin immediately in the hospital were 44% less likely to go on a ventilator, 43% less likely to need to go to the intensive care unit, and 47% less likely to die in the hospital. Imagine if people took it daily from the moment they feel symptoms or test positive.
Again, why are people who test positive, especially the elderly, still being denied information and prescriptions for cheap, life-saving cocktails early in the viral replication process? Last night, I got a panicked email from a listener whose 74-year-old mother with health conditions was vaccinated four weeks ago, but just came down with a fever and tested positive. Her doctor won't prescribe her ivermectin. This is the tragedy of the vaccine being treated as proven and proven therapeutics being treated as experimental and even dangerous.
A full year into this virus, our medical establishment have turned our civilization upside down and inside out under the guise of saving lives, but they have censored the one thing that will actually keep people out of the hospital. The question is why.
Editor's note: This story has been updated.