In any other era, Iran's suspected attack on Saudi Arabia's largest oil processing plant would have inflicted unprecedented economic pain on America and the rest of the world, not just a temporary uptick in the price of oil. But that is unlikely to happen this time around, just like it didn't happen during Iran's previous acts of belligerence against oil facilities in the Persian Gulf this year. This is because America has largely become energy independent and the global energy super power, a goal that seemed improbably elusive just a decade ago. Trump would be wise to tout America's oil miracle today and make the Democrats' war on energy independence a key feature of his economic and national security message headed into 2020.
During the last week in August, the U.S. Energy Information Administration (EIA) announced that American crude oil production had hit an all-time record of 12.5 million barrels per day (bpd). That is an astounding 40 percent increase in production since Trump took office in January 2017.

It's not just our producing capacity that has grown. Our oil refineries are processing record amounts of oil. Earlier this year, we hit 18.8 million barrels per day through the refineries, clearly keeping up with the supply of production.
In addition to nearly achieving energy independence, the U.S. is now dominating the global market and helping relieve the pressure of Iran and Russia's petro-tyranny on other countries. When Trump took office, there was essentially no concept of us exporting crude oil to the world. Our exporting capacity has now increased threefold. We are also now importing less oil than ever before.

Then there is the natural gas revolution. Natural gas production has increased 24 percent since Trump took office and is hovering near record highs at 2.74 trillion cubic feet per month. Already in 2011, the U.S. surpassed Russia as the lead producer of natural gas, and now we are flooding the European market. The EIA predicts that U.S. liquified natural gas exports will increase 72 percent this year over last year's impressive showing.

In petroleum production combined with "other liquids" production, total U.S. production is projected to hit 20.73 million bpd during the fourth quarter of this year, according to the EIA. That is 67 percent and 83 percent more than Saudi Arabia and Russia respectively. Just seven years ago, those countries were producing more than us.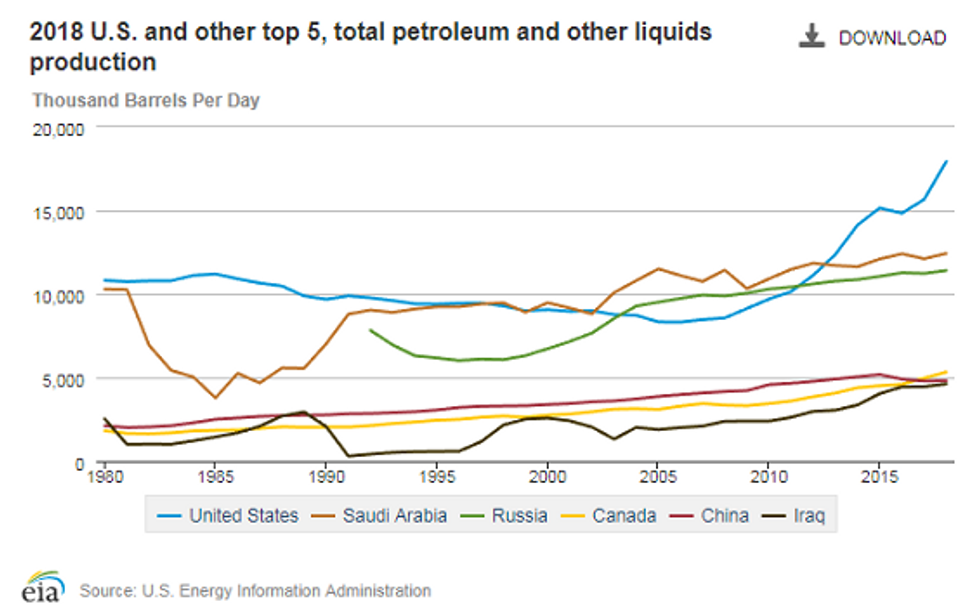 What does this mean for foreign policy? Now is the worst time to capitulate to Iran and ease sanctions. Now is the time to keep applying maximum pressure on Iran directly and also to keep ramping up oil and gas production and exports, thereby indirectly neutralizing any collateral damage from Iran's acts of destabilization.
The sanctions are working. According to the Wall Street Journal, Iranian oil exports have plummeted from 2.5 million bpd to about 200,000 bpd since Trump pulled out of the Iran deal last May. Meanwhile, our exports are at a record level of 3.16 million bpd, nearly 16 times greater than that of Iran – the exact opposite of what it was under Obama. And despite Iran's efforts to sabotage the global market, oil prices have remained low thanks to U.S. dominance of the market, contrary to the predictions of State Department voices who argued against sanctions. Thus, even Iran's dramatically reduced exports must be sold at a cheaper price, further impoverishing the regime.
The WSJ reports that Iran's gross domestic product is projected to shrink by six percent, while inflation will increase by 37.2 percent, thanks to the country's declining currency. The situation is unsustainable for the mullahs.