While Obama and his allies will focus their national security message on cracking down on so-called "assault weapons" and inanimate objects, they will ignore the true national security threat - the presence of "assault people" at the highest levels of government.
Last week, I noted that the Muslim Brotherhood represents the biggest threat to our homeland security and our survival as a civil society built upon constitutional freedoms. Although the political elites in both parties like to tell us we are at war, they fail to treat those in our country who support our enemies as traitors. In fact, many of these people have influence at the highest levels of our government, particularly the agencies dealing with homeland security. Today, I'd like to examine a case study to illustrate how deeply rooted this problem is in our own country — not just half away around the world in Syria.
A Muslim immigrant in the greater Chicago area named Kifah Mustapha posted the following on his Facebook account during the outbreak of the stabbing intifada in Israel:
[facebook https://www.facebook.com/permalink.php?story_fbid=10153634579268745&id=597008744 expand=1][facebook https://www.facebook.com/permalink.php?story_fbid=10153644499638745&id=597008744 expand=1]Unfortunately, that we have willingly imported large numbers of people from the Middle East who support our enemies, hate Israel, and praise terrorism is nothing new. Sadly, there are countless individuals we didn't have to allow into our country who are now here cheering on Hamas and other Islamic terror groups. But Mr. Mustapha is not just any Muslim immigrant; he is the Imam of a large mosque in Chicago. He is also a community outreach leader for the FBI.
The FBI has a "Citizens Academy," which "brings the community's civic, business, and religious leaders together to experience firsthand how the FBI investigates crimes and threats to our national security and learn about the various tools and techniques we employ to carry out our mission." As the FBI website notes, "[B]ecause of the classified investigative techniques discussed, nominees must also undergo a background check and get an interim security clearance."
Guess who participated in this FBI training in 2010, security clearance and all?
Mr. Hamas himself, Kifah Mustapha. Here is a picture of the Hamas operative at our own National Counterterrorism Center!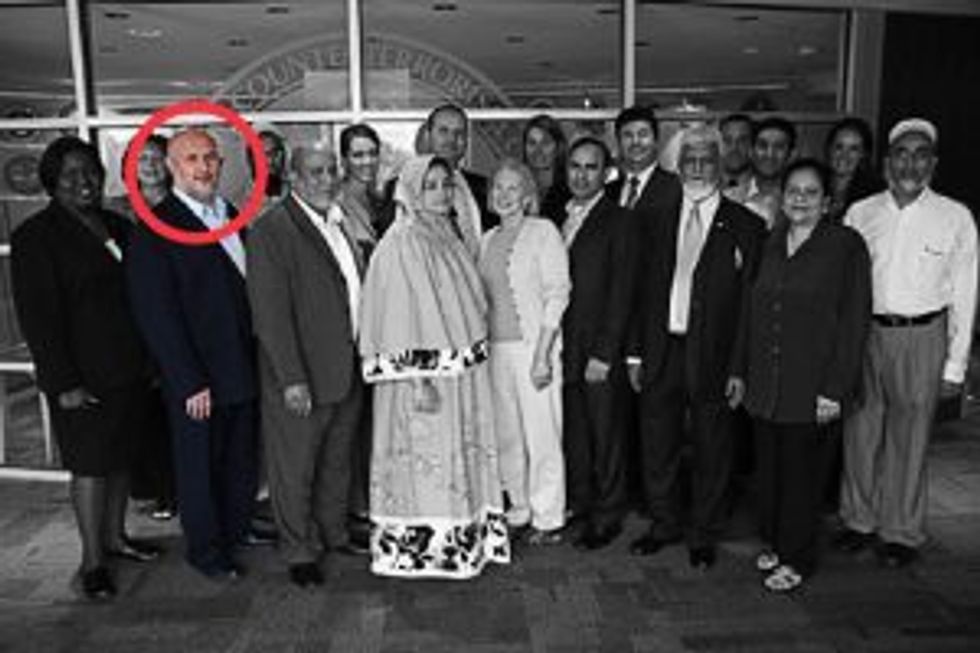 So just who is Kifah Mustapha? He was the Illinois representative/fundraiser for the Holy Land Foundation, the Hamas terror financing arm that was the subject of the largest terrorism trial in American history.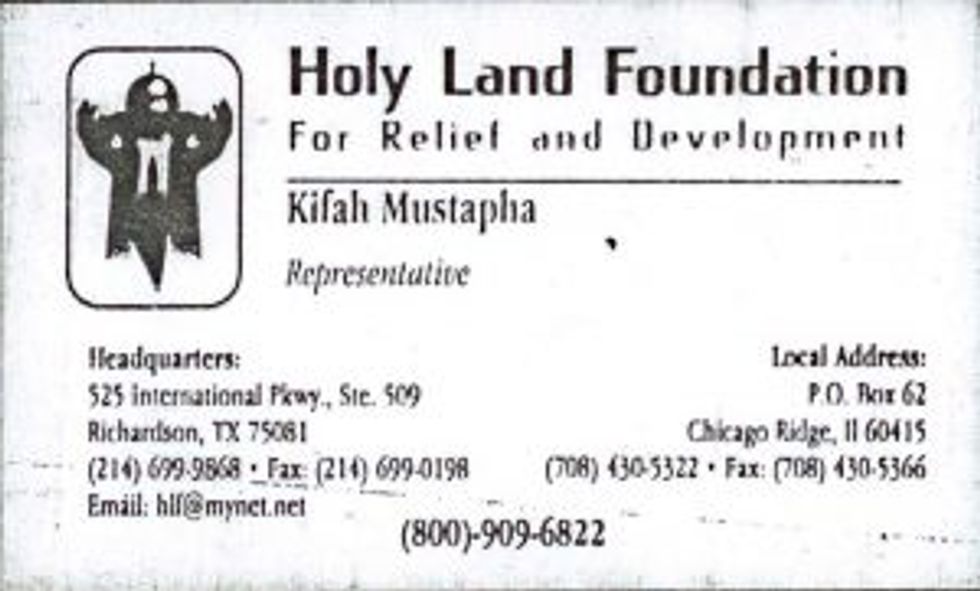 Mustapha was also listed among the more than 240 unindicted co-conspirators in the HLF trial, according to Justice Department documents.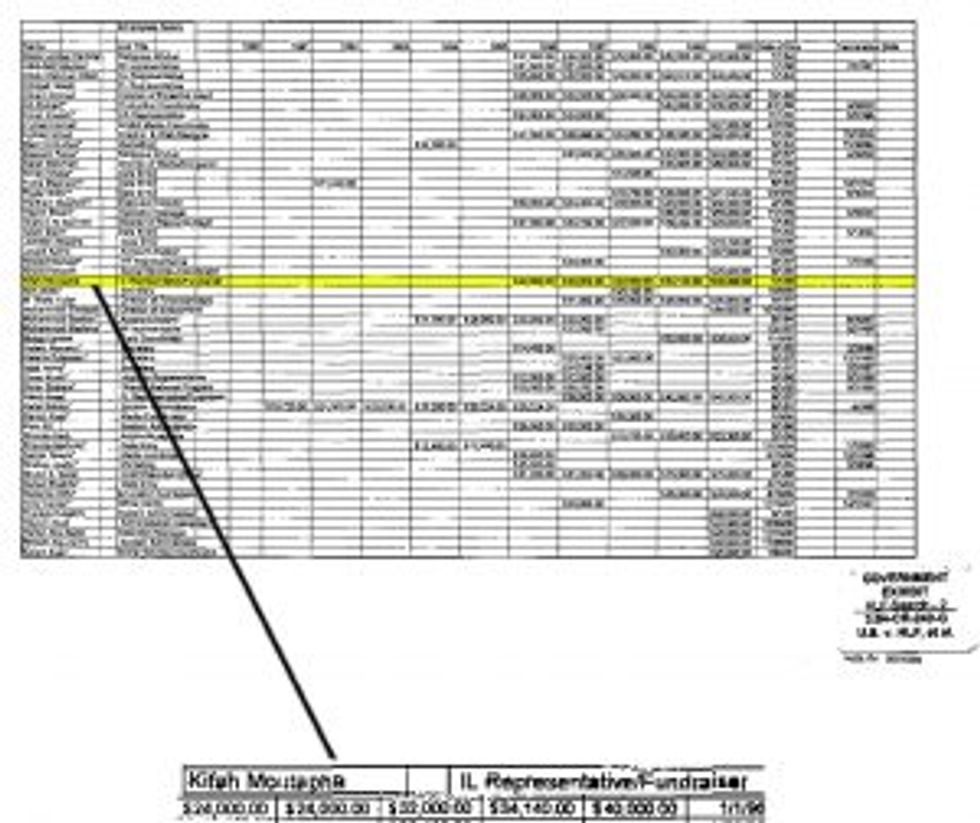 How in the world did a man who should have been indicted on terror charges and is free to engage in treason to this day obtain a security clearance? Why was he nominated to this position in the first place and who made the nomination?
Earlier in 2010, Mustapha's behavior was repugnant enough that the Illinois state police fired him as a chaplain. When Mustapha filed a lawsuit, with the help of the Muslim Brotherhood-affiliated CAIR, even the Democrat Attorney General was appalled by him. Attorney General Lisa Madigan filed a motion in federal court in 2013 noting that Mustapha "aided and abetted, or at least cheered for, terrorism" after he was caught on a video chanting "terrorist lyrics."
In October 2010, Eli Lake reported in the Washington Times that then-Director of the FBI Robert Mueller was asked about the inclusion of the Hamas cleric in the FBI's sensitive training program and he refused to answer the question, even as he admitted there are widespread terror links in the sphere of outreach groups they patronize.
Here are pictures of Mustapha meeting with officials from the Customs and Border Patrol at O'Hare airport. Could you imagine someone with the views of, say, David Duke — even without ties to foreign enemies — being treated as a community leader and given access to sensitive counterterrorism agencies?
How many more Kifah Mustaphas are there in our government with access to sensitive counter-terrorism information? How many other Islamic violent extremists are crafting our policies to "Counter Violent Extremism?"
How can we tolerate this for even one day?
The smart-set conservatives in Washington are obsessed with getting our troops involved in overseas civil wars between competing viper nests. Yet, they refuse to discuss the viper nest with access and influence to our agencies that are supposed to be fighting our enemy. In a major foreign policy speech in New Hampshire, Senator Marco Rubio blasted those who disagree with his Syrian intervention on behalf of Islamic rebels as "isolationists." He spoke a lot about the vitality of Islamic interventions and the surveillance state but never uttered a word about the two most obvious threats to homeland security — threats for which the solutions don't cost us a dime — Islamic immigration and the Muslim Brotherhood influence.
We have strong constitutional protections of free speech in this country. But as I noted last month, there is no affirmative right to immigrate, no right for non-citizen immigrants to remain in the country, and no right even for citizens to engage in treason and support our enemies or incite terrorism and violence. For those wringing their hands over a path forward in combating terror, maybe we ought to stop inviting onto our shores and into our most sensitive government offices.