© 2023 Blaze Media LLC. All rights reserved.
Horowitz: The coronavirus death rate has been inflated all over the country
It's no longer a question of if the coronavirus fatality numbers are inflated but by how much they are inflated.
Last week, Colorado was forced to revise its own COVID-19 fatality numbers down by a whopping 23% after state and local officials called out the coding of deaths of people who died of other causes causes who merely tested positive for the virus. It now appears that this trend is widespread in Colorado and all over the country, which would explain why we saw an endless surge in the death count for weeks after hospitals were already empty. Once testing became standard, officials were retroactively recoding anyone who tested positive for COVID-19 without any evidence they died from it.
What would the death rate look like if every state were forced to count only those proven with reasonable evidence to have died of the coronavirus?
Take Pennsylvania, for example. The Armstrong County coroner posted on Facebook earlier this week that the state department of health inflated his county's COVID-19 death numbers from two to six.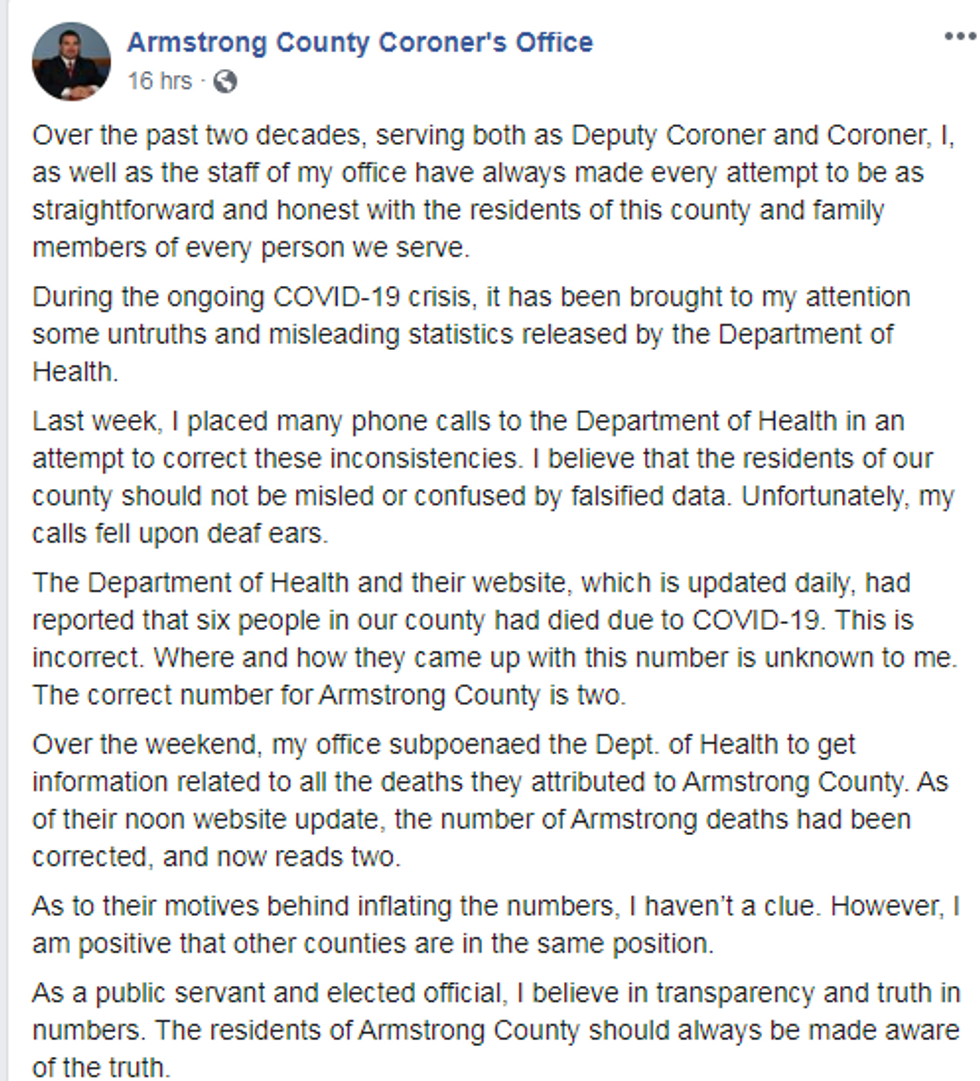 Although he shamed the state into revising those numbers, he made it clear this is happening in many other counties. If they multiplied two deaths by three, what does that portend for counties with 500 recorded deaths?
Last week, the local Fox affiliate in Alaska reported that there are some serious questions about the tenth coronavirus death reported by the state. 90-year-old Donald VanBuren lived alone and was reported to have died of the virus, but neighbors who took care of him assert that he died of cancer and kidney failure. People have the right to know that the deaths of their loved ones weren't politicized for a political agenda or used by hospitals to secure a 20% extra Medicare reimbursement under a provision of the CURES Act.
Daniel Spitz, Macomb County, Michigan, chief medical examiner, observed a similar trend in his state. "I think a lot of clinicians are putting that condition (COVID-19) on death certificates when it might not be accurate because they died with coronavirus and not of coronavirus," he said. "Are they entirely accurate? No. Are people dying of it? Absolutely. Are people dying of other things and coronavirus is maybe getting credit? Yeah, probably."
In Washington state, the Freedom Foundation estimates that the fatality numbers are inflated by as much as 13%. Information from the state's department of health indicates that 106 deaths "involved persons who had previously tested positive for COVID-19 but did not have the virus listed anywhere on their death certificate as either causing or contributing to death."
Funeral directors are seeing this phenomenon as well as medical examiners. Dan McGraw, president of Gill Brothers Funeral and Cremation in Minnesota, recently complained about the fact that almost all the deaths he deals with are being certified as the result of COVID-19, including those who died of cancer in hospice. "What useful purpose is being served to clump together decedents that passed away with COVID-19, and not necessarily as a direct cause?" asked the Twin Cities-area funeral director in an interview with a local media outlet.
Meanwhile, even after Colorado officials revised their numbers down, local coroners are still blowing the whistle on the politicized death certificate coding. La Plata County Coroner Jann Smith is contesting the state's classification of Robert Kujath, 80, as having died of COVID-19 on May 9, which would have been counted as the county's first coronavirus death. The family and the coroner made it clear that he died of heart failure and that the virus played no role in his death. The death has now been reclassified as one that is "among" those who had the virus rather than because of the virus.
To the east of La Plata, in Pueblo County, Colorado, County Coroner Brian Cotter is contending that none of the 14 recorded deaths in the county were caused solely by the virus itself. "I have had that question a million times. How many people have died of COVID? And my short answer for that is, none," Cotter said on Monday. "Everybody has died from a disease that was exacerbated or brought on because of the COVID virus."
While the virus likely contributed to or hastened the death of some, there are many for whom it likely contributed nothing to their causes of death, given how many of the cases we now know to be asymptomatic.
New data from a large serology test in Spain shows that even among seniors the majority of those who test positive for the virus are asymptomatic or mildly symptomatic. Yet the CDC guidance on recording deaths assumes a 100% fatality rate among anyone who ever had contracted coronavirus! While the virus is certainly dangerous for seniors, the death rate is still nowhere near 100%.
Undoubtedly, there has been a terrible tragedy in nursing homes since liberal governors forced them to take in patients positive for COVID-19. Many of them have legitimately died from the virus as a result. But there is no reason to inflate the numbers beyond what they are so as to distort the much-needed accurate risk assessment of the virus itself based on unskewed mortality data. Unless, of course, this is all about politics.
Want to leave a tip?
We answer to you. Help keep our content free of advertisers and big tech censorship by leaving a tip today.
Blaze Podcast Host
Daniel Horowitz is the host of "Conservative Review with Daniel Horowitz" and a senior editor for Blaze News.
RMConservative
more stories
Sign up for the Blaze newsletter
By signing up, you agree to our
Privacy Policy
and
Terms of Use
, and agree to receive content that may sometimes include advertisements. You may opt out at any time.