85364.
It's the zip code with the most COVID-19 cases in the state of Arizona. It's not in the population center of Phoenix, but in Yuma, right at the Mexican border. It is also the home of Yuma Regional Medical Center, which has likely received cases from across the border. As the New York Times reported in June, "Border towns in Arizona are experiencing an increase in infections that health officials believe is tied to people coming in from Sonora state."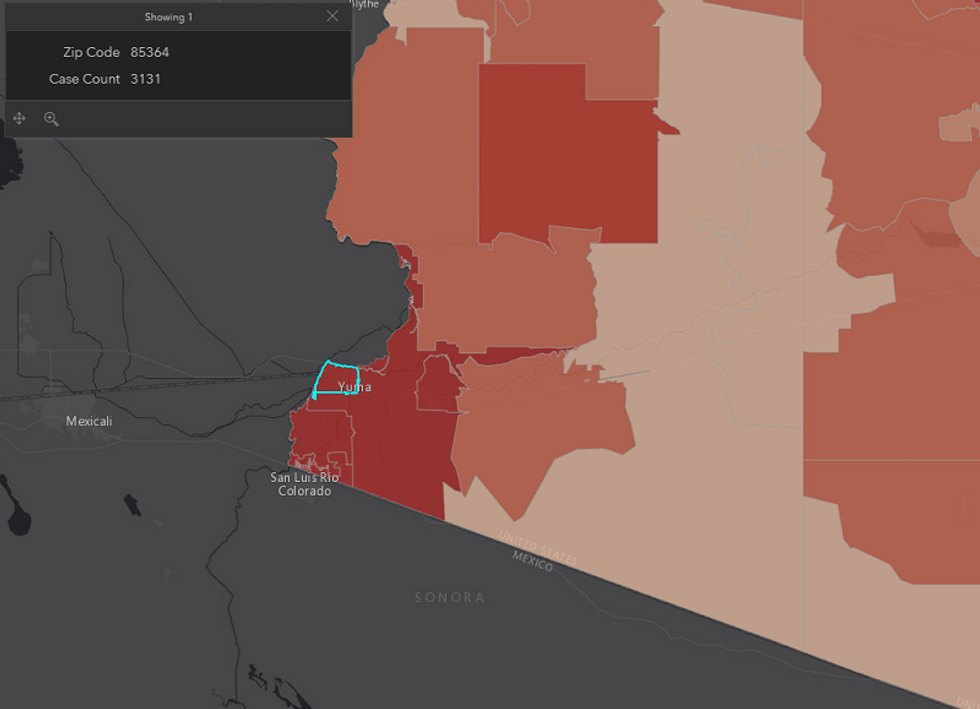 As of July 13, there were 3,131 cases in that Yuma zip code, more cases than in the states of Alaska and Vermont combined.  Every other Yuma zip code is also full of cases. 85336, which is right at the southern border, has 310 cases, even though the entire population of the zip code is 714.
In recent weeks, I've chronicled how Mexicans coming over the border for treatment and dual citizens traveling back and forth have caused a reimportation of the most serious cases from Mexico over the southwest border. You can read the series here, here, here, and here. The latest data show an unmistakable correlation between border areas and the rise of this latest wave of serious cases, while most of the rest of the country is experiencing a milder second wave.
The Texas border counties compose 9% of the state's population, but accounted for 22 percent of the state's coronavirus deaths from June 24 to July 12.
Hidalgo County has been hardest hit. It has a very highly trafficked pedestrian crossing where dual citizens and nationals have continued to cross back and forth even as the virus intensified in Mexico in late May. The timing is unmistakable. The Rio Grande Valley has experienced the sharpest increase in hospitalizations in recent weeks. And unlike in most other parts of the country, these are serious cases.
Here is a terrific contrast of the growth in deaths between border counties and non-border counties:
As you can see, while Texas is getting a late hit with the virus after experiencing very little of it during the general peak in this country, the border counties are experiencing their peak now along with Mexico. Half of all deaths in the border counties have occurred within the past three weeks, a phenomenon we've seen nowhere else other than at the border. This is especially evident when you adjust for per capita rates or population density. What is so remarkable about the border counties is that they are defying the trend we are seeing throughout the rest of the country – that wide open rural counties have very few problems compared to the urban centers.
Yet, if you look at 23 border counties excluding San Diego County (because it is bigger), they now have 31,125 cases out of 1.614 million people. To put that in perspective, it is greater than the number in eight states with a combined population of nine million.
Arizona's hardest-hit zip code at the Yuma border ranks #99 in terms of population density in the state and has nearly 50 percent more cases than Phoenix's most densely populated zip code, 85033.
With Mexico's numbers finally plateauing, it is to be hoped that we will only see another two weeks or so of higher deaths in the border region.
However, given the remarkable data anomalies at the border, and the timing of the surge we are seeing at the border coinciding with Mexico's epidemiological curve, why are we not being told how many border-crossers are in Texas or Arizona hospitals? This is a question vexing three congressmen who have sent a letter to Chad Wolf, acting secretary of the Department of Homeland Security, requesting answers to questions about how the border is influencing the spread of the virus in border states.
The letter, signed by Reps. Chip Roy (R-Texas), Paul A. Gosar (R-Ariz.), and Ted Budd (R-N.C.), asked how many illegal aliens apprehended within 25 miles of the border were taken to area hospitals since February. Among the thirteen COVID/border questions, they asked how many border-crossers have died of the virus and how many migrants have been transferred to local hospitals.
The Center for Immigration Studies (CIS) has filed a FOIA request with Customs and Border Protection as well as a public information request with Texas health authorities to ascertain the hometowns of COVID-19 patients in area hospitals. Todd Bensman of the CIS, who previously worked as a journalist in Texas and served in the Texas Department of Public Safety's intelligence and counterterrorism division, expressed concern that state officials are trying to stifle the flow of this information.
"Public agencies have this information at their fingertips right now and could provide it without violating federal protections of individual medical histories," asserted the former Dallas Morning News reporter. "But public agencies and local officials in Texas seem almost mendacious in their resistance to providing any hint of what's coming in from Mexico, where sister city hospitals are completely overrun just as they were across the border from California and Arizona."
Specifically, Bensman expressed concern that among the hospital data put out by hard-hit Hidalgo County are entries for patients' hometowns that are recorded as "undisclosed" or "unknown."
"A county spokesman told me this is done to protect identities in tiny towns. But it also would be easy to categorize as 'undisclosed' all hometowns that happen to be on Mexican soil," reported Bensman. "This shroud of darkness needs to be penetrated. The congressmen deserve plaudits for this service in the public interest."
Indeed, before Americans are forced to wear masks and lose out on their livelihoods, it is important to know how much of this is not even coming from America.