Last Tuesday, Edwin Castro Sangalang, a 45-year-old living in Lake Elsinore, California, was arrested by Riverside County sheriff's deputies and charged on approximately 200 counts of sexual assault for having a four-year sexual relationship with a 13-year-old girl, from the time she was just 9.
Jail records from Southwest Detention Center in Riverside County indicate that Sangalang was booked on a total of 437 felony charges, including 156 counts of aggravated child sexual assault, 52 counts of oral copulation with a minor, five counts of sexual penetration by force or fear, and one count of continual sexual abuse of a child.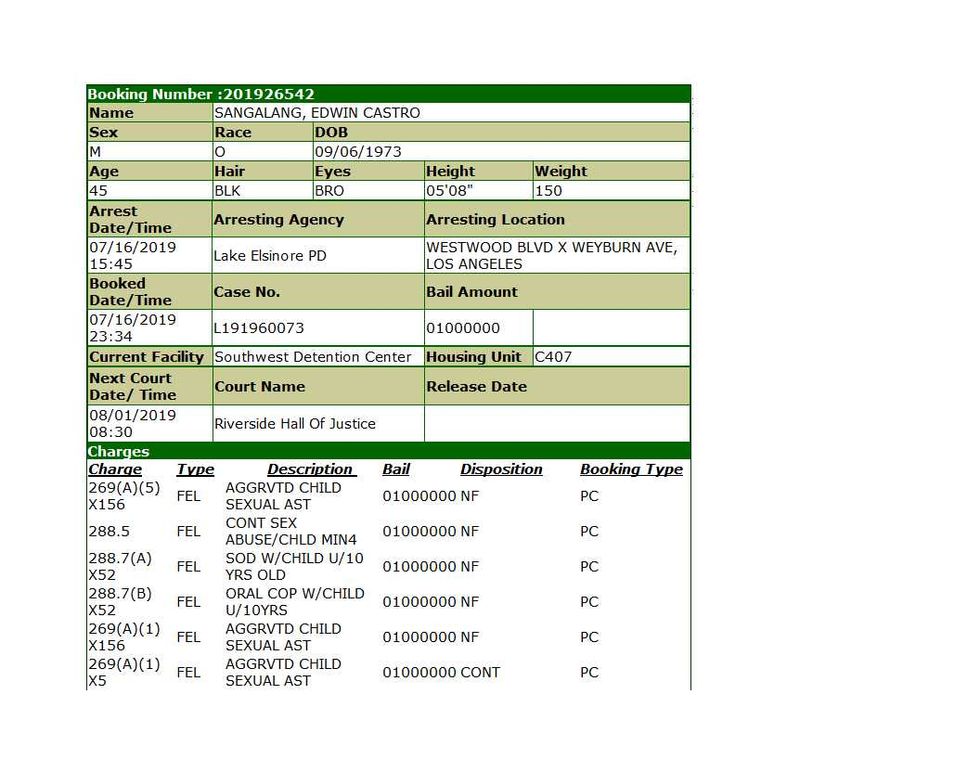 Sangalang is being held on $1 million bond.
No local media outlets have reported that there is an ICE detainer on Sangalang, nor are they reporting that he is an illegal alien. A California spokeswoman for ICE told CR, "On July 19, ICE officers lodged a detainer with the Southwest Detention Center on an unlawfully present Philippine national, Edwin Castro Sangalang, following his arrest for sexual assaults on children."
Given our strict laws against employment of illegal aliens and against harboring, encouraging, inducing, transporting, and shielding from detection, how can someone like this be able to carry on a four-year sexual relationship with such a young girl without detection?
That an illegal alien can go this long interacting with society, free to terrorize a young girl like this, demonstrates that illegal aliens are indeed not living in the shadows. They are out in the open, and the laws against them are not being enforced.