Tennessee's allegedly Republican governor, Bill Lee, has promised to "empty our jails." He claimed, "We have to be creative and innovative and disruptive and challenge the way we've been doing things forever." Well, if the man Nashville police are seeking in connection to the murders of Clayton Beathard, 22, and Paul Trapeni III, 21, indeed committed those murders, it will be precisely because he was let out of jail so "innovatively."
Fans of the San Francisco 49ers undoubtedly noticed yesterday that the team's quarterback, C.J. Beathard, was absent for one of the final games of the regular season headed into the playoffs. It turns out he was traveling to Nashville to be with his family after his brother, Clayton, was murdered along with his friend Paul Trapeni at a Nashville bar on Saturday.
While they have not announced the suspects yet, Nashville police stated that, based on surveillance video, Michael D. Mosley, 23, is a person of interest in the stabbing that allegedly took place at the Dogwood Bar in midtown Nashville and resulted in the deaths of Beathard and Trapeni as well as the non-fatal stabbing of a college student.
BREAKING: Detectives are seeking Michael D. Mosley, 23, for questioning in Saturday morning's double fatal stabbing… https://t.co/Co2KzaDjqy

— Metro Nashville PD (@Metro Nashville PD) 1577062493.0
Police say the fight resulted from "an unwanted advancement made by a man toward a woman in the bar." Mosely was identified by police as the man talking with the woman on surveillance video believed to be at the center of the altercation and is "believed to have definitive information about the murders" As of now he is only wanted for questioning, and no arrest warrant has been issued. However, the fact that someone like Mosley is out on the streets to begin with is just the latest glimpse into the world of weak-on-crime sentencing.
According to arrest records, Mosley had a history of burglary and drug charges during his early days. He barley served time in jail. Then, according to WKRN, Mosley was involved in a stabbing in May 2015 for which he was found guilty. He was involved in an inmate brawl at Cheatham County Jail this March. In October 2018, he was charged with domestic assault resulting in bodily injury. On December 5, 2018, he was charged with viciously punching a woman in the store "over and over again." It appears that he was arrested for the December 2018 incident on November 5 of this year and was released on just $5,000 bond. Which means, despite the previous conviction for violent assault, he was out of prison some time earlier this year after serving just a few months.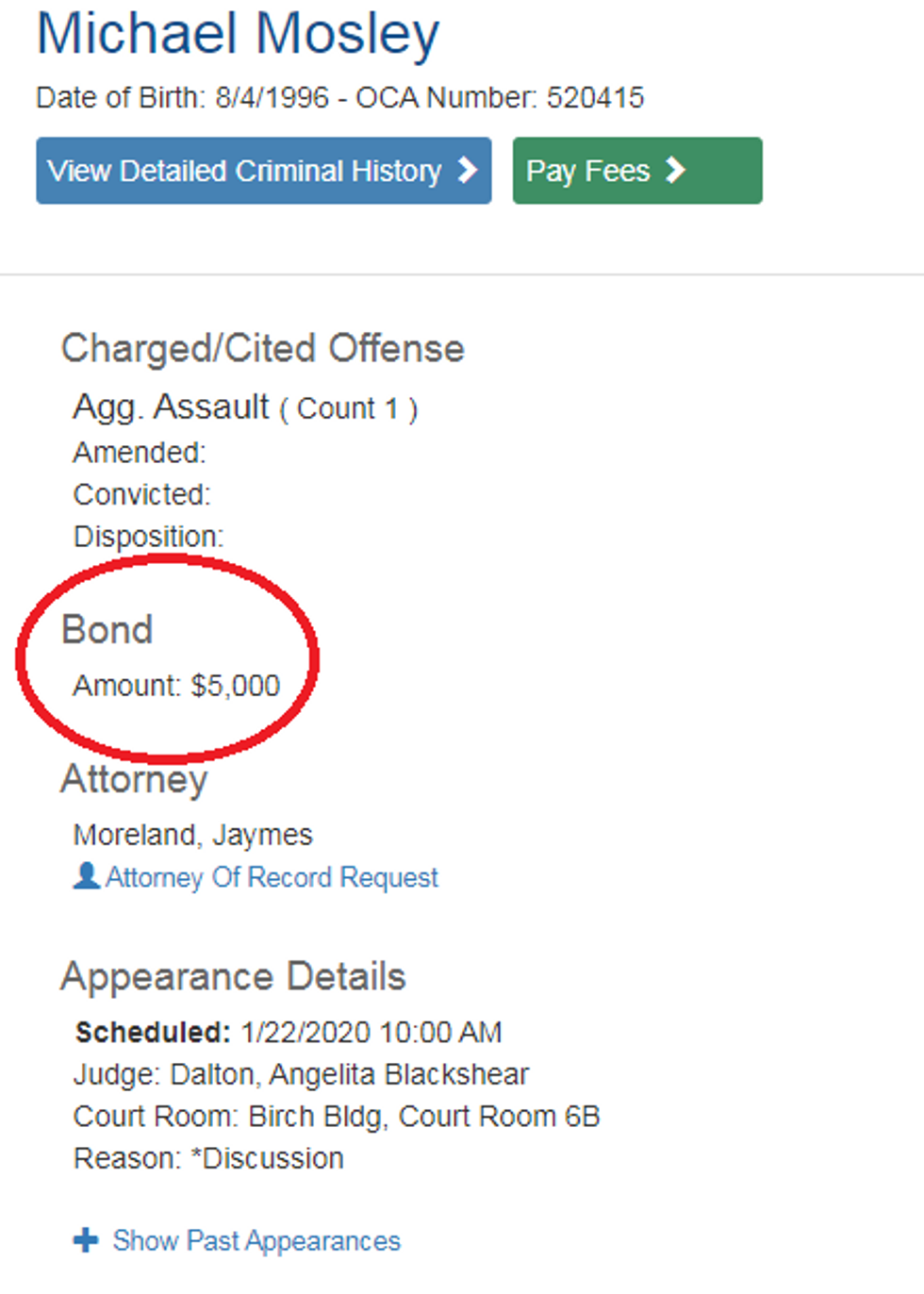 According to Channel 4 News, in the December 2018 incident for which he was arrested last month, according to Davidson County Court records, "Mosley charged towards the woman striking her in the face and knocking her to the ground," and then once she was on the ground, "Mosley continued to violently punch and kick the victim before dragging her across the floor by her hair to continue to punch and kick her again and again."
$5,000 bond, despite his conviction for stabbing someone three years earlier, injuring another woman a year earlier, and being involved in a prison brawl eight months ago? As of now, there are no charges against him in this incident, but how is someone like that out on the streets anyway? And it appears he never served too long in prison, despite serious violent offenses. Yet the Republican governor of Tennessee thinks the laws are too strict?
Like many states, Tennessee has seen an uptick in violent crime in recent years after nearly two decades of declines. After bottoming out in 2013, the homicide and rape rates are now 42 percent higher, and the rate of aggravated assaults is up nine percent as of 2018, according to the FBI's Uniform Crime Reporting. When are Republicans going to finally focus on victims, not on criminals?
Bill Lee is the same Republican governor who is opening his arms to more refugees at a time when Tennessee is taking in more illegal aliens than ever before and Nashville is plagued by the cost of sanctuary policies. What's so sickeningly backward is that these GOP governors complain about the cost of incarceration (never mind the cost of crime), but somehow they have extra funds to bring in refugees on top of record low-skilled legal and illegal immigration. If prisons are really that crowded, then build more of them. Letting out violent repeat offenders is not an option. Why is there always funding for illegal aliens, refugees, and criminals, but not for the safety of law-abiding citizens?