1. Wait, Brazil's going to preach at the world about diversity and environmentalism?
"Oh dang they're getting serious about global warming here. Is the GOP watching? They could learn a bit about climate change AND evolution from this. Man, this thing just got depressingly real. Lotta people saying that London was better but really London was just kinda like 'WE'RE THE BEST! CORGIS!' While this one is like, 'Wake the f*** up we're all gonna die,' so props where they're due."
Oh boy.
Aside from the fact that man-made climate change is nothing more than a weak theory at best, Brazil's going to be the one to do the talking? Seriously?
Don't get me wrong. I think Brazil's amazing in many ways (to my Brazilian friends, you know who you are: os amo muito!), but when you've got raw sewage for a bay, and body parts washing up on shore, I'm thinking … nope.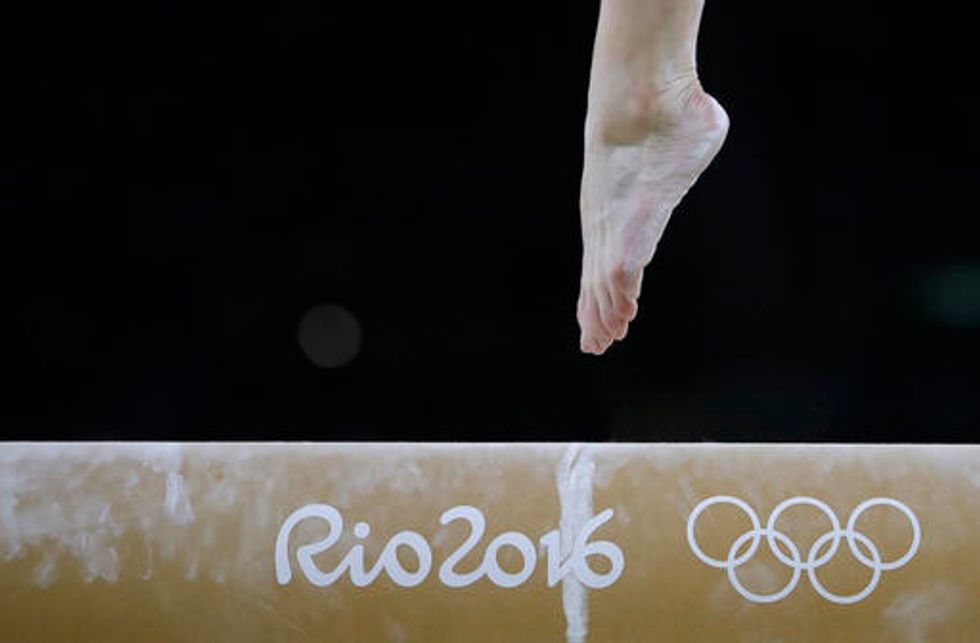 (AP Photo/Julio Cortez)
What's more, we're treated to a diversity pitch from a country that bulldozes its favelas (slums) and sends its residents to live in government projects?
Oh and for the pièce de résistance: when your uber-corrupt interim president attends the opening ceremony because your current president is being impeached for corruption (go figure), it's probably not a good time to lecture the world.
On anything.
2. There's a refugee team?
Yup, a 10-person team walked in on opening day carrying the Olympic flag and hailing from no country. And listen, I'm not here to criticize the individual people. But if we can create a team for the sake of creating a team, then why compete amongst nations at all? Kind of defeats the point.
3. For crying out loud, YES Michael Phelps was the right choice to bear the U.S. flag.
So, there are people out there claiming that "team USA missed opportunity to take political stand against xenophobia" by not letting Ibtihaj Muhammad, the first American athlete to compete in a hijab, carry the flag in the opening ceremony instead of Michael Phelps.
Michael Phelps holds the record for the MOST OLYMPIC GOLD MEDALS EVER. It's kind of a big deal.
I'm not belittling Ms. Muhammad. But we're saying she should get the honor simply because she's Muslim—and NOT because of exceptional ability (which is, after all, what I thought the games were about)? If that's how we're going to act, we might as well ditch the sports part of it entirely.
4. Boy, America-bashing gets old.
Ibtihaj Muhammad was back in the news again for saying how afraid she was of her home country thanks to so-called anti Muslim sentiment.
Let's just be intellectually honest here: in today's world, there's a better chance that Ms. Muhammad would be harmed at the hands of an Islamic terrorist than at the hands of some nut turned vigilante.
It just blows my mind. This woman has earned the incredible privilege of representing this country in the most prestigious athletic event in the world. And yet does she talk about the exceptional place this is to be a part of? No—she talks about how it needs to change.
5. Yeah, that "burkini" isn't beautiful. That's heartbreaking.
Why? Because it represents centuries of women being treated miserably. It represents female genital mutilation, acid attacks, facial mutilations, subservience, and a million other ways to mistreat a woman.
And yet what did I read?
"A beautiful scene from Germany vs Egypt Women's beach volleyball match. We are all equal and different at the same time... and this is the beauty of life," wrote one person on social media.
Here's the thing though. It's the farthest thing from "equal." And Shariah is not just "different."
That German player can go home and pretty much live life however she pleases. That Egyptian girl? Not so much. Why? Because in her Shariah-dominated Islamic culture, feminism isn't exactly kosher.
6. Champion gymnast Gabby Douglas can't compete tonight because of WHAT?
Ladies and gentleman, meet the "two country rule." Because, fairness.
The rule, "which stipulates that only two athletes from each country can progress to the various gymnastics finals," meant Douglas couldn't compete with the rest of her team that night, because she and two others took the top three spots in the all-arounds. And since each country can only send two such winners onward, Douglas was out.
The international gymnastics federation (FIG) came up with the rule to "ensure gymnastics is growing all over the world."
Basically, hold back the talented gymnasts and allow less talented ones to move forward to help gin up support for the sport back home.
Meanwhile countries like the U.S. are already restricted in how many athletes they can send. What's the point of this competition again?
So, you're telling me no other country is capable of producing the next Gabby Douglas or Ali Raisman? Wow.
Speaking of Raisman, I couldn't agree more:
"It's just stupid, I think the two-per-country rule is the dumbest thing ever. Who cares if there's five Chinese girls in the finals; if they're the best, they should compete."
7. Oh boy, she's gonna pay for that selfie.
A South Korean gymnast decided to take a selfie with a North Korean gymnast, and the world collectively "awwww-ed." Yet few stop gushing long enough to think about the fact that tyrannical, violent North Korea hates South Korea, and fraternizing with the "enemy" probably isn't going to bode well for that North Korean gymnast or her family.
So many people forget the evil despots many of these athletes face back home (or think that evil can be eradicated by selfies). And it kind of scares me how many people don't grasp it all.
8. Wait, did Chuck Schumer just say what I thought he said?
Sen. Schumer and his party are infamous for their love of taxes despite all the hard work it took to earn that money.
And yet when he heard Olympians have to pay taxes on their winnings, Schumer actually had the nerve to say that "after a successful and hard fought victory, it's just not right for the U.S. to welcome these athletes home with a tax on that victory."
I'm just going to leave that one right there.
9. SO not shocked that Israeli athletes are being mistreated at the Olympics (again).
The Lebanese delegation physically blocked Israeli athletes from boarding a bus to take them to the opening ceremony. To the IOC's credit, they actually issued a formal reprimand. But hey, yeah, let's argue about how unfair it is that Michael Phelps carried the flag.
10. Totally shocked that two U.S. divers had the guts to profess their Christian faith on international television.
I did a double take on this one. Divers Steele Johnson and David Boudia ditched the typical post-event "well we just worked really hard and gave it our all and, yeah we can't believe it" spiel for something entirely different:
"It's cool because this is exciting, this is fun, but it's not what my identity is going to be the rest of my life. Yeah, I'm Steele Johnson the Olympian, but at the same time I'm here to love and serve Christ. My identity is rooted in Christ."
Kudos to you, gentleman!
I love the Olympics just as much as the next guy. But man, sometimes it's just not worth the aggravation.
Mary Ramirez is a full-time writer, creator of www.afuturefree.com(a political commentary blog), and contributor to The Chris Salcedo Show (TheBlaze Radio Network, Saturday, from noon to 3 p.m. ET). She can be reached at: afuturefree@aol.com; or on Twitter: @AFutureFree
–
TheBlaze contributor channel supports an open discourse on a range of views. The opinions expressed in this channel are solely those of each individual author.