In January 1999 a friend since childhood came to Atlanta for a Little League Baseball Coach's convention. Jim Peck was a pharmacist in the real world, but in his dream world Jim coached Babe Ruth and American Legion Baseball in Minneapolis. He's in the Minnesota Hall of Fame for his more than 50 years of coaching and mentoring young men.
Lynne and I invited Jim for dinner. Professional wrestler Jesse Ventura had just been elected governor of Minnesota and I couldn't wait to ask Jim whom he voted for. He grinned a bit sheepishly and said that he voted for the "rassler."
In this Oct. 7, 2011 file photo, former Minnesota Gov. Jesse Ventura, left, talks to the media in Minneapolis. Ventura sued Chris Kyle, the author of the best-selling book "American Sniper," for defamation in 2012 after Kyle claimed in his book that he punched Ventura at a California bar. AP Photo/Genevieve Ross, File
Prior to that election Minnesota had a Republican governor and a Democrat legislature. They bickered and fought and then ended the gridlock by increasing taxes and spending.
Ventura ran on the Reform Party platform. He promised to reduce the size and scope of government, to reduce class sizes in schools and he supported public debate on legalized prostitution.
Ventura's two opponents spent nearly $5 million between them. Ventura spent $250,000, but his celebrity gave him unusual media attention and he had huge crowds at his rallies. Ventura was elected with 37 percent of the vote.
Ventura's governorship started with promise, but the economy turned down and Ventura lost support in the legislature. He began remaining at his home in Maple Grove, refusing to go to the capitol, and lashing out at his critics.
In 2000 Ventura recruited Donald Trump to run for president on the Reform Party ticket. Trump promised fair trade and universal health care. He said that Oprah Winfrey would be his ideal running mate.
In early February Ventura became disenchanted with the Reform Party and withdrew his support. Trump ended his campaign on the Today Show on February 14.
All of this comes to mind because of Super Tuesday. Minnesota Republicans held caucuses to select their candidate for president. It is the only state in which Donald Trump has finished worse than second.
Minnesotans have been down this road before.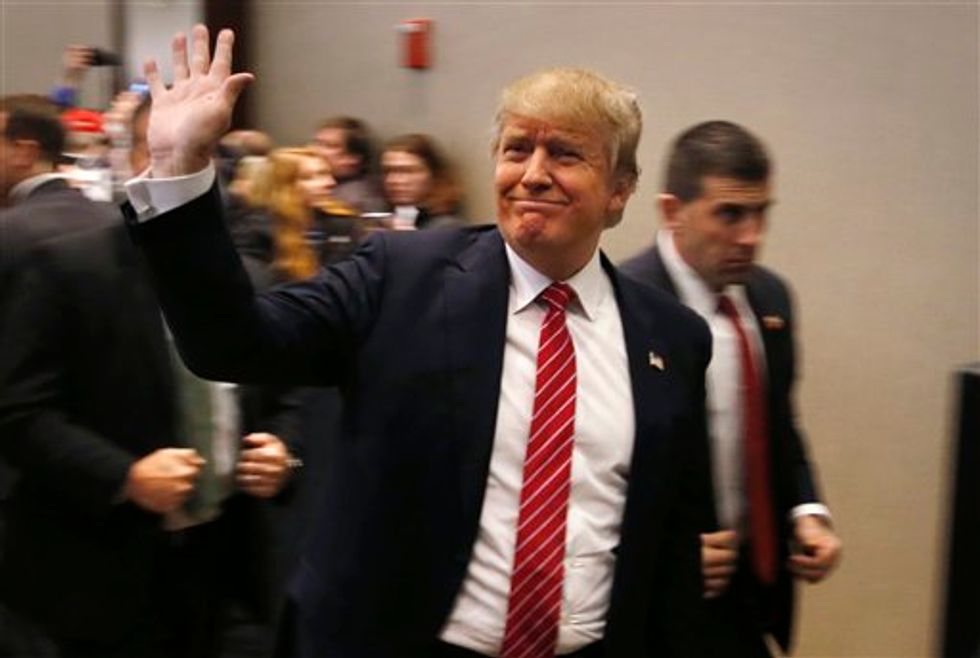 Donald Trump waves after a campaign stop Thursday in Portland, Maine. (AP/Robert F. Bukaty)
The disgust with government that brought Ventura to the governorship of Minnesota in 1999 is similar to the disgust with government in America today. And, as in Minnesota then, outsiders are winning elections.
Americans are dumbfounded and angry at what is happening in our country today and see nothing to lose by throwing out the old order and taking a chance on something new.
Last week we learned that a 30-year Army veteran took his life last July after failing to reach someone on the Department of Veterans Affairs suicide hotline. During the past 12 months the hotline had a 26 percent "abandonment" rate. That is the rate at which calls are dropped, generally for lack of response.
Meanwhile the current president is focused on easing the resettlement of Syrian refugees.
The average American looks at this and says nothing can be worse than what we've got.
The owners of Sweet Cakes by Melissa were asked to bake a cake for the wedding of a lesbian couple in Gresham, Oregon. They had served this couple for years, but concluded that their religious beliefs forbade them from participating in this ceremony.
The lesbians appealed to the State of Oregon and the bakers were found guilty of violating Oregon's civil-rights laws. They were fined $135,000 for the pain and suffering they caused to the couple.
Two Somali-American Muslim men lost their jobs with a trucking company for refusing to deliver alcohol because it was against their religion. In their case the Equal Employment Opportunity Commission sued the trucking company and won a $240,000 judgment from the trucking company on behalf of the Muslims.
The average American looks at this and says nothing can be worse than what we've got.
A decade ago our FBI was accused of monitoring the activities in mosques for terrorism. They assured the public that the FBI did not have a plan for monitoring mosques and did not intend to start one.
An atheist organization in Wisconsin sued the IRS alleging that Christian churches were abusing their tax-exempt status by promoting political candidates. The IRS settled the suit by agreeing to monitor Christian sermons.
The average American looks at this and says nothing can be worse than what we've got.
The lesson of the past week is: The Republican establishment doesn't get it. Donald Trump and Ted Cruz do.
The question is: Will we turn to the politics of Donald Trump and Jesse Ventura or the politics of Ted Cruz and Ronald Reagan?
If you would like to be added to John Linder's distribution list please send your email address to: linderje@yahoo.com or follow on Twitter: @linderje
–
TheBlaze contributor channel supports an open discourse on a range of views. The opinions expressed in this channel are solely those of each individual author.