The year 2015 is already almost over. And just like previous years climate cultists have been busy lying to our face, exaggerating claims or carefully cherry-picking their data. Since the mainstream media is usually on board with them, here is what you missed.
This Is The Hottest Year On Record
A climate cultist year would not be complete without claiming it is the hottest ever recorded. Hell, they are so convinced by their own nonsense that they already predict that 2016 will be hotter.
Of course, this is (most likely) hot air. Yes, 2015 was a hot year because of El Nino, but satellite data show that it was the third hottest year in the past 19 years. These data are more accurate since they are not influenced by heat islands or extrapolations from places without "official" thermometers. Some scientists even question the pertinence of global temperatures.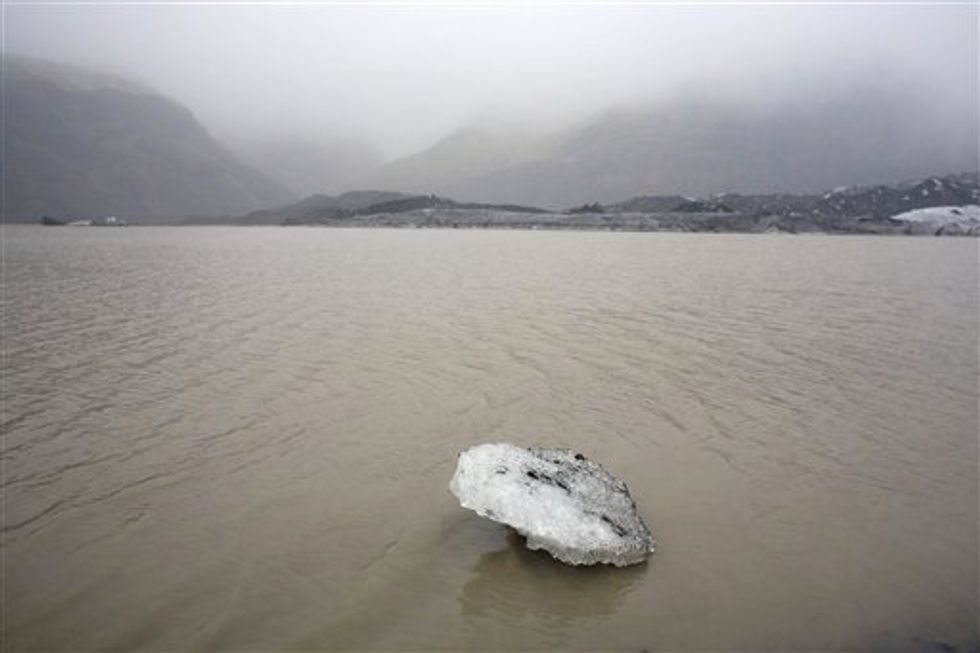 (AP/Thibault Camus, Pool)
Claims that 2015 is the hottest year on record comes from the (very likely) tampered data from NASA. Despite, yes, several flaws from bloggers like Steven Goddard, they are still showing that NASA constantly "corrects" its own data even for 2015. Until they provide clear evidence and reasons as to why they constantly adjust temperatures for the hotter, one can only be skeptical.
And even if surface temperatures were true, they still run much cooler than what models predicted.
The Artic is The Warmest It's Been in 110 Years
Still about record warmth, National Oceanic and Atmospheric Administration recently claimed that the North Pole is the warmest it has been since they first started recording temperatures 110 years ago.
Strangely enough, this warmth has happened the year that the Arctic ice extent, year-for-year, has reached its maximum in over a decade. And once again satellite data cool down NOAA's claim of record warmth. Yes, there is a warming trend since 1979 but it essentially flat-lined since 2003.
Besides why start with 1979 rather than 1974 as the Intergovernmental Panel on Climate Change once did in one of its reports?
Paris Is The Last Chance The Planet Has
So in order to stop the (non-existent) warming, leaders and activists met in Paris a few weeks ago. Dubbed "the last chance to avert dangerous climate change," all participants had high expectations from this summit.
Interestingly enough, we have had this "last chance" since at least 2001 at the Bonn summit in Germany. We are either very lucky or government actions have started to work. Then again, maybe the doomsday predictions are just as bogus as they have been since Malthus.
Paris Agreement Is Our Best Hope
Fortunately, the parties were able to sign a "historic" agreement. It will mark the end of the fossil-fuel era, create a carbon tax, promote a zero-carbon economy, stop the killing of puppies, yada, yada, yada.
But by taking out the hype of this agreement – and the pollution from people who flew there – one sees that the Paris agreement is as serious as the present state of the Constitution. First of all it is non-binding, so not respecting emission targets will yield no penalties. Already, countries who don't believe in the climate hysteria like South Korea, Japan and China are building thousands of coal plants. So if limiting CO2 emissions is a top priority, these plants will completely thwart these efforts. Besides wind and solar are not going to take over fossil fuels for energy any time soon.
And second, the continuous repetition of a lie does not make it a truth. There is no such thing as carbon pollution at present levels (400 particle per million). In fact, the world would be much better off with more carbon "pollution" since plants would grow thicker and farming yields increase. So taxing CO2 is just another tax-grabbing scheme that may not even reduce emissions.
Climate Change Causes Terrorism
Finally, this top five wouldn't be complete without the best lie of the year: climate change causes terrorism (or is even worse than terrorism). Since liberals favorite Bernie Sanders hammers the point, media outlets followed suit quickly.
Of course, the claim is without basis – mostly false according to Politifact. While, yes, sudden changes in climate may create tense situations, other causes can fuel conflict. Besides, why would Islamic terrorism be the only one influenced by climate change? The Anarchyball blog summarizes the stupidity of the assertion very well.
In short don't lose any sleep over the climate hysteria this year again. However, make sure you keep an eye on your government. It is convinced that the hysteria is true and will make your life more miserable in order to "fight" it. With elections looming around the corner, keep that in mind when voting.
–
TheBlaze contributor channel supports an open discourse on a range of views. The opinions expressed in this channel are solely those of each individual author.