In 1776, Thomas Paine published a book for the common people of America. Challenging British authority, he made an appeal for colonists to seek their independence. His was the first writing to openly do so. Keeping the message simple, Paine titled his book: "Common Sense." While some existed back then, in today's America common sense seems to have gone the way of the dinosaur.
It will be interesting to see if common sense manifests itself upon the campus of The Citadel - a military college in Charleston, SC. Officials there seem to be struggling with how to respond to an issue that, depending on the final decision, can alter the institution's dress code tradition.
The issue involves an incoming and unnamed female cadet who has requested permission that she be allowed to wear a hijab - a cloth head-covering for Muslim women. Acknowledging, "We do not currently have anyone that has a special religious accommodation for uniforms," nonetheless The Citadel says it is considering the request.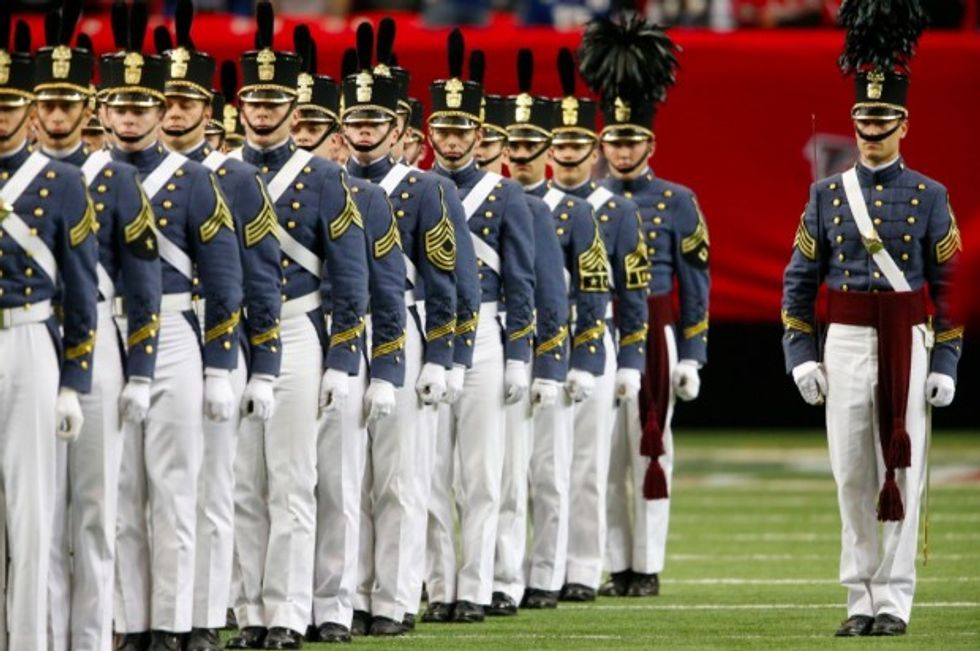 Members of the Citadel perform during the halftime of an NFL football game between the Atlanta Falcons and the Indianapolis Colts, Sunday, Nov. 22, 2015, in Atlanta. (AP Photo/John Bazemore)
With two traditions in direct conflict, The Citadel has to determine whether one need bend to the other.
A determination should start by examining the origin of both traditions.
The Citadel's dress code tradition is straight-forward, implemented with the school's establishment nearly 175 years ago. As reported, no exceptions during this time have been granted to a cadet on religious grounds or otherwise.
Interestingly, the tradition of the hijab, despite what Islamic propagandists may tell us, is murky at best. Early 20th century photographs of life in Afghanistan or Iran reveal women freely going about their daily activities sans hijabs. Only with Islamic fundamentalism's late 20th century arrival in such places have women been persecuted for failing to wear the hijab.
Thus, the hijab has both a questionable origin and enforcement history.
Citadel officials struggling with how to respond to this cadet's request should speak with Asra Q. Nomani, author of, "Standing Alone: An American Woman's Struggle for the Soul of Islam" - a Muslim woman who educates non-Muslims on many Islamic practices.
Nomani has been leading an effort to reform Islamic thinking about some of its religious practices and beliefs. These not only include historic misperceptions evolving into some improper practices today - like the hijab - but also historic practices now needing change.
Nomani recognizes within a politically correct world, there is a need for do-gooders to initiate acts of tolerance by accepting the traditions of others. But simply embracing - without understanding - them runs the risk of planting the seed from which intolerance, exercised by those allowed their tradition, can sprout.
An article Nomani wrote last year, "As Muslim Women, We Actually Ask You Not to Wear the Hijab in the Name of Interfaith Solidarity," explains her concerns.
Citadel officials might ask the incoming cadet to identify where exactly the Quran mandates women wear the hijab. She would be unable to do so because nothing in the Quran clearly demands it.
The requirement is one Islamic fundamentalists, i.e., Islamists, have imposed upon women, using the media and assistance of do-gooders to promote the idea wearing the hijab is a "sixth pillar" of Islam.
In reality, the hijab symbolizes the oppression of Muslim women - i.e., their submission to men. Therefore, any woman wearing it, Muslim or not, willingly accepts that oppression.
Citadel officials also need understand the negative message they transmit by sanctioning the wearing of the hijab.
While Islamists argue the hijab symbolizes modesty and dignity adopted by the faithful - on April 8, a more accurate read of what it symbolizes was given by Iran's senior cleric, Alam al-Hoda.
As an indication of how serious Islamists view this obligation imposed on Muslim women, he suggests acts like plundering, embezzling and stealing are more acceptable than failing to wear the hijab. But his exact words reveal why women failing to cover themselves are feared by Muslim men:
"The one who usurps other people's belongings, says something forbidden or takes a look that is not permissible has committed crimes that only mislead him, but the one who is not veiled correctly turns man into a tool for evil to mislead others." (Emphasis added.)
In other words, an unveiled (or "mal-veiled") woman triggers an uncontrollable lust in man, causing him then to become a tool of the devil.
Al-Hoda may be entirely right when it comes to Muslim males. This was fully evident last New Year's eve on the streets of Cologne, Germany, as numerous Muslim male refugees proved incapable of controlling their sexual urges. Sexual assaults on native women were too numerous for police to control. Muslim males see such assaults as an entitlement, sanctioned by Allah, to humiliate non-Muslim women viewed as sex slaves for failing to cover up.
For sufficient reason to deny the hijab request, The Citadel should note the observation of former Defense Intelligence Agency Director Lt. General Michael Flynn:
"Remember, the military and those institutions and programs that train our future military leaders must be standards based on what is best for the whole team and not based on what is good for individuals. The military is all about teamwork and not individual performance. Focusing on individual needs and not the needs of the team is the opposite of what is required to win on the modern battlefield."
Allowing female cadets to wear the hijab creates a double-edged sword.
What The Citadel may perceive to be an act of tolerance will, in reality, be one that accepts intolerance - i.e., sanctioning Islam's demand women submit to men.
Additionally, the presence of the hijab will convey to male cadets a message of character weakness - i.e., they lack the ability to control their emotions and actions in the presence of mal-veiled females.
While Citadel officials appear to be going through great pains to resolve the hijab issue, they should take a lesson from Thomas Paine and exercise common sense. Perhaps, like the Phoenix, some will arise out of the ashes of political correctness.
–
TheBlaze contributor channel supports an open discourse on a range of views. The opinions expressed in this channel are solely those of each individual author.