An unexpected shift recently occurred for Republicans who have long resisted openly criticizing President Barack Obama for his apparent lack of love toward America.
However, all that changed when former New York Mayor Rudy Giuliani, speaking at a private group dinner featuring Wisconsin Gov. Scott Walker and potential 2016 presidential hopeful, openly questioned whether Obama "loves America."
"I do not believe, and I know this is a horrible thing to say, but I do not believe that the president loves America," Giuliani said during a dinner at the 21 Club in New York, which consisted mainly of conservative business executives and conservative media. "He doesn't love you. And he doesn't love me. He wasn't brought up the way you were brought up and I was brought up through love of this country."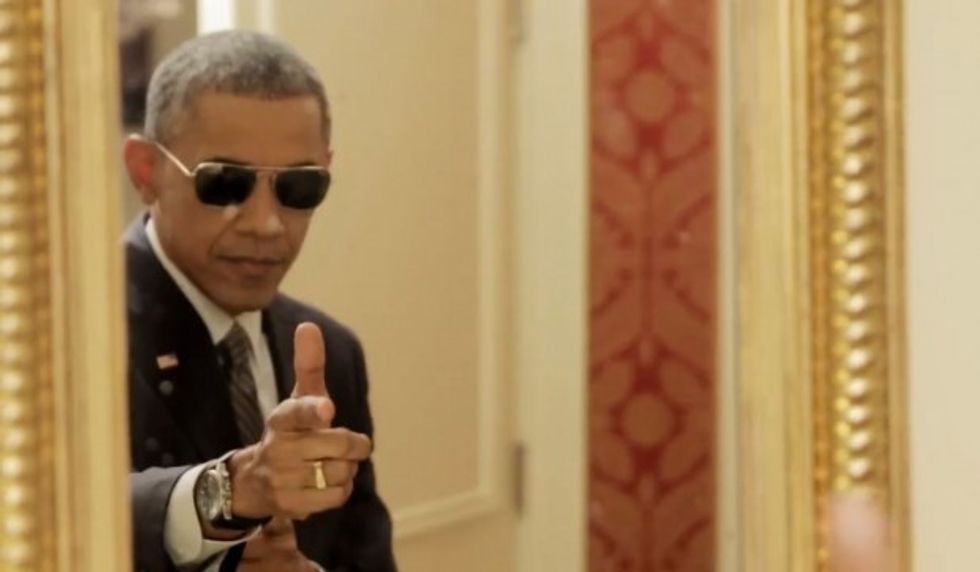 Image source: BuzzFeed 
While many Americans have been asking this same question both silently and openly throughout Obama's presidency, former and current GOP leaders have mostly remained reserved on the question of whether Obama loves America.
There are many troubling signs which have led a number of Americans to feel uncertain about whether Obama truly wants what is best for this country. The decisions made by Obama and his administration continue to puzzle the rational minded.
One such policy causing concern is that of the U.S. State Department. It plans to continue to admit and even increase the number of refugees from Syria following recent public beheadings and the burning deaths of hostages in Syria, Iraq and other countries around the world by the Islamic State group.
According to the State Department, the United States intends to quadruple the number of Syrian refugees that it will allow into the country this year based upon "a long tradition of welcoming refugees."
Many Americans are concerned, and rightly so, about the possibility of Islamic State militants sneaking into the U.S. along with other refugees. Additionally, once these refugees reach American soil, they may decide to take up arms and fight for the Islamic State group.
Chairman of the House Homeland Security Committee, Mike McCaul (R-Texas) agrees there is reason for concern and spoke out against Obama's plan to allow even more refugees from Syria into the U.S.
McCaul said that it would be a "huge mistake" to bring refugees from Syria and Turkey into the U.S. where they "could potentially be radicalized."
Nonetheless, State Department spokeswoman Jen Psaki indicated that the U.S. has already admitted 524 Syrians since 2011 and that there are plans to admit 1,000 to 2,000 Syrians in 2015 with a "somewhat higher number, though still in the low thousands, in Fiscal Year 2016."
Psaki in an apparent attempt to allay fears, assured reporters at a recent meeting that the U.S. will admit approximately 70,000 refugees this year but that "refugees are the most carefully vetted of all travelers to the United States."
Americans were essentially given similar assurances last summer when illegal immigrants from Central America flooded into the U.S.
Americans have since learned that apparently 30,862 foreign criminals among those from Central America were released under the Obama administration into U.S. cities and neighborhoods, according to a federal document.
It would appear that the vetting process either failed to detect those that could potentially harm the citizens of the U.S. or was otherwise overlooked.
Another troubling revelation that is counterintuitive to the actions of a president who "loves" his country, was disclosed by Sen. Ted Cruz (R-Texas).
Cruz recently spoke out about his belief that the Obama administration is "counterfeiting immigration documents" under Obama's executive action on immigration.
Cruz indicated in pertinent part that, "The administration is printing work authorizations. It is affirmatively acting in contravention of federal law. Basically, what it's doing is counterfeiting immigration documents, because the work authorizations it's printing are directly contrary to the text of federal law. It is dangerous when the president ignores federal law."
Not only is it "dangerous" as Cruz points out but the violation of federal law by a president, if true, cannot be considered as proof of a president who cares about his country.
Many citizens, if asked whether Obama loves America, would respond with a resounding "no" due to seemingly endless actions that favor non-citizens over citizens of the U.S.
It appears that Obama will need to significantly alter his current course of action if he wants to convince Americans that he "loves" them because Americans just aren't feeling it.
–
TheBlaze contributor channel supports an open discourse on a range of views. The opinions expressed in this channel are solely those of each individual author.