In dismaying news for a troubled alumnus, America's politically correct student revolutionaries have not bypassed Amherst College, as shown by a November 12-13 sit-in at the college's Frost Library. Amherst events provide a case study of modern academia's leftist domination with grave implications for academic freedom.
The student protesters issued a statement befitting the Maoist demands for self-criticism of China's Cultural Revolution Red Guards, although no cannibalism has yet occurred at Amherst. The protestors decried Amherst being "complicit in oppressive organizations" against the "systematically oppressed" and demanded statements of apologies from Amherst's Board of Trustees Chairman and President Biddy Martin. Although "only a part of short-term healing," this apology would address Amherst staff, students, and alumni who had suffered the modern lament of lacking a "safe space for them to thrive while at Amherst College."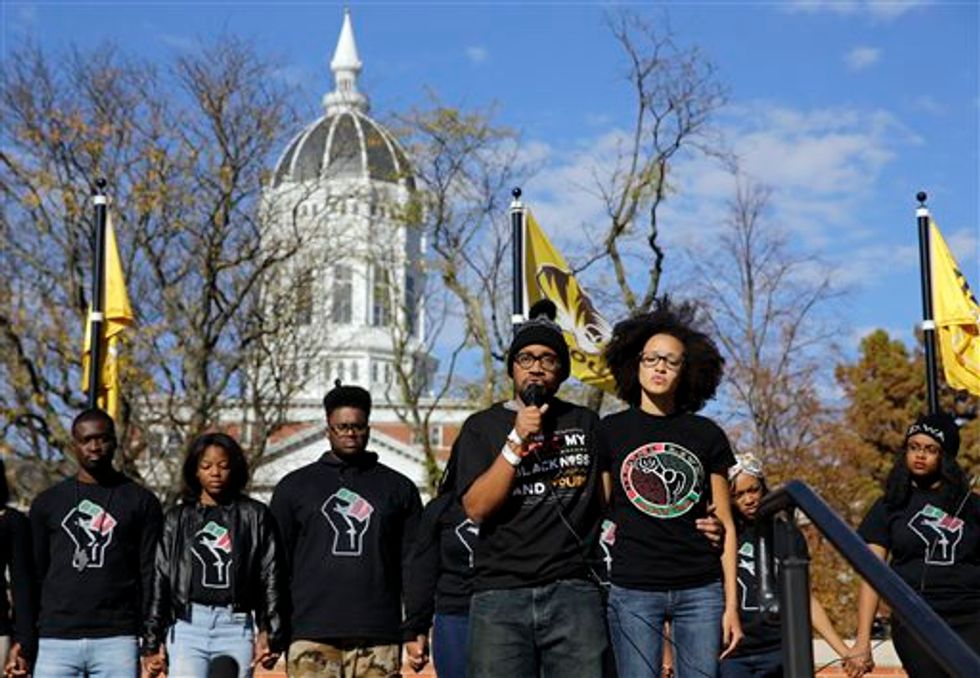 Jonathan Butler, front left, addresses a crowd following the announcement that University of Missouri System President Tim Wolfe would resign Monday, Nov. 9, 2015, at the university in Columbia, Mo. Butler has ended his hunger strike as a result of the resignation. A similar protest calling for the president to apologize for "systematic oppression" has started. (AP Photo/Jeff Roberson)
Unbeknownst to many at the "Fairest College," these individuals endured a catalogue of horrors of several injustices including but not limited to our institutional legacy of white supremacy, colonialism, anti-black racism, anti-Latin racism, anti-Native American racism, anti-Native/indigenous racism, anti-Asian racism, anti-Middle Eastern racism, heterosexism, cis-sexism, xenophobia, anti-Semitism, ableism, mental health stigma, and classism.
While no institution is perfect, such sins and any corresponding inability of the Amherst College community to thrive are not immediately apparent. A campus statue commemorates Amherst alumnus and abolitionist Henry Ward Beecher while a captured Confederate cannon in a college building recalls Amherst students who fought in the Civil War. Amherst's Charles Drew Memorial Culture House carries the name of another alumnus who was a medical pioneer and, like civil rights legal pioneer Charles Hamilton Houston, is among Amherst's distinguished African-American graduates. The first Japanese graduate of a Western institution of higher learning, Joseph Hardy Neesima (Amherst Class of 1870), initiated Amherst's longstanding relationship with Japan.
Not an Amherst alumnus, but the college's unofficial mascot, Lord Jeffery Amherst, the 18th century British commander-in-chief in North America, is the current object of scorn for the college's would-be betters. Amherst's conquest of Canada from the French endeared him to American colonists, including those who named the Massachusetts hometown and namesake of Amherst College. In a 1763 letter exchange, though, Lord Amherst suggested dissemination of smallpox-infected articles among "disaffected tribes of Indians" for their "Total Extirpation."
The Frost protesters demanded that Martin condemn the "inherent racist nature of the unofficial mascot, the Lord Jeff," memorialized in the school fight song and the private Lord Jeffery Inn next to the college. According to the protesters, this condemnation "will be followed up by the encouraged removal of all imagery" pertaining to Lord Amherst (perhaps even including his portrait in the college's Meade Art Museum?).
"Some people believe that drawing a parallel between Jeffrey Amherst and Adolf Hitler is going too far," a Native American student in the 2014 Amherst College class once said, "but for me and many other Native people, Amherst is our Hitler."
Yet the reality of Lord Amherst's offending letters during Pontiac's Rebellion, a conflict involving several Indian tribes in the Pennsylvania colony and Great Lakes area, is more complex. While Indians seized several British outposts, 600 settlers sought protection at Fort Pitt with its garrison of 125 soldiers on the site of modern Pittsburgh, then enduring the deprivations of a siege by 1,000 Indians. Historical evidence indicates that the fort's commanding officer, Captain Simon Ecuyer, independently implemented Lord Amherst's scheme with indeterminate effect.
"The Fort Pitt smallpox episode is just one example of the degree of hatred that animated both sides during Pontiac's Rebellion," a Pennsylvania historical society writes.
Once celebrated by colonists and Indians alike for its peaceful intercultural relations, Pennsylvania had become a killing ground in which each side became convinced that its future rested on extirpating the other. Indians raided British posts and settlements…burning homesteads, taking captives, and torturing and murdering soldiers and civilians. British colonists and soldiers retaliated with equal brutality."
The "British were willing to use biological warfare against their Indian enemies," the historical society writes objectively without Hitler hyperbole. The fact that several British officers like Ecuyer independently considered smallpox stratagems demonstrates that Lord Amherst possessed no unique cruelty. Indeed, evidence indicates that the British tried to weaponize smallpox against rebels in the American Revolution, a tactic that recalls medieval military uses of animal carcasses.
Lord Amherst had particular grudges against Native Americans, although there is no record of his in bello extermination musings ever affecting the various Indian tribes with which the British often traded, negotiated, and formed alliances. Inflated reports of Indians killing and scalping British soldiers in French captivity during the 1757 Fort William Henry massacre outraged him and the rest of British North America. While deplorable, Lord Amherst's hatred found echoes centuries later in American icon Theodore Roosevelt.
"I don't go so far as to think that the only good Indians are dead Indians," he declared, "but I believe nine out of 10 are, and I shouldn't like to inquire too closely into the case of the 10th."
Such historical nuances are unlikely to find a fair hearing among the Frost protesters who demanded a vague "zero-tolerance policy for racial insensitivity and hate speech." They particularly condemned posters placed on campus with statements such as "All Lives Matter" and "in memoriam of the true victim of the Missouri Protests: Free Speech." The "racially insensitive" students involved should "be required to attend extensive training for racial and cultural competency.
Martin's call in a statement largely sympathetic to the protesters to "protect free speech while also establishing norms within our communities that encourage respect" is cold comfort under the circumstances. Absent rigorous respect for intellectual freedom, the Left's sacred cows such as LGBT agendas and non-Western faiths like Islam will go unchallenged while aspects of Western civilization like Lord Amherst will endure the strictest of scrutiny. The noxious ramifications of such biases extend well beyond the idyll of elite institutions like Amherst, a fact that should provoke alumni and parents to exercise adult supervision over increasingly infantile students.
–
TheBlaze contributor channel supports an open discourse on a range of views. The opinions expressed in this channel are solely those of each individual author.