As Veterans Day approaches, a day to celebrate and honor America's veterans for their patriotism, love of country and willingness to serve and sacrifice for the common good, one woman has felt the emotional sting and devastation of what that sacrifice really means.
Debbie Lee, founder and president of the non-profit organization, America's Mighty Warriors, heads a group that "supports our troops, the fallen and their families and works with like-minded organizations to do the same, so that our heroes will never be forgotten."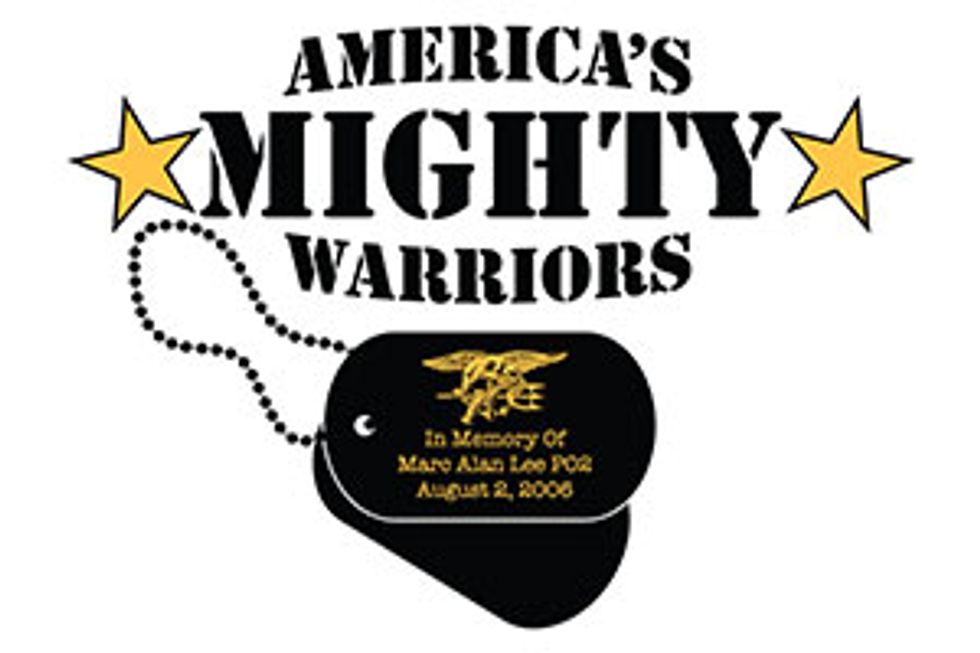 Courtesy of America's Mighty Warriors
A distinguished ambassador to the organization includes U.S. Navy SEAL veteran and "Lone Survivor" Marcus Luttrell. Lee's organization also impacts the lives of veterans by providing them with needed services.
I spoke with Lee recently on my radio show, Stand For Truth Radio, to learn more about her organization and her son's life.
Lee is a Goldstar Mom, which signifies that she has lost a son or daughter in service to the United States. She lost her son Marc Alan Lee on Aug. 2, 2006 while he was fighting in Ramadi, Iraq. Marc was the first Navy SEAL killed in Iraq.
Since then Lee has dedicated her life to "honoring our troops and the families of the fallen, defending our defenders and fighting to keep the freedoms that our troops have fought for."
Marc's last letter home before his death, inspired Lee to continue his desire to "pass on the love and kindness and precious gift of human life" and she has been doing so for years.
It is apparent from Marc's letter that he was saddened by observing the "ills" that war can often bring. However, the godliness that he witnessed from the hearts of some men and women triumphed over the bad. Marc was inspired and determined to make a difference in the lives of others by extending kindness to everyone, including strangers.
"I have seen amazing things happen here, however I have seen the sad part of war too. I have seen the morals of a man who cares nothing of human life…I have seen hate towards a nation's people who has never committed a wrong, except being born of a third world, ill-equipped and ignorant to western civilization," Marc wrote.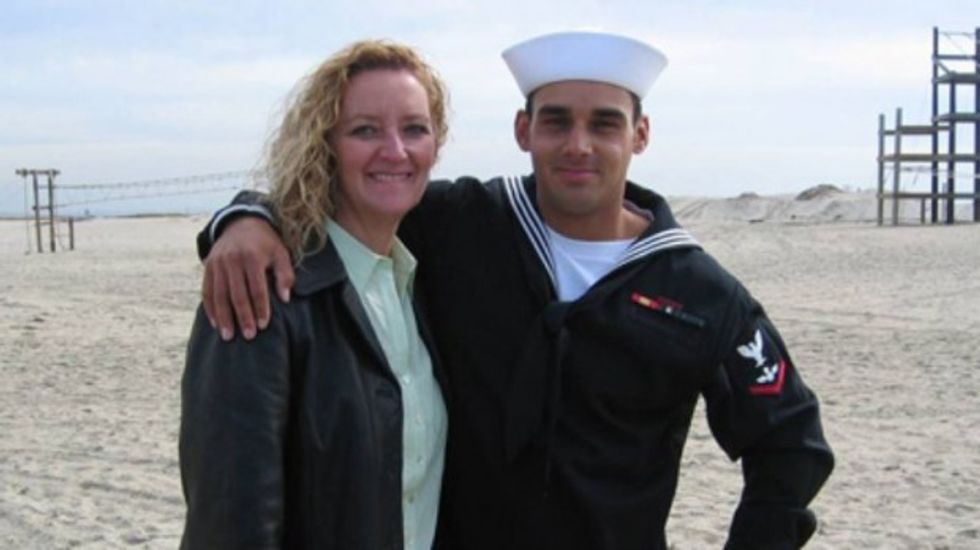 Founder and President Debbie Lee with her son, Marc, who died in Iraq on August 2, 2006. Courtesy of America's Mighty Warriors
"Our country is a great country, don't get me wrong on this, otherwise none of us would be living there. My point of this is how can we come over here and help a less than fortunate country without holding contempt or hate towards them if we can't do it in our country. I try to do my part over here, but the truth is over there, United States, I do nothing but take," Marc continued.
"Ask yourself when was the last time you donated clothes that you hadn't worn out. When was the last time you paid for a random stranger's cup of coffee, meal or maybe even a tank of gas? When was the last time you helped a person with the groceries into or out of their car?" Marc wrote.
Marc, 28 years old at the time he wrote the letter, would never be able to put "his acts of kindness" into practice in the U.S. because Marc would be killed in action in Iraq, less than a month after penning the letter to his family.
However, Lee, a mom who is tremendously proud of her son and his service to our country, has taken up Marc's cause in his absence. Lee named her organization, America's Mighty Warriors after Marc, whose name means "mighty warrior."
Listening to her on my show provide the specifics regarding her son's life, his tragic death, and his time spent serving alongside U.S. Navy SEAL veteran and 'American Sniper' Chris Kyle, was heartbreaking.
Lee, who is a Christian finds comfort in knowing that her son, who also loved the Lord, is now with God. And she, like other Goldstar families, never want their loved ones to be forgotten.
Lee also recalls, during her interview, how Kyle and others who served with her son, became like "sons" to her. She also shared the pain she felt when she was notified that Kyle had been killed.
Until we have spent one day in the 'boots' of those that are willing to fight and die for us, we cannot even begin to understand what they must endure. Nor can we even fathom what it is like to have to say good-bye to a son or daughter who died so that others might be free.
Marc Alan Lee is one of those men who selflessly died for our country. We owe it to him and the countless others who have sacrificed and to those who continue to sacrifice for us long after they have returned home from deployment.
Our troops, fallen troops and our veterans must never be forgotten. You and I owe them at least that much.
So this upcoming Veterans Day, would you join me in making a commitment to honor our veterans and military men and women by showing them a random act of kindness in Marc's memory?
Hear Debbie Lee's complete interview on Stand For Truth Radio:
–
TheBlaze contributor channel supports an open discourse on a range of views. The opinions expressed in this channel are solely those of each individual author.