WARNING: The links in this article include violence and profanity.
Having spent nine years mentoring black kids who live in one of America's poorest and most dangerous cities, I've served as a substitute dad for a number of teenagers. I never planned to become so invested in their lives, but many of my former students and athletes do not have devoted fathers. Many of their mothers struggle with drug addictions. And the chaos these kids experience in urban schools is enough to make anyone who hasn't been there sick.
According to civil rights leader Al Sharpton, urban schools "disproportionately" have "inadequate teachers." Apparently, Sharpton expects America not to notice that predominantly black schools usually have black principals and far more black teachers than suburban schools. Even the superintendents tend to be black, as do most of the school board members. Despite the obvious, President Barack Obama supports Al Sharpton.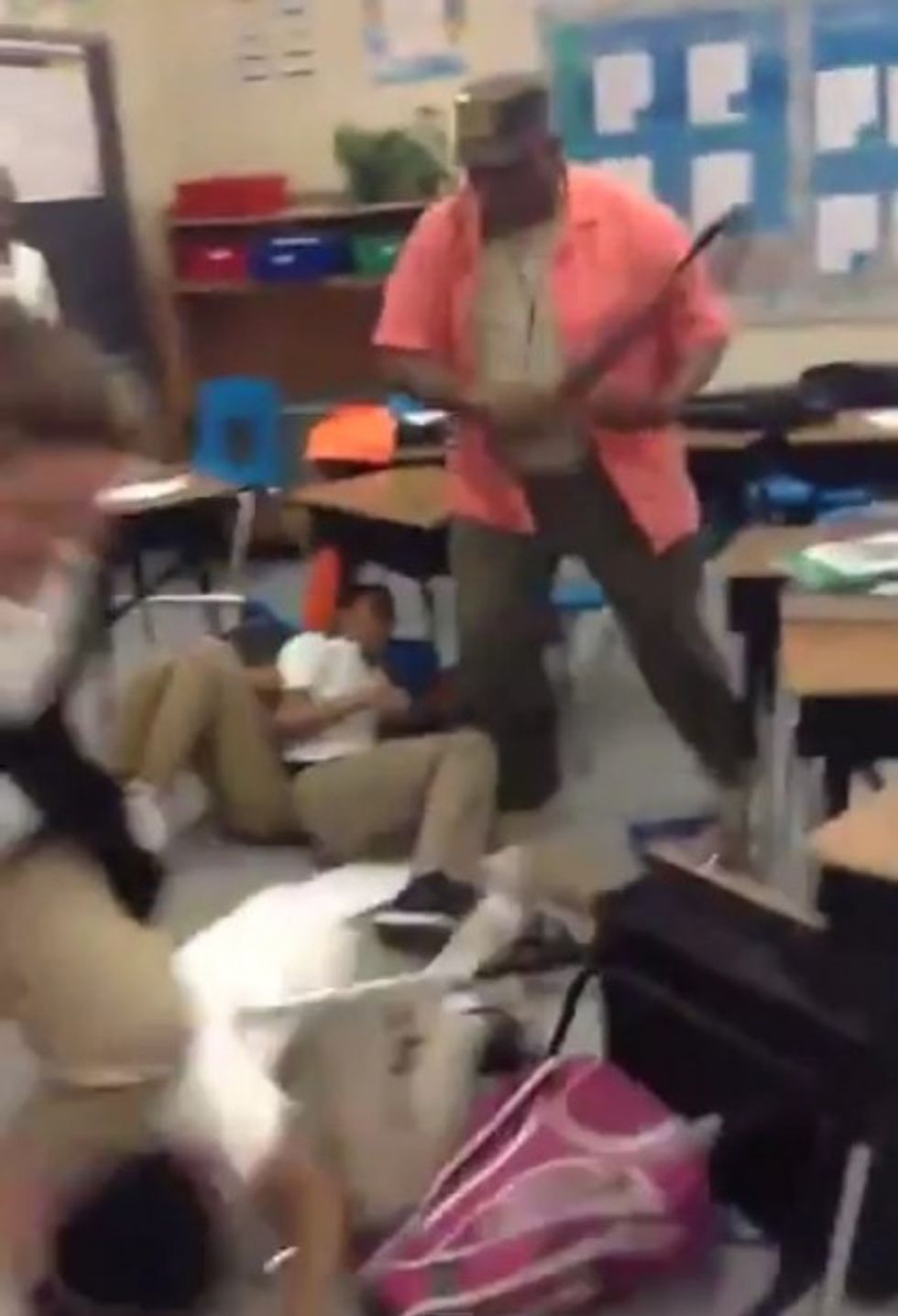 Albert Cooks uses a belt to regain control of a classroom following a student fight. Image source: Live Leak
In 2014, the Obama administration alleged that public schools were discriminating against black kids through racially biased discipline policies. The Department of Justice threatened to file lawsuits for civil rights violations because black students are disciplined more often than are all other racial groups -- more than three times as often as white kids.
Of course, white kids are punished more than three times as often as Asian kids, but it's nothing to ask questions about.
Civil rights hustlers and the Obama administration would rather discuss the fairytale of the school-to-prison pipeline. They claim to believe that America is inherently responsible for the disproportionate percentage of black youths disciplined in public schools. They also argue that minor school infractions land the kids in the criminal justice system.
However, who is designing these discipline policies? And who is disciplining all these black kids? The answer is painfully obvious: liberals.
It's irrefutable that the overwhelming majority of public school teachers are liberals. In fact, 72 percent of the delegates for the largest teachers union in the United States voted to endorse Obama for reelection at the National Education Association's 2011 convention.
Despite the plethora of support from liberal teachers, the Obama administration still accused them of violating black students civil rights. However, video evidence helps to uncover whose civil rights are actually being violated and who the actual perpetrators are.
Internet videos posted by black students themselves regularly document these alleged civil rights violations.
On May 15, the most recent video to capture national attention documented a substitute teacher in Maryland breaking up a classroom brawl involving four black sixth graders. What alarmed the media and the public was not the dysfunctional behavior of the four classroom derelicts, or the chaos they created. Instead, what mortified half of America was the teacher's effective use of a belt to instantly regain control of the classroom.
As it turns out, the substitute, Albert W. Cooks, is a former vice principal with 20 years of school administration experience. He's also black.
Mr. Cooks defended his actions in a statement released last week [emphasis mine]:
We have a major problem in our society with kids coming to school for anything but to get an education ... Talk is cheap, and the parents of today need to instill some old fashion values that our kids can take with them into their future and become contributing citizens ... I just want to make sure all kids, especially black kids, go as far as they can in school...
Normal people who watch the video see four out-of-control boys violating the civil rights of their black classmates by making learning impossible. This sort of behavior is rampant in urban schools -- but generally kept out of sight and out of mind or just downplayed by the media.
Meaningless discipline policies demanded by the Obama administration to lower the percentage of black kids being suspended are definitely making an impact. Last year, a black female math teacher from the Memphis school system, Danita Martin, described what a typical day in her urban middle school classroom was like [emphasis mine]:
I'm called by my students, "Gay, lesbian, dyke, sir," and my favorite, "White girl." Students tell me, "Who the F-bomb do you think you're speaking to?" and "Shut the F up," when talking to me. But [the dysfunctional students] go unpunished.
Because no meaningful consequences exist for the hoodlums -- who are not at school to learn -- responsible black students are being robbed of an education.
As the Obama administration pats itself on the back for being so helpful to black kids, liberal teachers go on being verbally abused or engaged in hand-to-hand combat. Liberal white teachers often do nothing while black hoodlums maul black classmates.
 (AP Photo/Jacquelyn Martin)
On May 5 at Northwest High School in Indianapolis, a white teacher took no physical action to stop a black male student from brutally beating a black female student. The district has since defended the teacher's inaction as district policy.
Northwest High School had three fights that day, and a black female student's leg was broken during one of the other fights.
When teachers do intervene, they can become the targets of the violence as my former black vice principal experienced. While trying to break up a melee involving nearly a dozen black students in North Carolina, a giant man was attacked by multiple students who joined the fight. The video evidence of the fight was removed from YouTube before the story made the local news. (Students can be suspended for posting these videos on the Internet -- producing more evidence of the racially-biased discipline policies liberals implement to disproportionately target black kids.)
However, a video from a high school in Toledo, Ohio, captures a white teacher flipping a freshman black girl to her back -- after she attacked him for trying to prevent her from fighting another student.
On April 26, video evidence documents a brawl at a Memphis high school involving a large group of black girls. Eight of the girls were suspended after school officials used physical force against them.
In Detroit, a black teacher made the national headlines last year when video documented her using a broomstick to stop two black teenagers from fighting in the middle of class. She was initially fired, but later reinstated.
In Paterson, New Jersey, video documented a 16-year-old black freshman (yes, you read that correctly) slamming and punching a 62-year-old teacher at John F. Kennedy High School this year. The teacher never attempted to defend himself. If he had, he might have violated the child's civil rights.
In Georgia, a black female substitute teacher and a black female student slug it out on video after the student allegedly threatened to pull off the teacher's wig.
Last year in Baltimore, video captured a black female teacher violently fighting with a black female student and threatening to kill her. In 2013, the president of the Baltimore Teachers Union, Marietta English, found it hard to believe that only four assaults occurred every day on Baltimore school employees. She expected the number to be higher.
No rational person who witnesses what goes on daily in urban schools would accuse black teachers of being racist to black students. However, a reasonable person would question whether the civil rights of urban school teachers and responsible black students are being violated by hoodlums and the liberal-race hustlers who empower them.
Confining responsible black students to classrooms with dysfunctional derelicts is a crime being perpetrated by the Democratic Party. Calling a detention center a school does not make it a school.
Clearly, expecting responsible black students to forfeit their educations -- just so liberals can legally detain juvenile delinquents during the day without charging them with crimes -- seems like a felony in itself. Worst of all, it's being perpetrated by the nation's first black president and his civil rights allies.
Feature Image: Shutterstock
–
TheBlaze contributor channel supports an open discourse on a range of views. The opinions expressed in this channel are solely those of each individual author.