Amidst the cacophony of the immigration debate—where it seems we can't simply talk the problems without it quickly spiraling into a mudslinging, truth-deficient racially-charged circus—let's take a break and revisit a really great story.
Some time ago I introduced you to Paty Newman, the daughter of two Mexican nationals who chose not to use their daughter as their ticket to ride; as their "anchor" to the United States:
"Knowing full well the benefits that they could have reaped had they decided otherwise, they made arrangements to be back in Mexicali, Baja California, for the birth of their daughter Paty."
As it happened, Paty came early. And—per an interpretation of the 14th Amendment that is still widely disputed—Paty was born on American soil, rendering her an American citizen.
Be that as it may (and irrespective of whether or not the 14th Amendment is correctly interpreted in providing "birthright citizenship") her parents still were not citizens. And, out of respect for that fact, they finished the stay to which their visas entitled them—and went home to Mexico with their daughter Paty, who later returned to the United States on her own.
People just like Paty are currently at the center of this circus; particularly as it relates to Donald Trump, who has ruffled feathers for his unapologetic use of the term "anchor baby."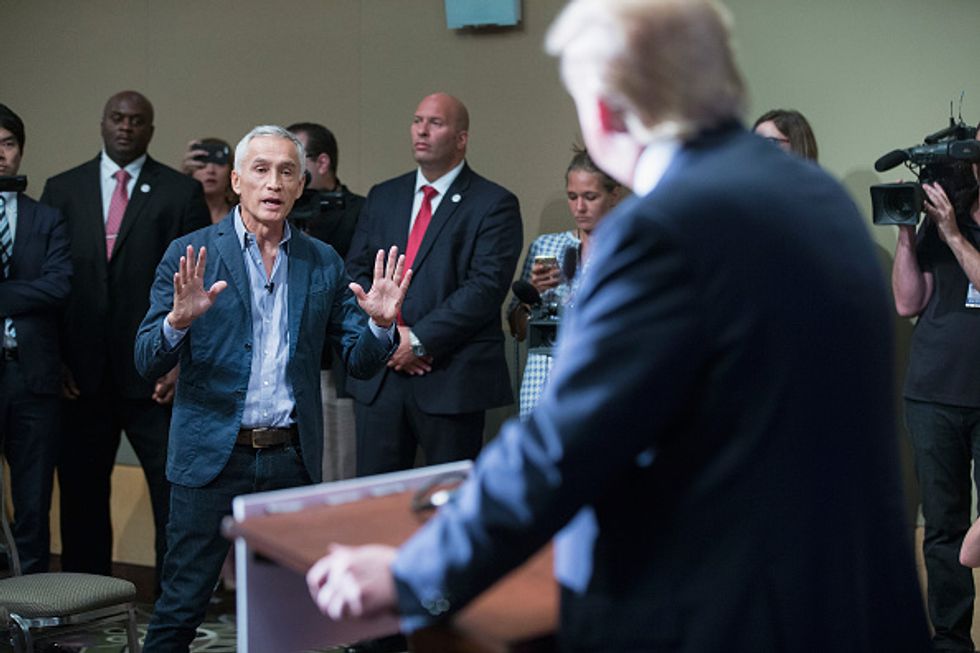 Republican presidential candidate Donald Trump fields a question from Univision and Fusion anchor Jorge Ramos during a press conference held before his campaign event at the Grand River Center on August 25, 2015 in Dubuque, Iowa. Earlier in the press conference Trump had Ramos removed from the room when he failed to yield when Trump wanted to take a question from a different reporter. Trump leads most polls in the race for the Republican presidential nomination. (Photo by Scott Olson/Getty Images)
Trump recently sparred with Univision's Jorge Ramos (a man who refers to Trump as "the loudest voice of intolerance, hatred and division in the United States") over immigration; even temporarily kicking Ramos out of a press conference in Iowa for refusing to wait his turn.
Here's the deal. I don't want to talk about Donald Trump. I don't want to sit and break down the numbers to determine if Trump's claims relative to immigrant criminality are accurate. I don't want to have a back and forth about whether Trump's approach is right or wrong.
I want to talk about human rights.
Before his now-infamous removal from Trump's event, Ramos recorded a video analysis of the GOP presidential candidate's immigration plan, claiming it "would create a massive human rights violation" for seeking to deport those here illegally.
"Can you imagine separating families? Breaking up families?" Ramos implored, making reference to the families of children born here.
Ramos continued:
"On the other hand, it seems that he wants to get in the business of deporting babies, of course, by denying citizenship rights to the children of undocumented immigrants in this country. He might not like it, but the Constitution says otherwise. The last time I checked, the 14th Amendment read that 'all persons born in the United States are citizens of the United States.'"
For the record, Mr. Ramos, the part you referenced actually reads [emphasis added]:
"All persons born or naturalized in the United States, and subject to the jurisdiction thereof, are citizens of the United States and of the state wherein they reside," but I'll let my friend and fellow TheBlaze and Chris Salcedo Show contributor Chad Kent tackle that one.
Let's get back to the idea that making people answer for their indiscretions (which is what deportation ultimately is) is a "massive human rights violation."
In this day and age, we're pretty fast and loose with the term "human right."
And we're lightning-fast to cry "racism" or "bigotry" or "injustice" anytime those purported human rights aren't supposedly recognized. In "anchor baby" conversation, it's deemed racist and hateful to refer to children—who are used by their parents as an excuse to continue breaking the law—as "anchors."
Here's the thing: wanting something because it's beneficial to you doesn't make it a human right.
[sharequote align="center"]Here's the thing: wanting something because it's beneficial to you doesn't make it a human right.[/sharequote]
I don't deny that for many people, the United States embodies much of what they can't find in their own countries: liberty, opportunity, justice, and so on.
And I speak from personal experience when I say I hope we reach a better way to make that a reality for more people.
But let me repeat: Wanting something because it's beneficial to you doesn't make it a human right.
Just because the United States is the dream of many does not mean that every single person who wants to come here is entitled to come here by whatever means they choose.
They are certainly not entitled to break the law and have that lawlessness protected by a contorted definition of a "human right."
What's amazing is that for Ramos' assessment to be accurate—that deportation will break up families—the illegal parents in question would actually have to leave their child behind in order for the families to be separated. No one is suggesting that these children MUST stay here upon deportation of their parent(s); no one is suggesting that our government force these parents to leave their children here.
That's what makes Paty Newman's case so amazing. Her parents took the road less traveled; they chose to keep their daughter by their much-needed side, and set an incredible example of honor and commitment in the meantime by following the rule of law.
Without that rule of law, we ultimately become what Jorge Ramos purports to defend against: a country that cares only about a chosen few, and very little about, as Ramos himself put it, "the most vulnerable."
In this June 20, 2014 file photo, immigrants who entered the U.S. illegally stand in line for tickets at the bus station after they were released from a U.S. Customs and Border Protection processing facility in McAllen, Texas.n. (AP Photo/Eric Gay, File) 
"Those of us that have lived under the rule of a corrupt government, know how important it is to maintain and protect the rule of law. That sense of security can't be replaced by anything!" wrote Paty, "Knowing the law applies equally to rich or poor, to black, brown or white allows for everyone to achieve as much as one wants to achieve. I challenge those that would benefit from his [Obama's] lawlessness to remember why they left their country of origin. They escaped the unfairness that comes from applying the law differently for different special groups of people. Today, they are asking us to make those same exceptions. If we succumb to those demands, our individual opportunities for success will die, and with that the greatness of America."
Indeed, by promoting lawlessness masked as a human right, do we not endanger what makes this nation so unique among the nations? THAT is what every GOP candidate ought to be shouting from the rooftops. Rise above the claims of racism and injustice: speak and demand truth.
Regardless of whether or not Trump's ejection of a man some call the "Walter Cronkite of Hispanic media" was a smart move, I love the irony of the whole thing: Ramos' antics at the presser were illustrative of the very position he advocates: claiming a right to something simply because he wants it.
You see, Ramos was at Donald Trump's press conference, which means Trump gets to make the rules. Trump hadn't called on him, yet Ramos shouted out his statements anyway—and then claimed he's entitled to a "right" to ask a question because he's a "reporter, an immigrant, a senior citizen."
Yes, we need to talk about how we deal with the millions of illegal immigrants.
Yes, we need to talk about how we fix a broken legal immigration system.
But let's start by getting one thing unequivocally straight: breaking the law is not a human right. And until that is recognized, this debate continues as the circus it truly is.
Mary Ramirez is a full-time writer, creator of www.afuturefree.com (a political commentary blog), and contributor to The Chris Salcedo Show (TheBlaze Radio Network, Saturday, from noon to 3pm ET). She can be reached at: afuturefree@aol.com; or on Twitter: @AFutureFree.
–
TheBlaze contributor channel supports an open discourse on a range of views. The opinions expressed in this channel are solely those of each individual author.