Nowhere is President Barack Obama's hunger for a foreign policy legacy of reconciliation more apparent than his historic visit to Cuba in March.
But, Havana is no longer the main threat to regional destabilization. Cuba's socialist ally, Venezuela, is.
The country is imploding thanks to the stubborn authoritarianism of President Nicolas Maduro and his regime. If Venezuela falls apart on Obama's watch, it will become his Latin American legacy. To avoid this, Washington will need to demonstrate much clearer, decisive regional leadership.
There is no time to lose. Life for Venezuelans is becoming more unbearable by the day. Electricity and power is sporadic and hospitals are missing around 95 percent of essential medications. Meanwhile, Venezuelans stand in line for hours outside largely empty supermarkets in the forlorn hope of basics, such as flour, milk and rice.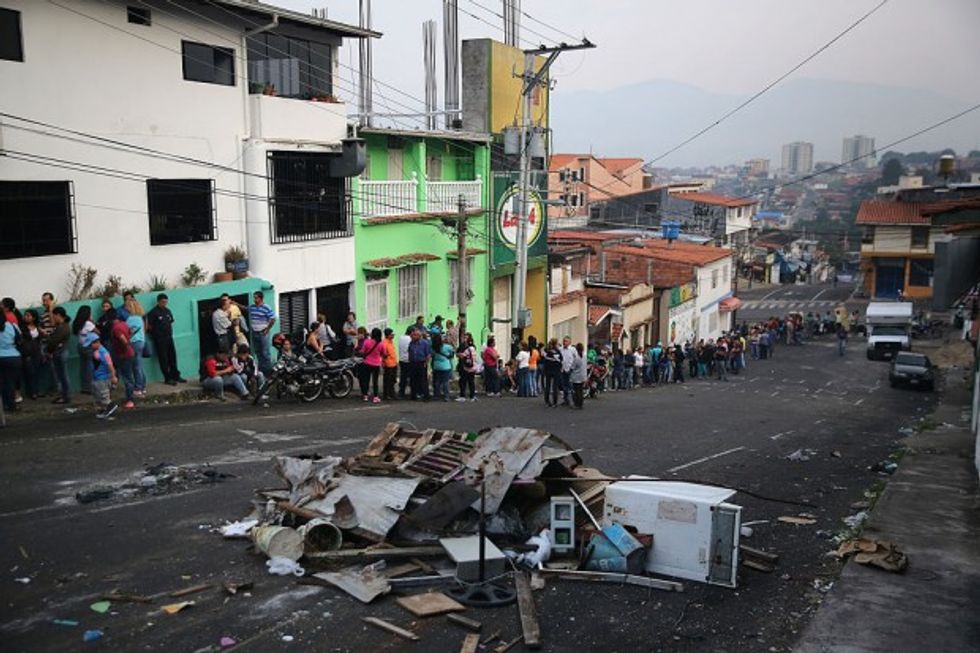 Refuse from a barricade put up by protesters clutters the street in front of a long queue to buy basic foodstuffs at a supermarket before sunrise on March 8, 2014 in San Cristobal, the capital of Tachira state, Venezuela. Shortage of such products as flour, milk and sugar have made life increasingly difficult for residents of Tachira, which has been a focal point for anti-government protests for almost a month. (John Moore/Getty Images)
The desperation is acute. Earlier this month, around 500 Venezuelan women risked the gauntlet of armed soldiers to storm the sealed Colombian border, in order to purchase the essentials they need to survive.
The result is a pressure cooker, primed to boil over at any given moment. Venezuelan lives are already being lost. Babies are needlessly dying in hospitals. People are being killed amid increasingly common food riots and looting. The prospect of a return to the widespread violence which saw at least 40 unarmed protestors killed in 2014, is becoming ever more real.
And yet incredibly, the Maduro regime has no real plans to combat this spiralling chaos. Instead of a rescue plan for an economy poised to default, Maduro ominously launched the country's largest ever military exercise. Rather than shoulder responsibility for gambling Venezuela's oil riches on unworkable public programs, Maduro prefers to ludicrously blame the country's plight on fictional foreign "conspiracies."
The one thing we can be sure of, is that Maduro has no intention of relinquishing power. Key political opponents have been jailed, while the opposition-controlled National Congress is stymied by the Maduro-controlled judicial system. Meanwhile, Maduro is blocking a popular push for a recall referendum, a constitutionally mandated vote on his rule.
With internal opposition neutered, external actors must help deliver change. After all, as the Venezuelan economy continues to plummet, Maduro will inevitably look to foreign cash in order to keep the country afloat. And there is no stronger, richer regional power than the United States. It is time for Washington to use this leverage. So far, the Obama administration has tamely supported a proposed dialogue between Maduro and the opposition, spearheaded by former-Spanish Prime Minister Zapatero. But this protracted process will take time which Venezuela cannot afford.
The United States must instead galvanize the region, if it really hopes to pull Venezuela back from the brink. The first step should be support for Luis Almagro, head of the Organization of American States (OAS). He has proposed that the regional bloc invoke a convention which could see Venezuela's OAS suspension if it continues to disregard democratic norms. His initiative has not met with unanimous approval. Washington must look to tilt the balance. Meanwhile, Venezuela's closest ally Cuba, must understand that growing ties with the United States comes at a price – Pressure on comrades in Caracas to reform or resign.
Indeed, the wider message that American regional strong-arming would send, could be dramatic. It would tell not only President Maduro, but all of Latin America in no uncertain terms, that partnership with America means throwing off dictatorship and endorsing freedom and liberty. Surely that is the kind of legacy Obama is looking for.
Carlos Marquez is the Executive Director of the Venezuelan American Leadership Council (VALC), a Washington DC based non-profit looking to bring together Venezuelan expats and all Americans who want democracy and freedom in Venezuela.
–
TheBlaze contributor channel supports an open discourse on a range of views. The opinions expressed in this channel are solely those of each individual author.