The roller coaster that is the Republican presidential race this year shows little sign of stopping before July's nominating convention in Cleveland.
None of the three remaining candidates has a definitive path to securing the 1,237 delegates needed to win on the first ballot. A contested convention seems increasingly likely.
No one can predict who will emerge from that contest as the Republican nominee -- Donald Trump, Ted Cruz, or someone else. What is crystal clear, however, is that the best vice-presidential choice for any candidate is Carly Fiorina.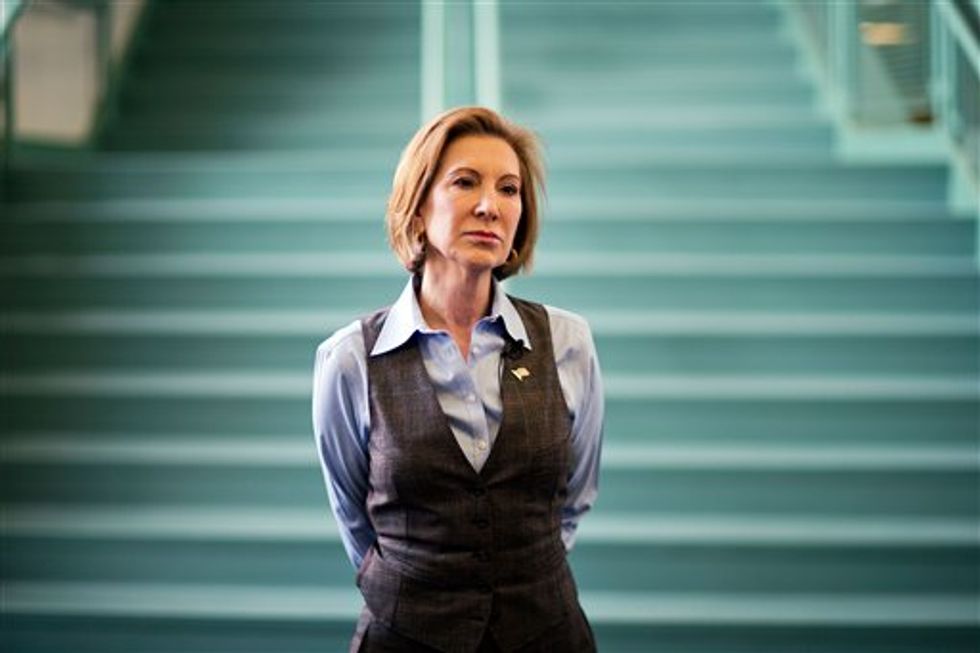 (AP Photo/David Goldman)
In her own presidential campaign, Fiorina emerged as a smart and tough leader with an impressive command of the issues. She demonstrated an in-depth knowledge of foreign and domestic policy that was firmly rooted in principle, and her classy campaign earned the respect of her supporters and opponents alike. The party and the nation would have been fortunate to have someone of her experience and character as our standard bearer. But even though her campaign ended, her service to the nation has only begun.
In a year in which Democrats will do everything in their power to resurrect the fallacious idea of a Republican "war on women," Carly Fiorina is uniquely qualified to refute it. Who could forget her passionate defense of the unborn against the barbarities of Planned Parenthood? With clarity and courage she laid bare the horrors that masquerade as "women's rights." She stands in stark contrast to the vapid platitudes offered by Hillary Clinton in favor of abortion-on-demand up until the moment of birth.
Carly really is Hillary's worst nightmare; you could hear the sigh of relief from Clinton headquarters when Carly dropped out a mile away. That's because Carly's accomplishments -- her rise from a secretary to a CEO and a leader on the national stage -- were derived from her own merit and hard work. Hillary's, in contrast, have their roots in her marriage to a former governor and president. Who is the better role model for women? Who truly represents the ideals of feminism?
Who knows who the Republicans will nominate for president in July. I know better than to make any predictions. But what I can say with absolute certainty is that Carly Fiorina should be the nominee for vice president. She's the historic choice, the unifying choice, the smart choice, the only choice. Carly for vice president!
–
TheBlaze contributor channel supports an open discourse on a range of views. The opinions expressed in this channel are solely those of each individual author.