"He's not afraid to speak out."
It's a constant refrain from Donald Trump supporters, who seem to take Trump's stubborn refusal to acknowledge facts as boldness and his hurling of childish insults as bravery.
He's not afraid to lie, either.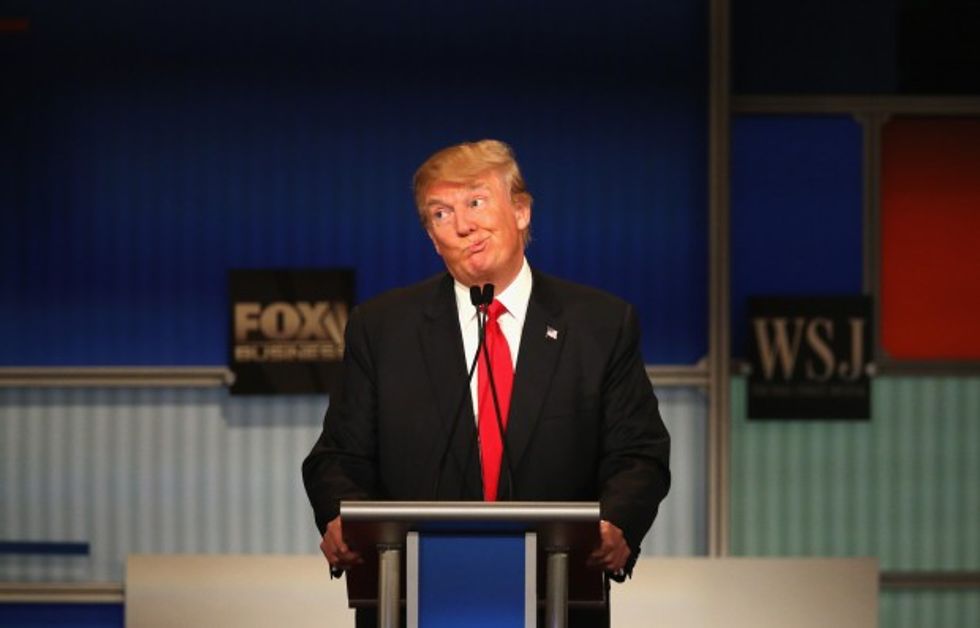 Donald Trump during the Republican Presidential Debate sponsored by Fox Business and the Wall Street Journal at the Milwaukee Theatre, Nov. 10, 2015. (Getty Images/Scott Olson)
Indeed, prevarication has become Trump's reflexive response anytime he's faced with the inconvenient reality of his own words.
He stomped around Nevada declaring Ted Cruz a liar for running an ad that merely featured Trump's own statements on federal land ownership. The real estate mogul told Field & Stream in January that he was opposed to turning federal lands over to the states. Cruz then ran an ad highlighting what Trump had said.
Trump's response?
He called the ad a scam and insisted evangelicals didn't vote for the Texas senator "because they don't like liars." The crowd cheered, seemingly oblivious to the fact that it was Trump himself that was rattling off a series of lies. He concluded, "This guy is sick. There's something wrong with this guy."
When Trump doesn't want to address an issue, he puts up a wall, blindly declaring he never said X, or that so-and-so is lying, and refusing to back down or give ground.
He did the same thing in last week's debate when Cruz asked him, "Donald, true or false, you've said the government should pay for everyone's health care."
"That's false," said Trump firmly, shaking his head and pursing his lips.
Cruz continued, "But you've never stood on this debate stage and says it works great in Canada and Scotland and we should do it here?"
Trump's response? "No, I did not. No I did not."
Really?
Trump told 60 Minutes' Scott Pelley in September 2015 that he'd "take care of everybody" and that the government would pay for it — there's video of the interview online. And in the first Republican debate of the election season, Trump clearly said, "As far as single payer, it works in Canada. It works incredibly well in Scotland."
But no, says Trump — he never said that.
When Jeb Bush told a September 2015 debate audience that Trump wanted casino gambling in Florida, Trump denied the charge.
"I didn't," he said, calling Bush's remark "totally false" and insisting "[I]f I wanted it, I would have gotten it."
But Politifact details Trump's fundraising for Bush and donations to the Republican Party of Florida as he sought to establish casinos in the Sunshine State.
When Bush criticized Trump for calling John McCain a "loser," Trump accused Bush of lying.
"Well, it just shows you how they lie. Number one, I never called John McCain a loser, as you know," said Trump. He went on: "I didn't call him a loser, so he's — you know, he's lied when he made that up."
But it was as part of his infamous "he's not a war hero" remarks about McCain that Trump told a group in Iowa in June 2015, "He lost. He let us down. I never liked him as much after that because I don't like losers."
It was the lead story for days after his comments; one would think Trump would remember.
In the February 25 debate, Trump accused Cruz of spreading falsehoods about him regarding his support for toppling Libyan leader Muammar Gaddafi.
"He said I was in favor in Libya. I never discussed that subject. I was in favor of Libya? We would be so much better off if Gaddafi would be in charge right now."
But afterwards, Buzzfeed published a 2011 video of Trump clearly calling for America to take out the Libyan leader.
When Bush cited Trump's four bankruptcies in the February 13 debate, the real estate mogul exclaimed, "That's another lie. I never went bankrupt!" He said it repeatedly.
But National Review detailed Trump's business bankruptcies after the debate, the first in 1991 and the most recent in 2009.
When CNBC debate moderator Becky Quick referenced Trump calling Marco Rubio "Mark Zuckerberg's personal senator," Trump jumped in, insisting, "I never said that. I never said that." What's more, he accused the network of "bad fact-checking."
And when Quick asked Trump where the quotation came from, Trump shrugged. "I don't know, you people write this stuff."
In fact, the quotation came from Trump's own website. What was Trump's response when faced with that inconvenient information? Pursed lips, stern face, unapologetic stare.
These aren't unique instances — Trump utters untruths regularly. He says he won the youth vote in Nevada, when in fact he didn't. He insists he's self-funding his campaign when in fact he's taking in donations. He claims he's been asked to appear as a television show guest "four or five times" when in fact he hasn't been asked once.
Sometimes, his claims border on the bizarre, as when he suggested that he had gotten to know Russian President Vladimir Putin "very well" because they were "stablemates" on 60 Minutes together. In fact, their interviews — conducted separately and in entirely different countries — merely ran during the same hour of television.
Often, Trump takes to Twitter, a medium singularly suited to Trump's communication style, for this truth-dodging.
When Family Leader CEO Bob Vander Plaats endorsed Ted Cruz, Trump unleashed a series of tweets aimed at the evangelical leader. According to Trump,
@realDonaldTrump you know that's not true. I gave you an introduction and opportunity and you charged the guy $100K. May work in NY not IA.

— Bob Vander Plaats (@bobvanderplaats) January 26, 2016
In fact, the truth behind the $100,000 speech fee is not at all as Trump described. The Des Moines Register reports it was Trump who asked for $100,000 to participate in the event. Vander Plaats — a "total phony and con man" — received nothing.
Really? Vander Plaats is the con man in this scenario?
These are not the measured words and actions of a sane individual. Indeed, Trump's Twitter feed reads like the ravings of a fourth-grader, complete with misspellings ("Will loose big," "dummer," "honer"), puerile slurs, and a 10-year-old's vocabulary to boot. It's as if he's engaged in some strange, Dr. Seuss challenge in which he can only communicate using one-syllable words. Remarkably, Trump has managed to mount a winning campaign simply speaking in third person and alternating uses of "bad," "good," "lie," "sad," "wow," and "nice!"
All of this — the mistruths, the insults, the reflexive labeling of critics as liars — speaks volumes about Trump's character and temperament, and it should disturb anyone considering him for president.
But will it? So far, Trump has been able to get away with his misrepresentations. Whether that's more the result of an uninformed voting populace or a stubborn determination to stick it to the GOP establishment remains unclear, but there is some evidence of the latter.
A Trump supporter called into the Rush Limbaugh program on February 26, praising Trump and railing against the "ruling class." He ended the call on a startling note. "I don't think it matters what Trump says right now," said the caller. "When Obama was running, we prayed for a candidate that it wouldn't matter what he said."
Is that really what Republicans have prayed for? A demagogue of their own?
Donald Trump isn't a bold, brash, anti-politician who "tells it like it is." He's an intentionally deceptive narcissist who has openly bragged — not once, but twice — that he could murder someone without losing votes.
This is the person who's going to make America great again?
Count me out.
–
TheBlaze contributor channel supports an open discourse on a range of views. The opinions expressed in this channel are solely those of each individual author.