This post is the continuation of a weekly Constitution Revolution series that will cover the entire Constitution and many of the principles it was founded on. Click here for last week's lesson.
-
Recently the Federal Communications Commission adopted new rules (commonly referred to as "net neutrality) that will allow the government to regulate the internet as if it were a public utility.
In other words, the FCC decided to grant itself control over the internet. For any clear thinking person, this type of policy making is obviously a part of the legislative function of government. Despite that, President Barack Obama pushed to have this decision made by the FCC - which is a part of the executive branch.
The question now is, will either of the other two branches step in to stop this power grab?
As I explained on TheBlaze Radio's Chris Salcedo Show, each branch of government has a set of tools they can use to reign in the other two branches. You've probably heard this referred to as our system of checks and balances:
Each branch of government has a set of tools they can use to reign in the other two branches; and tools are meant to be used. That's especially true when it comes to the system of checks and balances. Let me show you why.
A few weeks ago we talked about the fact that the idea behind separation of powers is to make sure that no one branch of government has enough power to run the government on its own. No one group of people can be trusted with the kind of power that comes with running the entire federal government on its own. So we divide that power up among the three different branches.
When we do that, we're trying to put up as many barriers as we can between our freedom and anyone who would want to use the power of government to oppress us. As long as we maintain that separation of powers, even if someone does want to use our government for the wrong reasons, he wouldn't be able to do that by only corrupting one branch. That person would have to corrupt all three branches before his plan could be effective.
That's why the FCC's decision to take control of the internet is such a big deal. What these bureaucrats did here was kick down one of the barriers that stands between your freedom and the government. If someone wants to use our federal government for oppressive reasons, he no longer has to worry about Congress standing in his way. Now the executive branch has all the lawmaking power that person would need.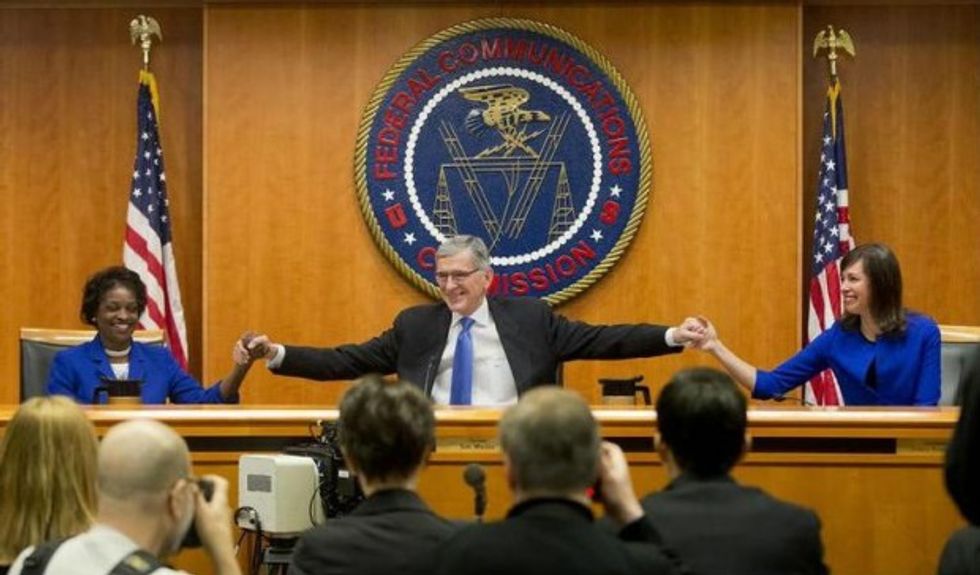 Federal Communication Commission (FCC) ChairmanTom Wheeler, center, joins hands with FCC Commissioners Mignon Clyburn, left, and Jessica Rosenworcel, before the start of their open hearing in Washington, Thursday, Feb. 26, 2015. Internet service providers like Comcast, Verizon, AT&T, Sprint and T-Mobile would have to act in the "public interest" when providing a mobile connection to your home or phone, under new rules being considered by the Federal Communications Commission. The rules would put the Internet in the same regulatory camp as the telephone, banning providers from "unjust or unreasonable" business practices. (AP Photo/Pablo Martinez Monsivais)
If no one stops the FCC internet power grab, the president is going to continue to centralize more and more power in the executive branch. If we ever allow it to get to the point where the president can exercise all three functions of government (I would argue we're already there) then that means that your freedom - and your way of life - sits at the mercy of one person.
That is extraordinarily dangerous. In that situation, the president has all the power he needs to run the government on his own. So if he ever chooses to use the government for the wrong reasons, there's not a whole lot anyone can do to stop him.
In other words, the only thing protecting your liberty and your rights is the hope that the person occupying the Oval Office will be a person of good character. And not just President Obama, but every president who will take office for the rest of your life as well. Because if we ever make the mistake of electing someone who wants to take our country in the wrong direction, that person will have all the power he needs to make your freedom a distant memory.
As you can see, these checks and balances are a whole lot more than just a formality. Each branch of government has been given these tools so they can make sure that we maintain the separation of powers that is required to preserve our freedom. Whenever any branch of government tries to use a power that wasn't granted to it by the Constitution, the other two have the ability to stop it.
In this case, Congress and the Supreme Court have all the tools they need to stop this terrifying overreach by the FCC. Tools are meant to be used, and if ever there was a situation that cried out for these tools to be used it's this one. Either Congress or the Supreme Court need to step in and take the first step toward re-establishing the separation of powers. That would be the start of putting those barriers back in place that protect you and me from the danger of corruption in the executive branch.
Unfortunately, I have very little faith that either of them will do anything to stand up to this president. They will both stand silently by as more and more power is concentrated in the executive branch - and as your freedom becomes more and more likely to be destroyed.
I know some people will argue that if a president ever truly got out of control that Congress or the Supreme Court would step in and use their checks and balances to stop him. But what reason do we have to believe that? If they don't have the courage to stand up to our presidents now when it's relatively easy, why would they have the courage to do it in a situation where he is far more powerful and far more dangerous?
So here's the summary of this week's lesson. The system of checks and balances is basically a set of tools that each branch has to reign in the other two branches. Those tools aren't just for show and they are not a formality. They are critical to protecting our freedom so we need to encourage our public officials to use those tools as often as they can.
Chad Kent is an author and speaker with a unique style that makes the Constitution simple and fun. Listen to Chad every Saturday during The Chris Salcedo Show on TheBlaze Radio and visit his web site at www.ChadKentSpeaks.com.
Feature Image: Courtesy of Author.
–
TheBlaze contributor channel supports an open discourse on a range of views. The opinions expressed in this channel are solely those of each individual author.