© 2023 Blaze Media LLC. All rights reserved.
Cartoon: The liberal media and political establishment have been trying for years to discredit the Tea Party; but Donald Trump and his Tea Party turncoats may succeed in doing so within a single election cycle.
I have never attended a Tea Party rally, waved the Gadsden flag or donned a tri-cornered hat, but I have identified as a Tea Party conservative since I became aware of the movement in 2009. The Tea Party message of individual freedom, patriotism, and limited government resonated with me. This movement and my growing frustrations with an overreaching government finally motivated me to become more politically involved.
I ultimately credit the Tea Party movement with driving me to political activity beyond voting every four years. Needless to say, the Tea Party is near and dear to my heart, which is why it upsets me to think a portion of the Tea Party is betraying the entire movement.
When 2015 rolled around, and Tea Party members across the country were falling behind a big government populist, I began to wonder if I was mistaken about the movement's motivations.
How can Tea Party advocates coalesce around a man that has spent decades funding and supporting the exact same candidates and ideas the Tea Party has spent years battling? What could drive them to support someone that has actively defended the things they advocated against?
Some factions within the Tea Party movement are becoming more and more frustrated with the incremental and sometimes minor changes they are able to achieve. They become discouraged when their large scale efforts are thwarted by party elite or establishment politicians time and time again.
Many within the Tea Party are so desperate to see results they have become willing to support a candidate that may not align with them ideologically. Donald Trump is not getting support for his ideological purity; he is celebrated for being a doer and agitator.
Today, the "outsider" Trump has effectively used anger over the political establishment to convince the Tea Party their movement champions, like Sen. Ted Cruz, have sold out .
They accuse the Tea Partiers who are supporting or running as Cruz delegates as nothing more than corrupt establishment hacks. At the same time Trump supporters pretend they are not engaged in the same exact process. This helps them portray Trump as standing up to the establishment and Cruz as defending a corrupt system. In all actuality, the real battle is between two differing factions of grassroots advocates and not Tea Party versus establishment. Trump is more than happy to play by the establishment rules when they work in his favor.
No, the real fight is between the Trump and Cruz Tea Party advocates. And where Cruz actively supports his Tea Party and grassroots efforts , Trump is essentially thwarting his by denying them the organization and resources they need. He would rather parade around the influential leaders in the movement than empower grassroots efforts.
If Trump won't back his Tea Party supporters now, why is there any expectation he will support them after he wins the White House? Aren't Trump aids already promising Republican leaders their candidate will change his tune after winning the nomination to bring down his negatives? Will the "negatives" Trump drops from his campaign include his Tea Party movers and shakers?
Trump supporters within the Tea Party are being grossly irresponsible with the reputation and future of the entire Tea Party movement. They are gambling the credibility of every Tea Party advocate on a pipe dream that Trump is going to force a political reformation where a pro-freedom agenda will eventually succeed.
I don't see how this extraordinary reformation is supposed to come to fruition if a Trump presidency also loses the House and Senate to the radical leftist agenda. And how does the movement gain traction in that environment when it won't be able to separate itself from a wildly unpopular president?
I don't think they can risk losing any more support than they already have. A Gallop poll from October 2015 showed support for the Tea Party movement at 17 percent, an all-time low. Can the Tea Party reputation survive a Trump nomination, let alone a presidency?
The liberal media and political establishment have been trying for years to discredit the Tea Party; but Trump and his Tea Party turncoats may succeed in doing so within a single election cycle.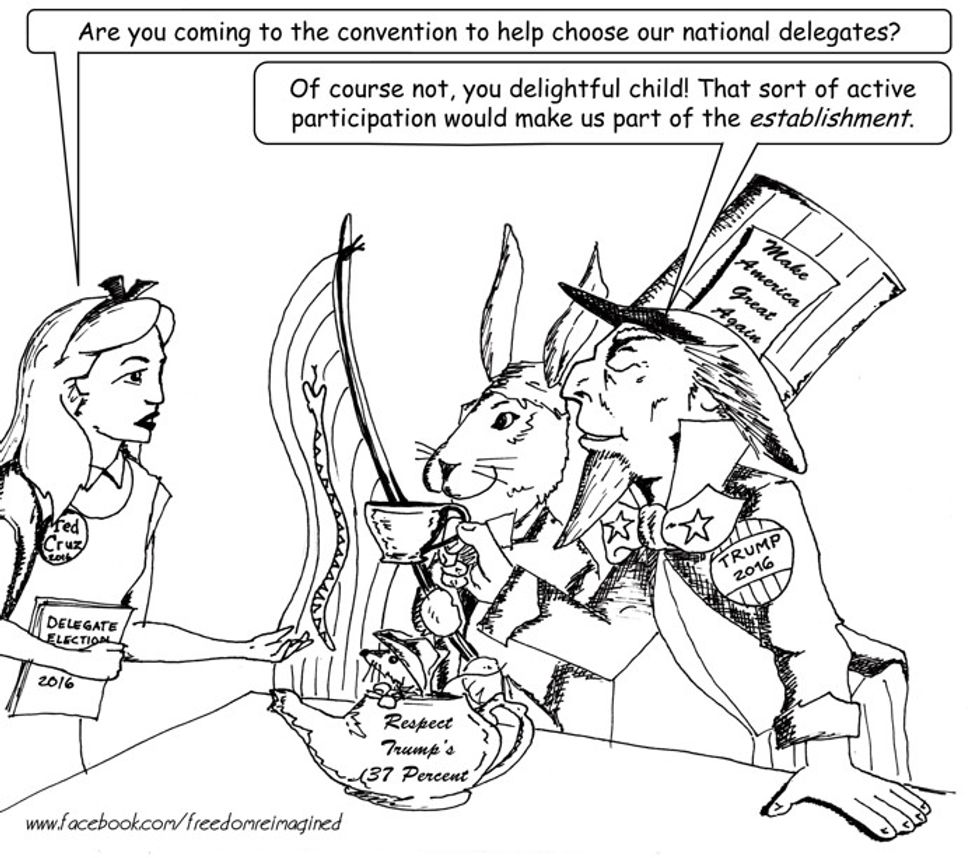 –
TheBlaze contributor channel supports an open discourse on a range of views. The opinions expressed in this channel are solely those of each individual author.

Want to leave a tip?
We answer to you. Help keep our content free of advertisers and big tech censorship by leaving a tip today.
more stories
Sign up for the Blaze newsletter
By signing up, you agree to our
Privacy Policy
and
Terms of Use
, and agree to receive content that may sometimes include advertisements. You may opt out at any time.