As Republicans, we have witnessed the unscrupulous corruption of the Clinton machine for better than 20 years. The vast preponderance of evidence – including DNA – left in the Clinton wake has made it clear to any critically thinking American that Hillary Clinton is a danger to our republic and unfit for the presidency.
What has not been defined however, is the exact threat posed by her Republican rival, Donald J. Trump.
There is a laundry list of reasons why Trump could be a disaster for the United States, but compared to the doomsday scenario that Hillary and her cronies pose to our teetering republic, the list becomes much shorter. Here are a few of the issues that – coupled with the right set of circumstances – could actually rival Hillary's inevitable despotism.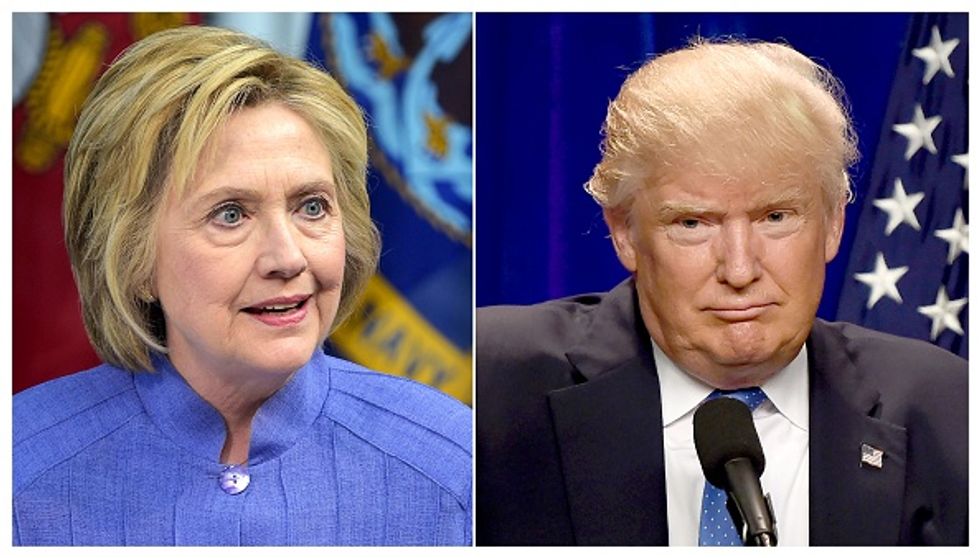 This combination of file photos shows Democratic presidential candidate Hillary Clinton(L)on June 15, 2016 and presumptive Republican presidential nominee Donald Trump on June 13, 2016. / AFP / dsk (Photo credit should read DSK/AFP/Getty Images)
1. Trump and the Constitution
Trump has no basic understanding of the Constitution and Bill of Rights, nor does he care.
Why is this potentially more dangerous than Hillary's obvious disdain for the Constitution?
Because however misguided and self-serving the Republican Party has become, it is – to some degree – still held in check by the conservative movement. As evidenced by the recent Tea Party wave that ushered into Congress constitutional watchdogs like Mike Lee, Rand Paul, Ted Cruz, Ben Sasse and others.
Trump has repeatedly undermined and distorted the constitutional principles of traditional conservatism – like on abortion, trade, foreign policy, healthcare, taxes and immigration – ushering in a new alt-right style of "conservatism." Usually conservatives are not fooled by this Democratic game of bait and switch, but Trump is causing mass confusion by playing the game from their own party.
2. Trump's inner circle
Donald Trump has continually outdone himself with the horrendous selection of his campaign leadership, each time choosing someone more frightening than the last. Just before beginning his general election campaign, he fired his campaign manager Corey Lewandowski – an unabashed bully who was arrested during the campaign on battery charges for physically manhandling a reporter – only to hand over the reins to the more unscrupulous Paul Manafort.
Next, Manafort left the campaign after the launch of an FBI investigation into his work with the former pro-Russian President of Ukraine – which could result in possible corruption charges due to the alleged multi-million dollar payments he received for lobbying in the United States on behalf of a foreign country. Just when you thought Trump's judgment couldn't get worse, he hired Steve Bannon – executive chairman of Breitbart News – as a replacement.
Bannon has been described by former Breitbart employees – Kurt Bardella, Michelle Fields, Dana Loesch and Ben Shapiro – as "vindictive," "nasty," "verbally abusive," "an opp researchers dream," and "one of the worst people on God's green earth." Shapiro, former Breitbart editor at large, said about Bannon, "he will attempt to ruin anyone who impedes his unending ambition, and he will use anyone bigger than he is to get where he wants to go."
Those who are hoping Trump will surround himself with "good people" are sadly mistaken. If his campaign is to be the model for how he builds his presidential cabinet, we may end up with a Whitehouse staff closely resembling the DC Comic Suicide Squad.
3. Trump thinks like a dictator
Trump has said on multiple occasions that the government is broken and he – only he – can fix it. When asked for the details of specific policy issues, or how his vague policy will be effective, he often responds with a simple "just trust me." This call for blind allegiance – coupled with his constant demonization of anyone who criticizes him – builds the perfect condition for the rise of a strongman.
In 1920, Mussolini rose to prominence in a very similar way. He used the Italian media as a tool to build a direct bond with the people, preaching condemnation of the current "political establishment." Mussolini pointed out legitimate problems with the Italian political structure, which gained him the support of many who had been disenfranchised by this structure. But instead of providing legitimate solutions to these problems, he simply asked for the blind trust of his countrymen to fix the corruption himself.
Conservative Republicans know that there are legitimate problems with the corrupt Washington establishment. Trump is right on that. Where he starts to veer off into dangerous territory is when he expands the term "establishment" to include all who oppose him. In his mind, the Washington establishment, Democratic Socialists and Tea Party conservatives are in the same camp.
With the rapid expansion of Trump's enemies list, his run for president has become terrifying to those who've seen the level to which he will stoop for personal revenge. Trump has accused Ted Cruz of serial adultery and his father of killing JFK, threaten to expand libel laws to prosecute media outlets who are less than flattering to him, mock a disabled reporter, belittle a Gold Star family, ask a jeering crowd to punch his opposition in the face and much more.
Trump's new campaign CEO Steve Bannon has a very similar – if not more dangerous – perspective. Bannon recently told columnist Ronald Radosh that he was a Leninist. When Radosh asked him to define that, Bannon explained, "Lenin wanted to destroy the state, and that's my goal too. I want to bring everything crashing down, and destroy all of today's establishment."
With people like Bannon in the Trump hierarchy, Republicans who value law and order should be gravely concerned. If Bannon leads Trump to victory in the fall, and the dynamic duo use the power and influence of the presidency to destroy our current institutions – including the Constitution's limitations on government – we could be looking at the end of our republic.
If this is the possible risk with a Trump presidency, then even the most legitimate anti-Hillary argument – Supreme Court nominations – may pale in comparison. A traditionalist court is useless if the lion's share of government power has been usurped by the executive office?
Hillary may be the danger we know, but the risk of a Trump Presidency is uncharted territory.
Hudson Talley is a conservative political activist and polling analyst at WPA Opinion Research. Find him on Twitter @HudsonTalley
–
TheBlaze contributor channel supports an open discourse on a range of views. The opinions expressed in this channel are solely those of each individual author.