Five hundred years ago Sir Thomas More chose to go to the executioner's block, rather than take an oath pledging loyalty to the tyrannical dictates of Henry VIII and a regime that violated his conscience.
Today people of conscience are again being put to the test, this time by cultural radicals, especially those ruthlessly pushing the LGBTQ agenda. Their latest weapon is to require that the modern day equivalent of loyalty oaths be forced on those seeking to get or keep employment.
A recent example comes to us from the University of Cincinnati which now requires prospective hires to all faculty and staff positions make a statement promising to support "Diversity and Inclusion." If that simply meant supporting efforts to bring women and ethnic minorities into the mainstream of university life, then what reasonable person would object? Unfortunately, we have all too often seen these terms hijacked by those who would force acceptance of oxymoronic same-sex "marriage" and the deconstruction of gender.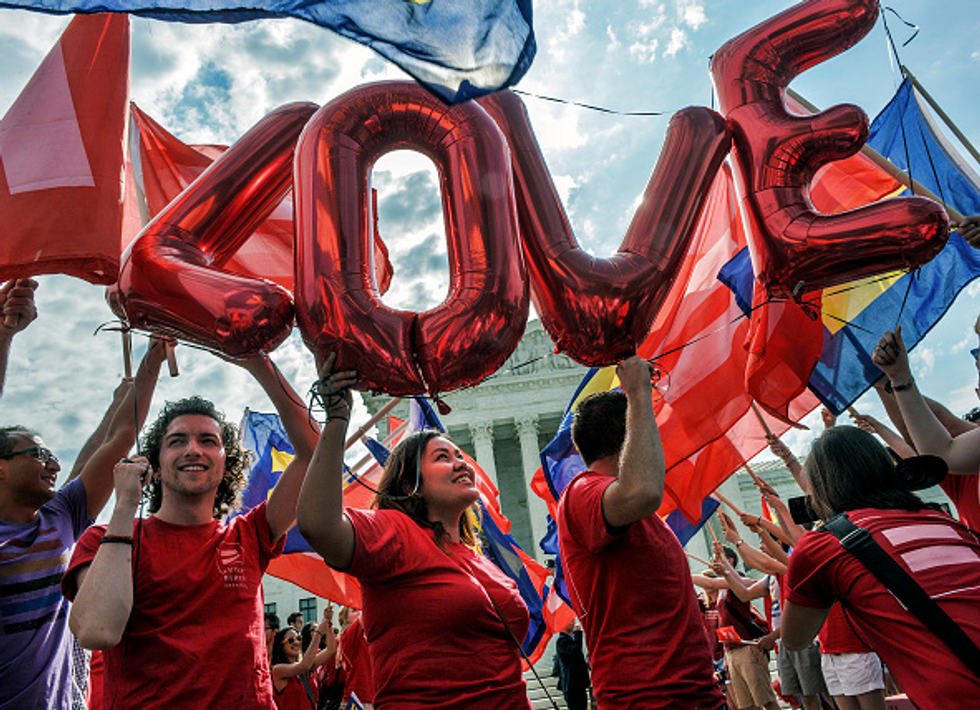 Supporters of same sex marriage rally in front of the Supreme Court awaiting a ruling to legalize gay marriage nationwide, on June, 25, 2015 in Washington, DC. From left are Keith Naylor, Bonnie Casillas, Jonathon Contreras, and Hannah Stabler holding balloons that spell the word Love. (Photo by Bill O'Leary/The Washington Post via Getty Images) 
A case in point would be what happened at the University of San Diego, an ostensibly Catholic institution of higher learning. It also introduced a multicultural and diversity program under the guise of ushering in a new age of inclusiveness and equality for women and minorities.
Yet, in no time the new regime on campus, headed by the "Rainbow Coalition," became a front for homosexual activists. They instead ushered in a new era of gay activism, including "gay dances," gay religious study professors (who were decidedly anti-Catholic), and they even sponsored an annual drag queen contest. The later debasing event has continued despite protests and a letter from the Vatican denouncing it as a "scandal."
Now it is the devoutly religious and conservatives on campus that are marginalized and made to feel like second-class citizens. The anti-Catholic religious studies professors have refused to take an oath of fidelity to the Magisterium of the Catholic Church, as called for by Pope, now saint, John Paul II. However, they would no doubt be all to eager to see loyalty oaths in favor of the gay agenda be forced on everyone else.
Sound far fetched? You decide.
President Barack Obama's appointment of lesbian activist Chai Feldblum to the Federal Equal Employment Opportunity Commission, makes the point rather nicely. Although the EEOC is supposed to protect religious rights as well as gay rights, Feldblum has publicly stated that she can not even imagine a case in which religious liberty should not be made to bow to gay rights.
More to the point, she has also publicly stated that "we should similarly not tolerate private beliefs about sexual orientation and gender identity ... Protecting one group's identity liberty may, at times, require that we burden others' belief liberty. This is an inherent and irreconcilable reality of our complex society. But in dealing with this conflict, I believe it is essential that we not privilege moral beliefs that are religiously based over other sincerely held core, moral beliefs."
Unfortunately, what lesbian activist Feldblum calls her "sincerely held core, moral beliefs" is what people of faith have long considered immoral beliefs, leading to destructive behavior.
But the real question is how do people like Feldblum propose to go about policing other people's "private beliefs about sexual orientation and gender identity"?
Credit: AP 
The obvious answer is loyalty oaths. If someone sought to remain silent in their opposition, reserving to themselves their sincerely held religious beliefs, should that not be enough to save them?
That was not to be the result for Sir Thomas More half a millennia ago, nor is it likely to be the result for his modern day counterparts. Those cultural radicals that would seek to have us bend to their will, can not stand even our silent opposition. It seems they think that their own guilty consciences will not rest easy until all contrary beliefs, and those that hold them, are eliminated. Since people of conscience will not take such an oath, it should be an effective tool to root them out.
As Sir Thomas More pointed out in Robert Bolt's play "A Man For All Seasons," an oath represents words spoken to God, and the man who speaks the oath falsely stands to forever lose himself.
And, as George Washington pointed out in his farewell address to the nation, if religion and morality lost their influence in society, then the oaths that people take in court, when they swear to to testify truthfully, would lose all meaning. Hence, the irreligious would seek to use the fervent religious beliefs of people of conscience against them by making loyalty oaths the litmus test for inclusion in the workplace and society. If they refuse to pledge unqualified support for the homosexual agenda and gender ideology, the loyalty oath can be used to flush them out and mark them for elimination.
Just look at the most recent case of the Macy's employee that said his Catholic beliefs caused him to disagree with the company's new transgender policy. He was terminated from his employment even though he said that he would obey the  policy, with which he disagreed as a matter of conscience.
The Catholic Church made Sir Thomas More a saint in 1935, as an example for people of conscience to resist the Nazism and totalitarianism that was marching across Europe at that time. Yet, even before then, G.K. Chesterton prophetically said in 1929 that Thomas More was more important at that time than at any moment since his martyrdom 400 years earlier ... but not nearly as important as he would be in about 100 years time.
As we now begin to realize the harsh reality of Chesterton's prediction, we need to ask ourselves if we are also willing to confront the ultimate challenge, even as Saint Thomas More did in his own day. No one wants to be a martyr, and neither did Thomas More, but if we are to truly be people of conscience, then we may have to bear the earthly cross, so as to earn the heavenly crown, of martyrdom. The cultural tyrants of our own day may soon seek to intimidate us with loyalty oaths, even as did the despotic Henry VIII in Sir Thomas More's day. Let us pray that Saint Thomas More's heroic resistance to such tyranny will inspire us when our own consciences are inevitably put to the test.
Charles LiMandri is the founder of Freedom of Conscience Defense Fund (www.consciencedefense.org). He is double board certified by the National Board of Trial Advocacy and an expert on Saint Thomas More.
–
TheBlaze contributor channel supports an open discourse on a range of views. The opinions expressed in this channel are solely those of each individual author.