Beyonce:
What stimulates artististic creativity?
Years ago, songwriter Paul McCartney, motivated by the expression, "Black notes, white notes, and you need to play the two to make harmony, folks," wrote "Ebony and Ivory"—a self-empowerment 1982 hit tackling racial equality issues. McCartney chose a healing approach to a sensitive issue, encouraging ebony and ivory "teamwork" to reach perfect harmony.
Meanwhile, given the platform of this year's Super Bowl 50 halftime show, you chose a divisive approach.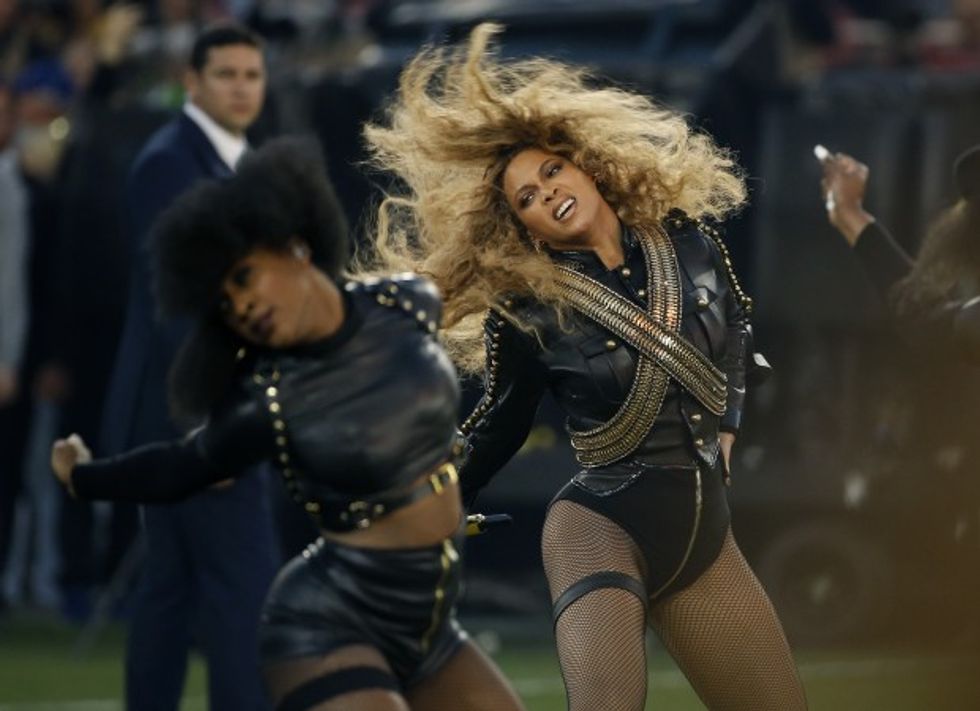 FILE - In this Sunday, Feb. 7, 2016 file photo, Beyonce performs during halftime of the NFL Super Bowl 50 football game in Santa Clara, Calif. Beyonce is working overtime this weekend: After releasing a new song Saturday and performing at the Super Bowl on Sunday, she's announced a new stadium tour. The Grammy-winning singer announced her 2016 Formation World Tour in a commercial after she performed at the halftime show with Bruno Mars and Coldplay. (AP Photo/Matt Slocum, File) 
Manipulating a time most Americans traditionally come together, you used it as a time to divide, to make a negative political statement. One wonders whether you really understood the statement you made—one doing great injustice to those who have actually fought in the trenches for racial equality.
You obviously fail to understand promoting groups such as Black Lives Matter and the Black Panthers as well as people like Malcolm X—all known for racial violence—conceptually devalues equality for all humanity.
By choosing to fight a battle having cultural popularity but no factual reality, black lives don't matter to you—but black lies do.
A report by the Manhattan Institute for Policy Research, issued before your performance, noted "not only are a higher percentage of whites and Hispanics killed by police, the greater threat to blacks comes from violent criminals within their own communities."
Your message lost sight too of contributions by those who have fought the racial inequality war. Your war is imagined; theirs—culturally unpopular then—was justified by factual reality.
You should reflect upon the names of some of these warriors you dishonor.
Let us start with Michael Schwerner, Andrew Goodman and James Chaney. Members of the Congress of Racial Equality (CORE), they courageously traveled into the den of racial inequality in Mississippi in 1964 to organize a civil rights effort there. The three disappeared on June 21. A massive FBI hunt located their bodies on August 4, buried in an earthen dam.
Undoubtedly, you are unaware two of these young men—Schwerner and Goodman—were white. Despite the dangers they faced, the three racial equality crusaders joined together in a fight for human dignity. Losing the battle, they eventually won the war.
A teenager at the time, I have never forgotten their sacrifice to that war effort.
Tragically, Beyonce, your performance failed to recognize that the fight for racial equality is not (unlike the composition of your dancing troupe) a "black only" event. In fact, ebony and ivory working together is what has made the fight so successful—evidenced by the many white votes needed to twice elect our first black president. But, instead, you chose to pay tribute to those condoning violence against whites and police officers seeking to preserve a racial victory already won.
While rendering the black power salute during your performance, you also undoubtedly knew not the names of Peter Norman, John Carlos and Tommie Smith.
Extending gloved hands skyward in racial protest, U.S. athletes Tommie Smith, center, and John Carlos stare downward during the playing of the Star Spangled Banner after Smith received the gold and Carlos the bronze for the 200 meter run at the Summer Olympic Games in Mexico City on Oct. 16, 1968. Australian silver medalist Peter Norman is at left. Peter Norman, the Australian who stood alongside the U.S. athletes staging the civil rights protest from the medal podium at the 1968 Olympics, died Tuesday October 3, 2006, of a heart attack. He was 64. (AP Photo/FILE)
Carlos and Smith—both African American—and Norman, white, were forever memorialized in a 1968 Mexico City Summer Olympics photograph. On the awards platform after competing in the 200-meters race, Carlos took the Gold Medal, Norman the Silver, Smith the Bronze.
During their medal presentations, Carlos and Smith stood barefoot (to represent poverty) with heads bowed—defiantly raising a black-gloved fist into the air as the U.S. National Anthem played. This powerful, symbolic gesture for African-American civil rights by the two resonated around the world.
While the photograph memorialized a courageous moment for Carlos and Smith, Norman simply appeared to be a bystander caught up in an historic moment. Such was not the case.
Learning what Carlos and Smith were about to do, Norman fully supported them, asking to participate by wearing an Olympic Project for Human Rights badge—a movement of athletes supporting equality. Norman was from Australia—a country with strict apartheid laws. Carlos later commented, Norman "said 'I'll stand with you.' I expected to see fear in Norman's eyes, but instead we saw love."
All three men suffered consequences for their actions. Carlos and Smith were immediately suspended from the American Olympic team and expelled from the Olympic Village.
Norman, whose 200-meter record for an Australian still stands, was not invited back to the 1972 Olympic games, despite qualifying. He died in obscurity in 2006.
Carlos and Smith were pallbearers at Norman's funeral. Smith said of Norman's decision that day, "He paid the price with his choice. It wasn't just a simple gesture to help us, it was HIS fight. He was a white man, a white Australian man among two men of color, standing up in the moment of victory, all in the name of the same thing."
By February 11, Beyonce, eight on-duty police officers have already lost their lives by gunfire in 2016 (seven more than this time last year)—at least six since your anti-white, anti-cop themed halftime show. Who knows what future violence both groups will suffer due to your message.
Interestingly, over the past year, almost half a million viewers have watched a security video capturing a life-saving incident occurring in a supermarket. It is a video you should see as well. It is most telling about how most Americans view all human life.
In it, a black woman is paying for groceries when her 2-year-old child suddenly gasps for air, losing consciousness. Not knowing what to do, she stands helpless. An unassuming white male, wearing a "wife-beater" T-shirt, rushes to administer CPR. As a second white patron consoles the distraught mother, the child is quickly resuscitated.
From the video, it is clear the rescuer never stopped to make a racial assessment. All that mattered was a child's life was at risk. It was an act of humanity that motivated him to do what any caring human being—black or white—would do.
Sadly, however, it will be your choreographed message of hate and violence today's young people will long remember—not the un-choreographed story of love and humanity this video tells.
–
TheBlaze contributor channel supports an open discourse on a range of views. The opinions expressed in this channel are solely those of each individual author.