One of the cool things about being bilingual is that I get access to an entire gamut of information that most people don't ever get to hear.
From things like radio commercials in Spanish during the 2012 election season declaring that the GOP would deport ALL immigrants, to Marco Rubio's "softer" stance on the president's Deferred Action for Childhood Arrivals program during a Spanish-only interview with Jorge Ramos — speaking Spanish in today's political climate is kind of like having access to an alternative universe of sorts.
And sometimes it's really disturbing.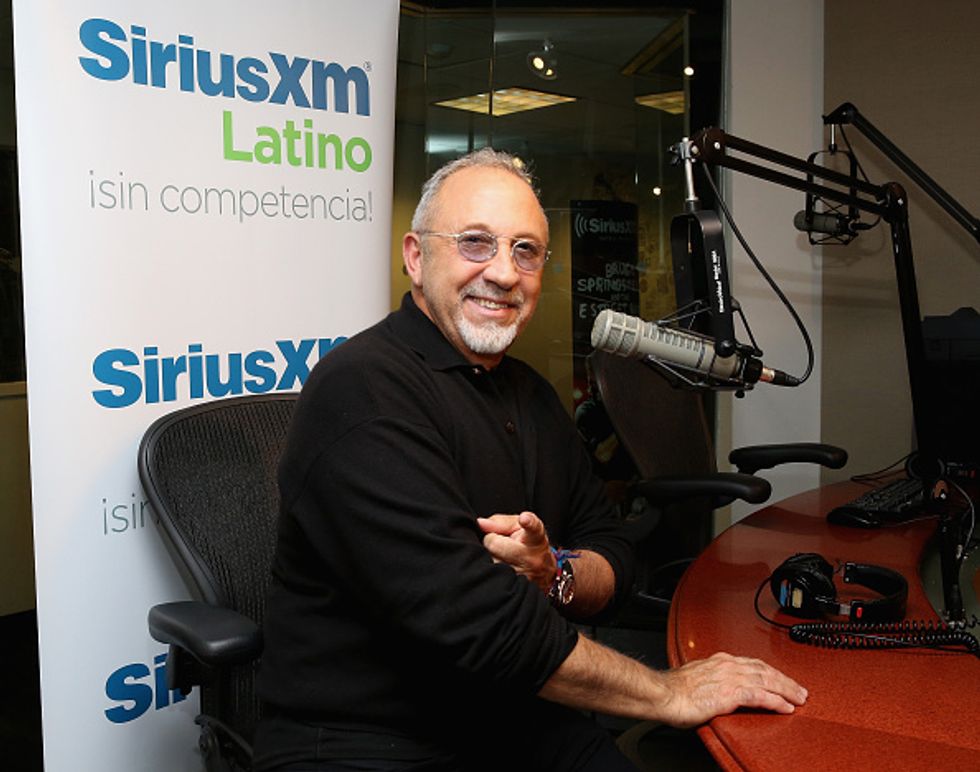 Emillio Estefan visits at SiriusXM Studios on September 22, 2015 in New York City. (Photo by Robin Marchant/Getty Images)
Take Emilio Estefan's latest star-studded production, "We Are All Mexicans" for example, where we who argue that illegal immigration is wrong are told "not to kill the American dream" for the millions of people (Mexican and otherwise) who want to come here by whatever means possible.
Estefan's song continues: "le damos mamey" (f*** 'em) to those who "no nos quiera" (don't want us here); that the immigrants are "triunfando" (winning), and "hearts in the sky for the red, white and green."
In other words, "I love what I can obtain by living in this country, but I have zero interest in actually becoming a real PART of this country. Oh, and screw you for daring to suggest I'm doing anything wrong."
Seriously, stop and think about that.
They're not pleading; they're not begging for asylum like the Syrian and Iraqi Christians who are being raped, beheaded and sold into slavery on the daily — they're DEMANDING that immigrants, regardless of HOW they came, be welcomed with open arms.
For so many people, the debate just ends there. We don't want to be accused of racism; of bigotry; of intolerance. After all, if Emilio Estefan can get some of the biggest names in the Latino AND American entertainment industries to come out and throw a big "f*** you" (literally) to everyone who disagrees, no wonder it's hard to get people (especially politicians) to take a stand.
And so for so many, the debate just ends right there.
Truly, the whole thing has become a cacophony of peripheral arguments, accusations and excuses—and we're being royally coerced into letting it all slide.
Women and children look through a box of clothes that were donated by volunteers at the Greyhound bus terminal, Thursday, May 29, 2014 in Phoenix. About 400 mostly Central American women and children caught crossing from Mexico into south Texas were flown to Arizona this weekend after border agents there ran out of space and resources. Officials then dropped hundreds of them off at Phoenix and Tucson Greyhound stations, overwhelming the stations and humanitarian groups who were trying to help. (AP Photo/Rick Scuteri) AP Photo/Rick Scuteri 
And you know what? I'm tired of it.
I'm tired of how lawlessness has become a human right—so long as it's in pursuit of what you've always dreamed of.
I'm tired of having my homeland demanded from me—just because the rest of the world doesn't think it's fair.
I'm tired of being called a [insert pejorative here] for expecting people to follow the same rules my husband did.
On that note, I'm tired of feeling like I have to add some kind of personal justification or qualifier to my opinions (i.e. "I can talk this way because my husband's an immigrant/my daughter's half Mexican/I've lived in Mexico") every time I voice something that's politically incorrect. Right is right, and wrong is wrong. I shouldn't need a qualifier.
I'm tired of being told to pity immigrants who are forced to "live in the shadows" because of their status—when in reality that was their choice. Does anyone stop and think about that? That, just like anyone who speeds and gets a ticket, or steals and goes to jail, there are consequences for crossing the border illegally?
I'm tired of a watching outspoken Latino figures like Carlos Vives and Eugenio Derbez do nothing to fix the violence and corruption in their countries of origin, while they criticize the United States time and again for not wanting to bend to their whim. Where is this same passion when it comes to spreading the principles that made this country so uniquely free and prosperous?
I just said I'm sick of qualifiers—but I'm going to add one after all: Believe me when I say I want everyone—EVERYONE to be able to experience the blessed freedom under which I've had the privilege of growing up.
But, as I pointed out a few weeks ago, wanting something doesn't make it a right.
Here's the deal. The United States is already "by far the largest destination for immigrants, with more than 45.7 million living in the country."
In other words, we're not exactly shutting all the doors.
And yet we're called selfish, bigoted, racist and otherwise mean for suggesting that there be a process (in need of repair though it may be) to come and enjoy the freedoms others bought and paid for.
We're admonished by the leader of the Catholic Church that unless we let these people in without question, we're basically not being Christ-like; we're not following the Golden Rule.
The problem is not that we are not letting people in. The problem is that we are—despite a blatant disregard for our laws.
Yes, we can the follow the Golden Rule; we can share our blessings with others. But to do it we shouldn't have to throw out the law. After all, doesn't lawlessness rather negate the "Christ-like" component the Pope was advocating?
We're the proverbial "shining city on a hill" for a reason. And the next time someone comes at me with the "it's not fair; we should be nicer" argument, I plan to remind them: every time the law is flagrantly broken; every time the law is spit upon and we sit back and cheer--we chip away at the very essence of what makes us so astoundingly free in a world of tyranny.
And that essence—isn't that what so many are ultimately coming here to find?
Mary Ramirez is a full-time writer, creator of www.afuturefree.com (a political commentary blog), and contributor to The Chris Salcedo Show (TheBlaze Radio Network, Saturday, from noon to 3 p.m. ET). She can be reached at: afuturefree@aol.com; or on Twitter: @AFutureFree
–
TheBlaze contributor channel supports an open discourse on a range of views. The opinions expressed in this channel are solely those of each individual author.