© 2023 Blaze Media LLC. All rights reserved.
What is the difference between Dennis Hastert and Planned Parenthood?
This week, a judge sentenced former House Speaker Dennis Hastert to 15 months in prison for paying hush money to boys he sexually abused when he was a teacher and coach at an Illinois high school.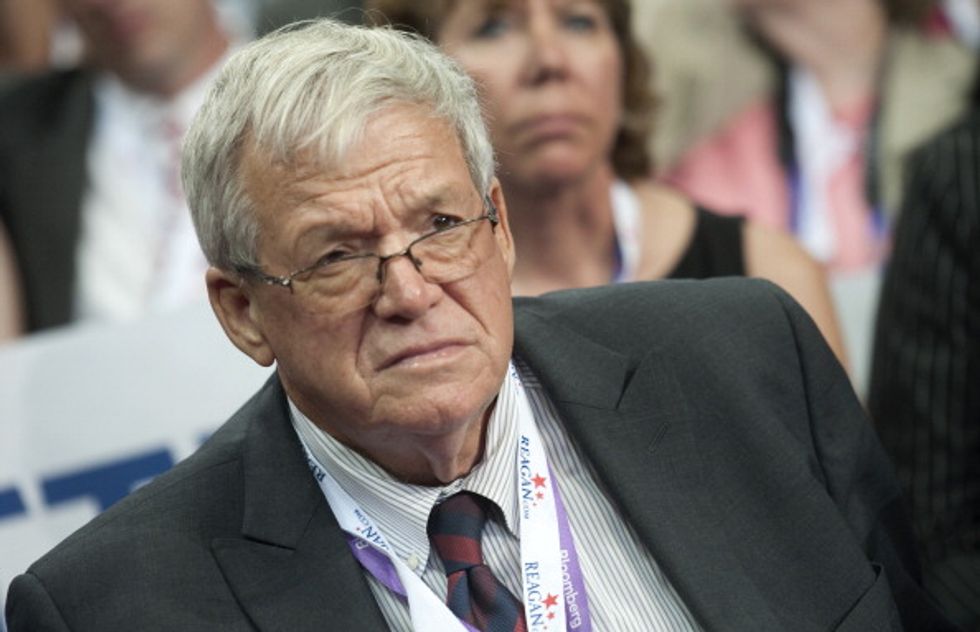 Former Speaker of the House Dennis Hastert, R-Ill., at the 2012 Republican National Convention at the Tampa Bay Times Forum. (Photo By Chris Maddaloni/CQ Roll Call) 
Clearly, the punishment was way too harsh for a respected member of our society who not only spent decades serving his country as an elected official but has given of his time and talents to help our country's youth.
Don't get me wrong. I am pro-kid, I am totally against the child molestation having to do with Hastert, but many children and young men that needed support learning history, economics and wrestling were helped by Hastert.
For many years, Hastert provided essential mentoring for children. And I think it is unfortunate that Hastert has been the object of such a concerted attack. And it's really an attack against education and solid coaching for our youth.
You can say whatever you want, but many children who were taught by Hastert were helped greatly. Being a pedophile was only a small part of his overall life and service, maybe less than three percent, so why should we allow that to define him?
Obviously, I am not being serious.
These arguments are idiotic, egregious and asinine.
No amount of good can be used to justify and overlook the clear evil that Hastert has engaged in. Yet these are the same arguments used by Democrat politicians and presidential candidates to defend Planned Parenthood on a regular basis.
Planned Parenthood is nothing less that a serial pedophile of women's health.
Planned Parenthood engages in abhorrent activities that not only harm women with lasting emotional and psychological harm, but participate in the far more egregious act of killing children. Yet they are constantly being defended based on all the "good" they do.
Well, Hastert did a lot of good things in his life too. He graduated from Wheaton College with a bachelor's degree in economics, and earned a master's degree in philosophy of education from Northern Illinois University.
Hastert went on to mentor youth as a teacher and coach. In 1976, he coached the Yorkville High School wrestling team to a state title and was later named Illinois Coach of the Year. He served in the Illinois House of Representatives and then the U.S. House of Representatives, where he eventually became the longest serving Republican speaker in U.S. history.
Some could argue that as a teacher, Hastert positively influenced the lives of thousands of students that will go on to live constructive, rewarding lives. Some of his teaching and mentoring may be passed down as those students went on to be parents, teachers, coaches and mentors themselves. Then, as a politician, the laws he helped write and pass may have benefitted millions of Americans.
But ultimately none of that matters.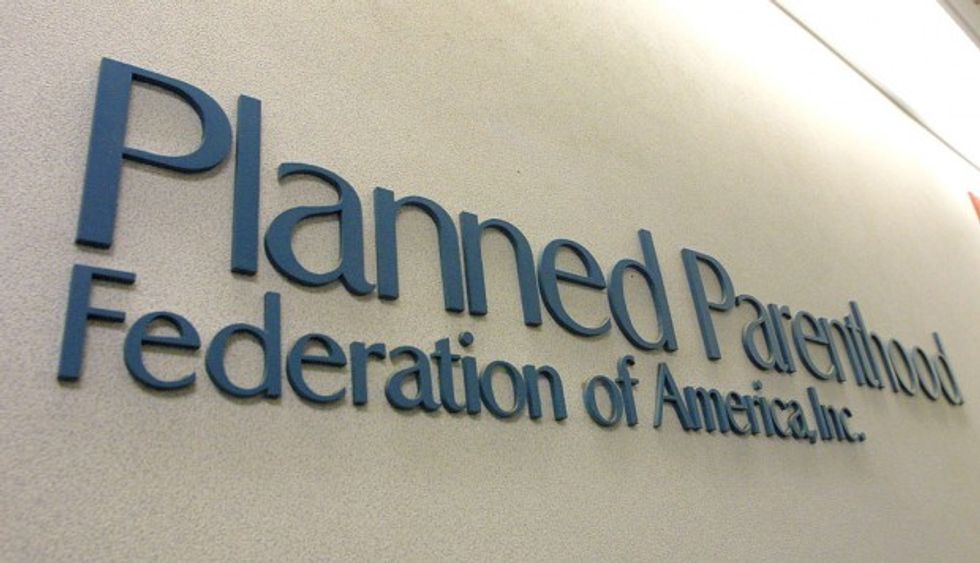 A sign hangs in the offices of the Planned Parenthood Federation of America on December 7, 2001 in New York City. Image source: Mario Tama/Getty Images 
All that matters now is that Hastert victimized children and then paid them off to keep quiet in order to protect his reputation and career.
What is the difference between Dennis Hastert and Planned Parenthood?
Like Hastert, Planned Parenthood can say they do good things for communities around the country because of the women's health services they provide. But ultimately Planned Parenthood is engaged in the victimization of innocent children and women and they pay enormous amounts of "hush money" to politicians to help preserve their reputation.
You could say that Dennis Hastert is the moral equivalent of Planned Parenthood… except he's not. When it comes to victimization, Hastert doesn't even compare to the evil perpetrated by Planned Parenthood on a daily basis.
We've heard all the arguments to justify the abhorrent practices of Planned Parenthood. Many pro-abortionists will argue that there is a huge difference between Hastert and Planned Parenthood because abortion is legal. But legal does not equal moral.
Just remember, no matter how many laws and court decisions you have to defend the practice, no matter how many good acts you simultaneously perform, abortion will never be anything other than evil.
Hastert victimized innocent children and will forever be a social pariah because of his actions. Planned Parenthood should get similar treatment.
–
TheBlaze contributor channel supports an open discourse on a range of views. The opinions expressed in this channel are solely those of each individual author.

Want to leave a tip?
We answer to you. Help keep our content free of advertisers and big tech censorship by leaving a tip today.
more stories
Sign up for the Blaze newsletter
By signing up, you agree to our
Privacy Policy
and
Terms of Use
, and agree to receive content that may sometimes include advertisements. You may opt out at any time.