On Saturday, a Facebook page called "Military Parents Abuse Their Children" was created.
"Our mission is to highlight the proven link between military enlistment and child abuse. We aim to stop this deplorable violence against innocent children," says the page's general "about" section.
As perdicted, military families and wives began sharing the page to encourage the public to report the page to Facebook.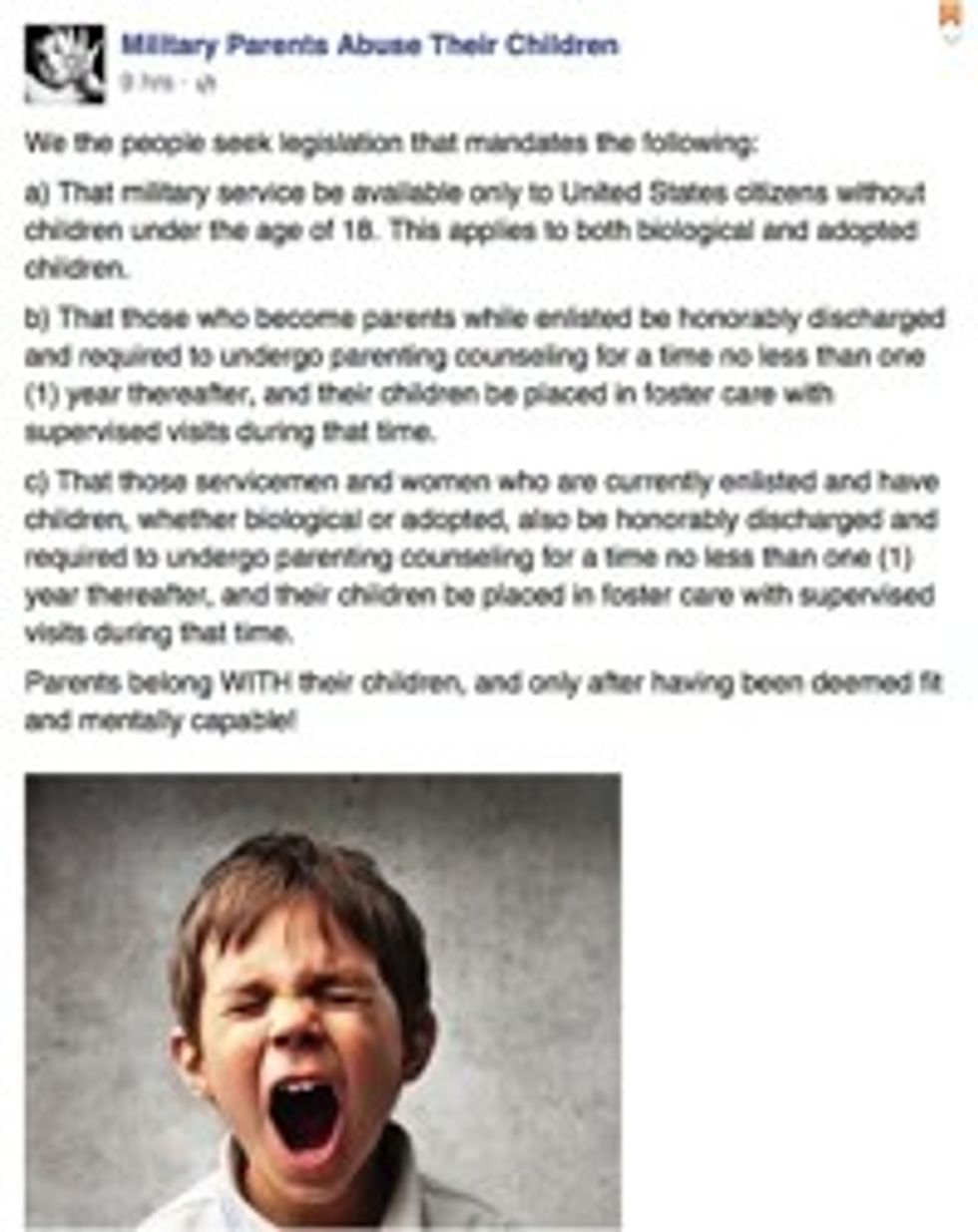 Photo Courtesy of Author.
The page calls for legislation seeking action that would keep anyone with children under the age of 18 from serving in the military. It would also require their children be put in foster care while the parents undergo a year of "counseling."
When I stumbled upon this page, I was shocked.
How can these people who run this page claim they know what's best for these children? Are they doctors? Therapists? Social workers? No one knows the identity of who's running this page. For all we know, it could be a bored teenager who has nothing better to do. The website linked to the page even returns an error and is inaccessible.
Wanting to take away kids from loving, caring homes because there is a potential for abuse is absolutely absurd. By that same logic, anyone who has depression, PTSD, or mental illness could be deemed ill fit to be a parent.
In many instances, the foster care system lets children down. They're physically, emotionally and sometimes sexually abused. Say this legislation passed. What would happen if these children were taken, put in foster care and then they were abused? Instead of protecting these kids, they're being led directly into harms way.
Personally, I find this Facebook page incredibly insensitive and extremely rude to our military. I come from a military family. My dad and grandpa were in the Navy. My uncle was in the Marines. I have some friends who are veterans and others who have been deployed to Iraq and Afghanistan.
I love the military community and all they do for our nation. Not only do our men and women risk their lives for us, but their families do too. In a lot of ways, military families lives are put on hold until their loved ones come home. Kids wait patientily for mommy or daddy to return.
Seeing this Facebook page was nothing but one giant "screw you" to America's military. These brave men and women put their lives on the line for us each and every day. How do average citizens want to repay them? By taking away their children.
If these administrators are so concerned about the health and well-being of military children, it would be more beneficial to work with legislators and military families to spread awareness and encourage them to seek counseling for their PTSD, especially when they return from a deployment. Taking away children because of a potential for violence does nothing but break up a family unit.
Instead of creating this controversial Facebook page, the administrators should consider removing the page and replacing it with a Facebook page that would serve to inform citizens, not mock the military community.
I attempted to reach out to the moderators of the Facebook page but never heard a response. My guess? They were scared of being asked the tough questions.
Beth Baumann is a public relations professional, the former Communications Assistant at The American Conservative Union & Contributor for PolitiChicks & TheBlaze. Twitter: @eb454 Email: elizabeth.ann.baumann@gmail.com
Feature Photo Credit: Getty Images
–
TheBlaze contributor channel supports an open discourse on a range of views. The opinions expressed in this channel are solely those of each individual author.