This year has been pretty awful in terms of American morale. Civil unrest at every turn, mass shootings galore and a presidential campaign that has sucked the life out of even the toughest of politicos.
So when it was clear that America was leading the pack of gold medal winners at the Rio Olympics, it was uplifting in so many ways. There we were on the international stage, showing how hard work, determination and the melting pot that made up our American team could be a shining example to the world.
It has been a long time since I've felt that pride and even longer since we've been able to show how spectacular our people are to the world in such an honorable way. Which is why I despise Ryan Lochte and his boys for ruining the one decent thing we've had going for us as a country in decades.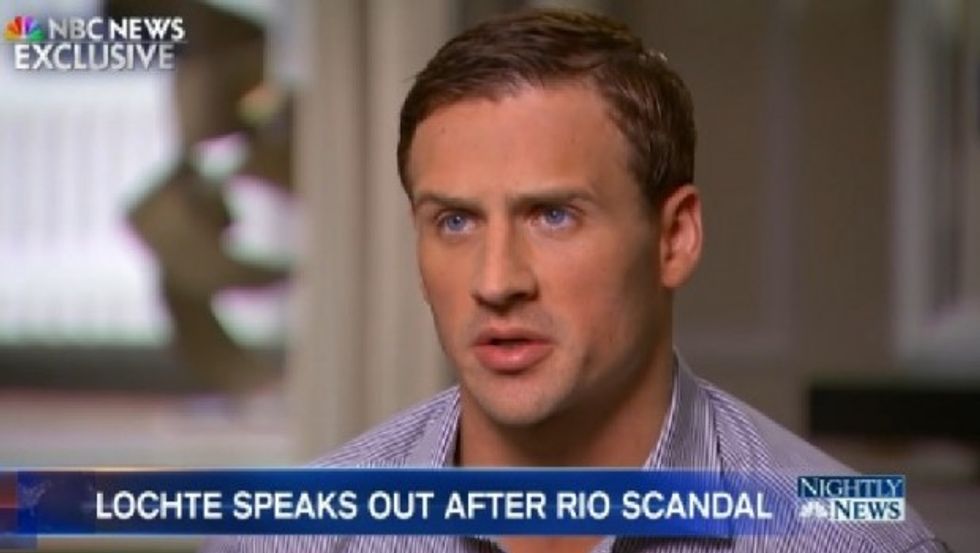 Image source: NBC News
Rather than celebrate the goodwill and athleticism that our team was able to bring to the games, we now have to deal with the embarrassment and controversy drummed up by a trio of our own champion swimmers because they were too immature to handle being at a gas station without supervision and then exaggerated about what happened.
But maybe this isn't entirely their fault. Think back. Millennials have had to grow up in an America marred in scandal, ethics violations and deteriorating principles.
Our current presidential candidates are terrific examples of what has now been ruled acceptable by American standards as confirmed by the voter. Lying, cheating, deceit--all just a part of who we've become. It's the trashiest reality show you've ever seen and by God, we want more.
Last week, for the first time in months, I flipped on the TV to try and catch the local news. As a millennial I mostly watch everything online. But on this rare occassion I stumbled upon one of the digital network channels and a rerun of Leave it to Beaver was playing. I had no intention of watching it but found myself captivated by the simple moral lesson being taught to the Beav by father Ward.
Beaver had lied and was caught in that lie. Not only did his parents punish him, they explained why what he did was wrong and how his lie affected others. In a world of anti-hero media and stories that underscore the importance of being evil to get ahead, it was a refreshing break.
At the episode's conclusion I changed the channel and the very next show was Jerry Springer. On tap were incestuous relationships among family members who were also hiding additional secrets from one another.
Catching these two shows back to back spoke volumes of who we've become over time and what we accept as normal and routine.
So is it any shock that we can't even get through the Olympic games without some sort of scandal?
While I'm certainly not making excuses for Lochte and his cohorts, it isn't exactly realistic to point to a moral argument that what they did was wrong because who has that moral authority anymore? We've lost it. We're numb to the chaos and deterioration now.
If people like Donald Trump and Hillary Clinton can lie their way through a presidential race with no one batting an eye or holding them accountable and Kim Kardashian and Kanye West are considered to be relationship goals, then why should anyone care about America's reputation when it comes to Ryan Lochte's fib fest?
There was such a sense of optimism and pride when I watched team USA enter the games waving our flag and smiling bright at the start of the Olympics.
We had a real opportunity to show the world that even with all of the uncertainty and questionable personalities of our time that the individuals who really represent America—our salt of the earth citizens—were decent and good because deep down that's how America still was.
Sadly that opportunity was spit on and our reputation was further tarnished because perhaps we don't know how to be those people anymore.
Wade Heath is a Speaker, Columnist and Host of The Millennial Report. Contact him: WadeTheBlaze@Gmail.com
–
TheBlaze contributor channel supports an open discourse on a range of views. The opinions expressed in this channel are solely those of each individual author.