**The following is an in-depth review of "Don't Breathe" and does contain spoilers**
With recent horror films like "The Forest" and "The Boy" being pretty lackluster and devoid of any real terror, many have begun to wonder if Hollywood has simply forgotten how to scare us. All that changes, however, with "Evil Dead" director Fede Alvarez' "Don't Breathe."
"Don't Breathe" is the story of three high school - or maybe newly post-high school - burglars who are making a living by burglarizing Detroit homes. One of the teens, Alex, is able to gain access to keys and alarm codes to the homes because his dad works at the private security company hired to protect the properties.
Knowing that sooner or later their luck is going to run out and they will be caught, the group's ring-leader - who is only ever referred to as Money - decides that they need one big score so they can put their crime spree behind them forever. Money introduces the idea of breaking into the home of a disabled Gulf War veteran who has recently won a $300,000 settlement from the United States government. Until now the group has avoided stealing cash - stealing property comes with less jail time if caught - and at first Alex is hesitant to take this job.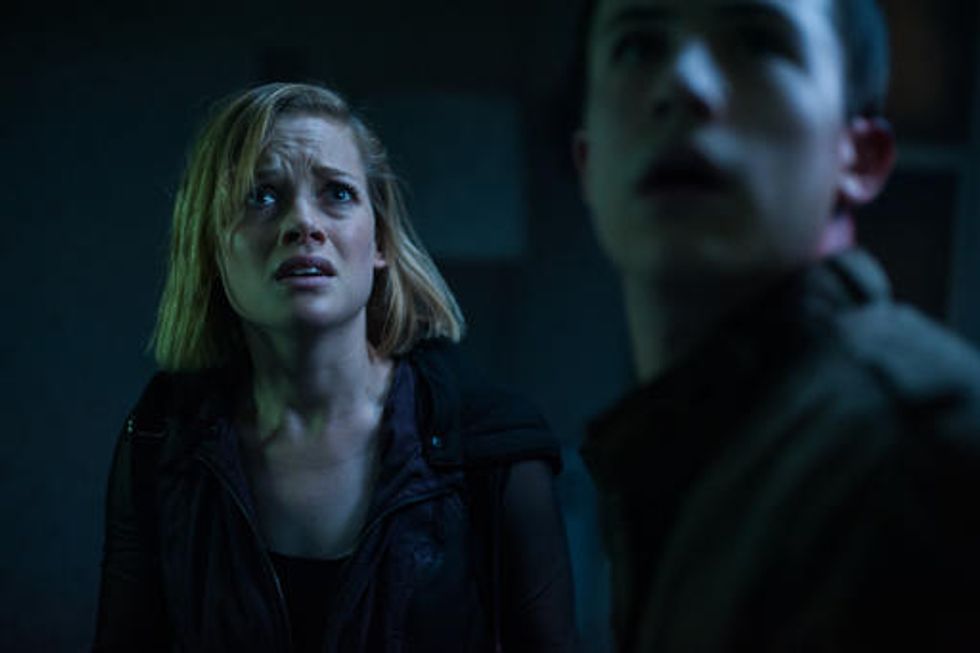 Jane Levy and Dylan Minnette star in Screen Gems' horror-thriller DON'T BREATHE.
Money's girlfriend - a girl Alex is also in love with - tries to convince Alex to help them with this job, saying they can't do it without his help. Rocky needs this more than anything. She comes from an abusive home and desperately wants to take her and her younger sister to California where they can be happy. Money and Rocky are soon able to convince Alex to go through with the job.
Since the vet - blinded in the war - lives as something of a hermit and almost never leaves his home, the kids decide to do the job with the old blind man home. What they don't know, however, is that the old man is secretly a serial killer.
"Don't Breathe" is one of the most legitimately terrifying movies to come out of mainstream Hollywood in a long time. Everything that happens from the moment the kids break into the house serves to build tension, and once that tension reaches an apex it can be enough to make the most macho of manly men leap right out of their skins. There are jump scares scattered throughout, but they're earned and don't feel cheap.
The film also presents one of the most well-structured stories ever told. Every work of fiction has to rely on a certain amount of coincidence to move the story along. Certain events have to happen at the moment they happen because that is what the story needs to happen. With this film, however, the trail of causality is clearly shown for every important event. You actually get to see how A leads to B and how B leads to C. Nothing is left to coincidence and nothing is convoluted.
"Don't Breathe" isn't just a good horror movie, it's a great movie period.
Fede Alvarez stated that after the criticism he took for "The Evil Dead" he wanted to do a more toned down film. While this film isn't near as bloody or gory as "The Evil Dead" - I'm really not sure any movie could be - "Don't Breathe" is still pretty exceptionally bloody and disturbing.
Audience members who have suffered domestic violence or sexual assault in the past may find much of this film too disturbing to endure. While the more disturbing aspects of the film are by no means the dominating force, they do exist.
Overall, "Don't Breathe" is probably as close to a perfect film as any movie has a chance at getting. If you love horror movies and aren't easily disgusted, "Don't Breathe" is a movie that shouldn't be missed.
–
TheBlaze contributor channel supports an open discourse on a range of views. The opinions expressed in this channel are solely those of each individual author.