I am a strong proponent for not trying cases in the public arena. Rather, I'm for allowing the legal system to conduct an investigation of the facts, file charges if necessary and then present those facts before a jury.
However, these days, especially when it comes to police officer involved shootings, the accused are tried and convicted in the court of public opinion long before the evidence is even gathered. No longer is there a presumption of "innocent until proven guilty" in this country and it's wrong.
I've watched over the past several days as the public spectacle has grown following the fatal shooting of a Ugandan refugee, Alfred Olango, by El Cajon, California police officer, Richard Gonsalves, according to reports.
A recently released video appears to show Gonsalves firing his weapon four times at Olango after Olango allegedly points a cylindrical vape pen at the officer. Another officer, Josh McDaniel, reportedly fired his taser simultaneously with Gonsalves.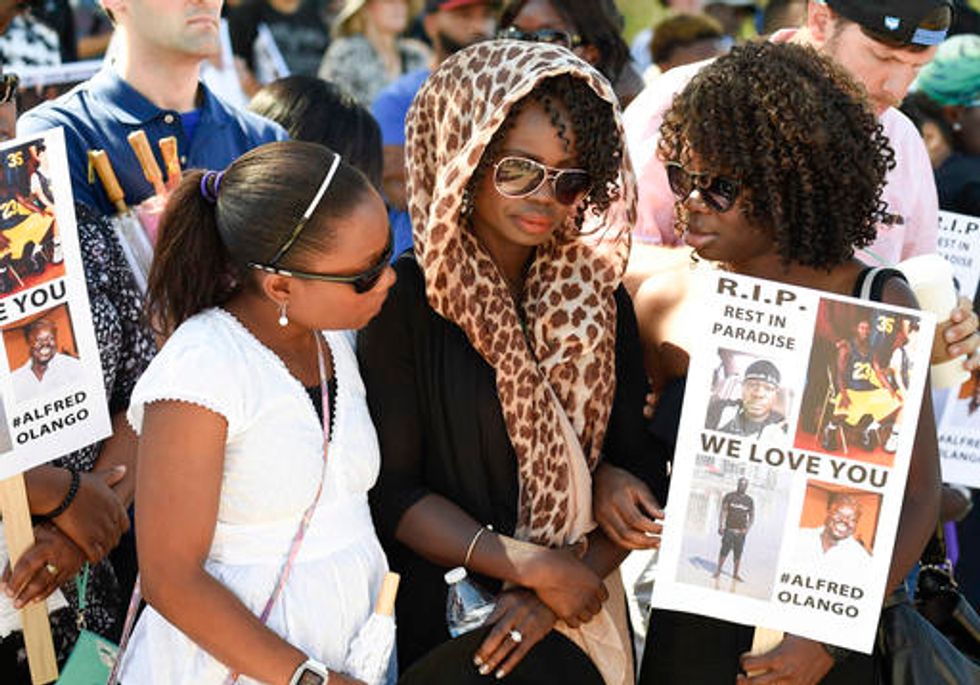 Winnie Olongo, center, sister of Alfred Olongo, is consoled by two friends before a march Saturday Oct. 1, 2016, in reaction to the fatal police shooting of an unarmed black man, Alfred Olango, in El Cajon, Calif. Olango, a Ugandan refugee, was shot by an El Cajon police officer on Tuesday. (AP Photo/Denis Poroy)
Even before the most recent video was released and subsequent to it, those critical of police took to the streets, social media and elsewhere to proclaim the shooting was unjustified and racially biased. I don't intend to decide the innocence or guilt of the officer in this article as some others have done. However, a few accusations made by these critics need to be debunked.
Before I begin, I want to disclose that I graduated from a California police academy in the early 1980s, clerked for two district attorney's offices while attending law school, formerly practiced as a licensed attorney and I am currently a licensed psychotherapist. I'm also familiar with El Cajon, having lived in San Diego County for an extended period of time.
1. Due to the El Cajon shooting, critics have claimed police officers need more de-escalation training.
"It's the direction law enforcement needs to go," said former San Diego Police Chief Bill Lansdowne. "We need to spend more time on when to shoot as opposed to just how to shoot."
However, it is claimed that law enforcement agencies have been focusing on de-escalation training in recent years to reduce violence in these situations.
Having been through police training, I know it's very easy for those who aren't police officers to sit on the sidelines and play Monday morning quarterback. While extended training can often lead to a greater expertise, there is no evidence to imply more de-escalation training would have produced a different result in the El Cajon shooting because "these things happen in a split second" sometimes.
I was exposed to simulated video training used by police officers, in which different scenarios are presented to test the ability to make appropriate split-second decisions regarding whether to fire a weapon or refrain from doing so. I also participated in hands on training outside of the classroom, to hone my skills in potentially life-threatening situations.
During the training, a multitude of thoughts race through your mind at lightning speed. You think, "Does he have a weapon? Am I about to get hurt or killed? Should I retreat (not an option for someone sworn to protect)? What if I'm wrong?" and a million other thoughts.
It was extremely difficult to be placed in a position knowing that as a police officer in a real-life situation, any wrong decision could potentially cost someone their life.
2. People interviewed locally and elsewhere, question why Gonsalves had his weapon drawn and why he fired it?
It is has been reported that Gonsalves "drew his firearm and pointed it at the subject while continuing to give him instructions to remove his hand from his pocket."
Put yourself in Gonsalves' shoes for a moment. Isn't it reasonable to assume that someone who does not comply with an officer's request to remove his hand from his pocket might be concealing a weapon? Of course.
Additionally, in a written statement on the El Cajon City website, it is reported that, "At one point, the subject rapidly drew an object from his front pants pocket, placed both hands together and extended them rapidly toward the officer taking up what appeared to be a shooting stance.
If the facts are true that Olango failed to show his hands and then took a shooting stance, wouldn't you have fired your weapon, as a trained officer, if you believed your life was being threatened by a person's posture and what may have appeared to be a gun?
3. Some criticized the fact the officers drew their weapons on a mentally ill man.
It was reported that a 911 caller, allegedly Olango's sister, claimed Olango was mentally ill, Olango's mother later claimed in an interview after the shooting that Olango was "not mentally ill" but was instead mourning the loss of a friend.
We have a difference of opinion at best in this case with no clear evidence one way or the other that mental illness was a factor.
However, Olango's mother's statement that her son was not mentally ill but distraught, raises the possibility of "suicide-by-cop" which is a unique type of officer-involved shooting that occurs when a suspect deliberately provokes an officer to shoot." Only time and further investigation will tell if this was the case.
Others reached a generalized conclusion about how police handle those with mental illnesses even though it is not conclusive that mental illness was present in this case.
"Police departments are not doing enough with the mentally ill. They talk about training and training for officers. But what about accountability?" said activist Ron Thomas, a former Orange County sheriff's deputy whose mentally ill son Kelly was killed by Fullerton police in 2011. "Departments aren't holding officers accountable when they harm the mentally ill."
4. Why wasn't the PERT team there?
Some are criticizing the fact that a Psychiatric Emergency Response Team (PERT) was not there to assist, implying Olango would still be alive if they had been on the scene.
In a 2010 Census report, El Cajon had San Diego County's highest poverty rate among adults and children. It's estimated population in 2014 was 103,091 compared to San Diego city's population in the same year of 1,381,069.
My educated guess is that El Cajon, due to financial constraints, has a very small PERT team that is stretched thin. Even San Diego County's resource list for its entire county indicates "Please know that there is a limited amount of PERT Team Members. They work certain hours per week at different jurisdictions throughout San Diego County."
Further, if a PERT team had arrived in time, it is highly unlikely in a situation such has been alleged in the El Cajon shooting, that PERT would have been allowed to proceed. Officers would not have allowed PERT to be placed in a situation where the person was believed to be armed and an imminent threat.
A man has been killed and a life has been tragically lost. Situations like these are emotionally charged and justice is never achieved when critics speculate instead of sticking to the facts.
–
TheBlaze contributor channel supports an open discourse on a range of views. The opinions expressed in this channel are solely those of each individual author.