Truly, it's doesn't get more unconstitutional than this.
A small town in Massachusetts – Lowell, located about 35 miles from Boston – has apparently decided the best way to keep criminals from shooting and killing innocent citizens is to make residents who want unrestricted carry permits first pen essays explaining just why, and then submit those justifications to the chief of local police to grade. Those who don't obtain passing grades aren't given their permits.
Insert "Are you kidding me" expression of disbelief here. In effect, the town of Lowell has exempted itself from the Second Amendment.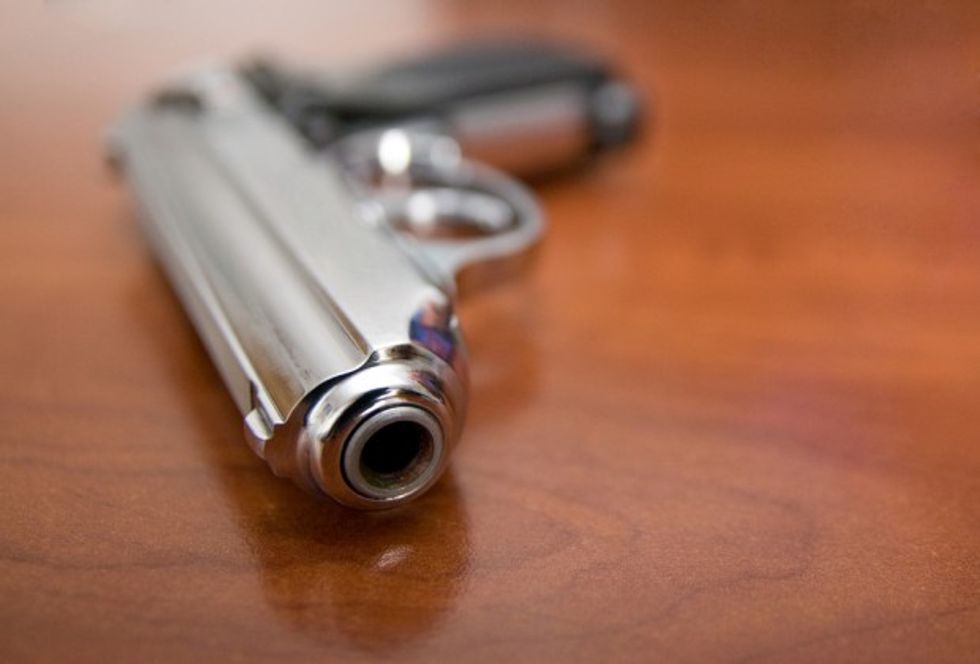 Photo credit: Shutterstock
Of course, the powers-who-be don't see it that way. They see it as a necessary precaution, a way of ultimately saving citizens from crime and killers.
Or, as local Police Superintendent William Taylor told City Council members when he approached them with his brainchild notion: "We wanted to make sure we allowed people to exercise their constitutional right to carry a firearm, but do it with a balanced, reasonable approach."
And Taylor, it seems, is just the guy to determine that this constitutional right to carry in a balanced and reasonable way is being upheld, because that's who City Council members named as the grader of all these papers.
"Chief Bill Taylor has sole authority when it comes to deciding which gun permit essays make the grade," Inquisitr reported.
The background of this policy, which also includes a mandate that approved permit carriers attend firearms' safety and training classes at their own expense – up to $1,100 – is that Lowell has maintained a tight control on guns for decades, denying most all concealed carry permit applicants for the past 30 years or so. So this new gun control provision is actually being billed as a freedom.
Local authorities also say applicants don't actually have to write the essay, but doing so would certainly strengthen their appeals for permits.
Well, isn't that special.
So Lowell citizens have not only been suffering under Second Amendment dings for decades, but now, in some sort of Twilight-Zone-meets-George-Orwell doublespeak scenario, they're going to be voluntarily forced to beg local officials in writing for their already-guaranteed constitutional rights – and in so doing, subtly acknowledge that this a move toward freedom?
As Jim Wallace with the Gun Owners Action League of Massachusetts said in a statement: "It is absurd. … It's like having a college professor say, 'I'm going to read your essay and if I don't like it, I'm going to give it back to you.'"
Who made the police the gate guard for the Second Amendment? As one freedom-loving patriot said of the topsy-turvy aspect of the situation: "Did the chief of police write an essay to the City [Council] explaining why he and his police force should have the right to carry?"
Indeed. But those who laugh at that question are part of the problem.
In America, where rights come from God, not government, that simple question goes to the nuts and bolts of the tragedy of Lowell's gun policies. Citizens, in far too many communities and in way too many cases of constitutional issues, have become conditioned to believe those in the public arena, the tax-paid servants, are above the very laws they are trusted to enforce – that they themselves are the sources and lone arbiters of rights and authorities.
The Second Amendment, based on the view of human rights the Founding Fathers all shared, is clear: "A well regulated Militia, being necessary to the security of a free State, the right of the people to keep and bear Arms, shall not be infringed."
Nowhere does it speak of essays and grades and chief of police powers to determine who may carry firearms, and who may not.
Cheryl Chumley, a writer for WND.com and former news writer for The Washington Times, is also the author of "Police State USA: How Orwell's Nightmare Is Becoming Our Reality." She may be reached at ckchumley@aol.com or through her blog, cherylchumley.blogspot.com, or at Twitter @ckchumley.
–
TheBlaze contributor channel supports an open discourse on a range of views. The opinions expressed in this channel are solely those of each individual author.