Recently, Sen. John McCain (R-Ariz.) and Arizona Gov. Doug Ducey got more than they bargained for when they were chased off of the Navajo Nation's reservation in the aftermath of the recent wastewater spill caused by the Environmental Protection Agency.
It seems that not everyone is happy with the EPA.
McCain and Ducey had gone to the reservation to meet with Navajo Nation leaders to discuss a potential Navajo Code Talker museum.
Navajo activists were positioned outside of where the meeting was being held. They were sitting on the floor in a circle beating drums and chanting in opposition to McCain and Ducey's presence on their reservation.
When McCain's car was spotted by the activists, they quickly left the building and ran past police officers toward McCain's car.
One activist could be heard yelling "Get the hell off our land," as McCain's car quickly left the reservation.
Activists are angry that the Federal government has not reached out to help them following the EPA debacle of August 5.
As you may recall, during testing of a dormant Gold King Mine near Durango, Colorado, the EPA caused a leak which spilled three million gallons of heavy metal filled wastewater into the Animas River. The EPA was supposed to be decontaminating the sludge at the goldmine but instead released the wastewater into the creek which later flowed into the river.
Wastewater from the mine turned the river orange after it was polluted with extremely high levels of toxins such as lead, arsenic, cadmium, beryllium and mercury.
EPA Administrator Gina McCarthy said her agency took full responsibility for the spill and that the spill "pains me to no end. I am absolutely, deeply sorry this ever happened."
The contamination has been widespread, reaching into New Mexico and Utah at last count.
The Navajo Nation has said that it will sue the EPA over the mining spill.
You would think that would be enough to slow the EPA down in its desire to control the environment and to protect those that can't protect themselves, which in the EPA's collective mind means every American citizen.
However, the EPA is moving forward with a new plan to control yet another aspect of our lives. It's hoping that Americans will welcome this "intervention."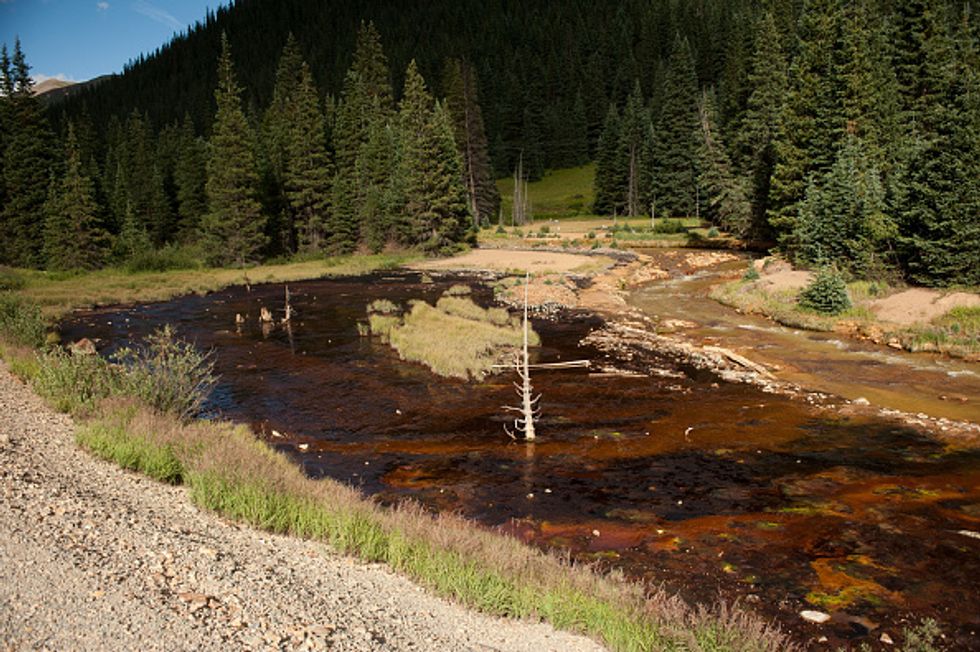 Cement Creek, which is a tributary of the Animas River was flooded with millions of gallons of mining wastewater, is viewed on August 11, 2015 in Silverton, Colorado. (Photo by Theo Stroomer/Getty Images)
In an Agenda 21-type program that has not been discussed in the media, the EPA is aiming to get the American public's buy-in on a program that will teach them how to be good stewards of their food.
Don't worry. The program is not a required program as is first lady Michelle Obama's lunch program for public school kids. At least not yet.
The EPA in all of its wisdom, has come up with a "Food Waste Reduction Prevention" strategy that strives to prevent the wasting of food even before it occurs.
The EPA has concocted a plethora of steps to be taken in order to help Americans figure out the simple task of not wasting food the way the government deems it should be done.
The program instructs the general population and restaurant cooks on how not to over-purchase food but to "only purchase what you need when you need it." The EPA refers to this type of purchasing as a "just-in-time" ordering system.
Unfortunately, the "just-in-time" system could leave you without food or water "just in time" for an earthquake, flood, or other emergency.
But again, no need to worry. After all, in an emergency situation when you don't have food because you failed to adequately prepare for a rainy day, there's always the Federal Emergency Management Agency or FEMA to manage another part of your life.
In this photo taken Dec. 28, 2010, Edwin D. Weber Jr. stands outside the FEMA trailer he shares with his brother in New Orleans. Citing the 221 trailers left in the city as blight, New Orleans officials have given the last folks living in temporary FEMA trailers until the end of the year to move out or face fines. For many people, though, the white trailers are akin to permanent homes and they will find it hard to move out. (AP Photo/Gerald Herbert)
Like the EPA in Colorado, FEMA showcased their expertise in providing food and water for victims following Hurricane Katrina in New Orleans.
In case you've forgotten, FEMA was highly criticized for providing inadequate emergency supplies to those in affected areas and the relief effort has been referred to as a "national disgrace."
The EPA has thought of every last detail in their food program, right down to encouraging patrons to take only the food they intend to eat, modifying the menu to increase more eating and less leftovers, reducing the size of the scoop used in serving food so that there's less food on the plate and encouraging restaurants to "go trayless."
The EPA claims that abolishing trays will reduce food waste. It sites a 2008 study of 25 college campuses conducted by the food services provider Aramark as proof of its claim. The study maintains that by removing trays at dining halls, the amount of food wasted was reduced 25 to 30 percent.
Perhaps they didn't take into account that frustrated students may have opted to eat elsewhere to avoid the balancing act of carrying food without a tray. Just "food" for thought.
The EPA program is optional at this point. However, with the track record of this administration, it would not be surprising to see it become mandatory in the not so distant future, complete with fines for noncompliance.
Until then, whenever you see the EPA coming to offer help of any kind, may I suggest you remember the wisdom of the Navajo Nation activists.
–
TheBlaze contributor channel supports an open discourse on a range of views. The opinions expressed in this channel are solely those of each individual author.