Sometimes it's cliché to describe a person as "a force to be reckoned with," but Mark Steyn, the conservative author/pundit/radio talk show host and even crooner, is just such a man. Based out of New Hampshire, a mere stone's throw from his native Canada, the classically educated champion of the West is often described as a "one-man global content provider." Mark circles the globe, speaking before prestigious intellectual societies, houses of parliament, and even Congressional committees. His key talking points revolve around what he sees as existential threats facing the West, whether it be the Islamization of some of Europe's oldest liberal republics, the demographic decline of those same nations, the rolling back of civil liberties, or the cultural decay inherent in the Welfare State.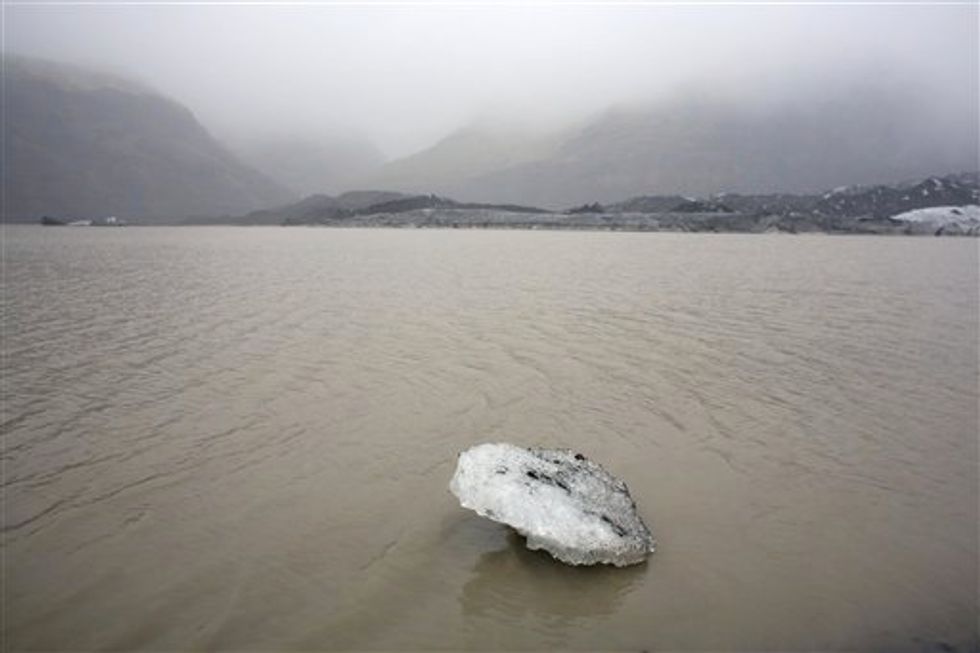 In this Friday, Oct. 16, 2015 file photo an ice floe floats on a lake in front of the Solheimajokull glacier, where the ice has retreated by more than 1 kilometer (0.6 miles) since annual measurements began in 1931. The trillion-dollar question of who should pay for global warming is coming to a head in talks on an international climate pact, as developing countries worry they won't get enough money to tackle the problem. With just five weeks left before a U.N. climate summit in Paris, developing countries closed ranks at weeklong talks ending Friday, Oct. 23, 2015 in Bonn and called on wealthy nations to make firm financial commitments to help them fight and adapt to climate change. (AP/Thibault Camus, Pool)
I caught up with Mark recently at a Princeton Club luncheon where he was the keynote speaker of a CO2 summit hosted by The New Criterion and the CO2 Coalition. Another of Mark's interests is the debate over "Climate Change" (neé "impending Ice Age," formerly "Global Warming") and the ramifications of the economic and political policies that go with activist proposals to combat the phenomenon. Like any observer, Mark believes in "climate change" per se as it is always in flux. The questions rather are how much if any is anthropogenic? And, if so, is it a bad thing/should "something be done about it?" I am no expert, but I will say the data-laden arguments presented during the half-day conference were compelling enough for me to conclude that the dire urgency of the matter is hardly "settled science." At least not to those who view this issue through the prism of data as opposed to ideology.
I briefly chatted with Mark about the 2012 lawsuit filed against him by Penn State climatologist Michael E. Mann accusing him of defamation and inflicting emotional distress for a 270-word post in the National Review Online questioning the validity of Mann's research.
Mann is the inventor of the famous "hockey stick" global temperature graph which has been so influential in climate change circles that it was used as one justification for such far reaching protocols as Kyoto, even though it has come under fire from a variety of climatology circles.
This case, filed in the District of Columbia court, brings together two issues that Mark is especially keen on: climate change groupthink and free speech. Mann is also suing National Review as well as the Competitive Enterprise Institute.
Mark's "crime" was to simply quote another piece by Rand Simberg. In the interest of staying out of anyone's litigious cross-hairs I will not repeat the quote but it can be found on the NRO link above. For re-printing another man's words and offering far less offensive criticism of Mann's analysis - Mark even states that he would NOT call Mann what Simberg called him - Mann is suing him.
Michael E. Mann v. National Review and CEI, et. al has the potential to be one of the most important First Amendment cases since the Supreme Court ruled in Gertz v. Robert Welch (1974) that persons who have special prominence in society by virtue of their fame or notoriety, even if they are not public officials, must prove "actual malice" when alleging libel. Gertz built upon the 1964 New York Times v. Sullivan decision in which the Court advocated the merits of "uninhibited, robust, and wide-open" debate on public issues.
In 2013, the D.C. Superior Court denied National Review's motion for dismissal, so the beat goes on.
The implications for free speech in this case are so immense that Mark has found curious bed-fellows supporting him, including such liberal bastions as the American Civil Liberties Union, the Reporters Committee for Press Freedom, the American Society of News Editors, the Association of American Publishers, the Association of Alternative Newsmedia (The Village Voice et al), NBC Universal, Bloomberg News, the publishers of USA Today, Time, The Washington Post, The Chicago Tribune, The Los Angeles Times, The Detroit Free Press, The Seattle Times, The Arizona Republic andThe Bergen County Record. I guess their mentality in shacking up with such an ideological foe is lay back, close your eyes and think of the First Amendment.
Free speech is already under relentless assault across the Western world be it from "hate-speech" laws, our own executive branch, or in the vile case of Charlie Hebdo, intimidation and mass murder.
Author and political commentator Mark Steyn appears on The Glenn Beck Program November 3, 2014. (Photo: TheBlaze TV)
Even the usually reasonable Canadians for a while seemed somewhat thin-skinned when it comes to robust debate, as Mark can tell you. In 2007 he and Mclean's magazine were targeted by activist muslims, the Canadian Islamic Congress, claiming Mark violated Canada's Section 13 law that made it a discriminatory practice to "expose a person or persons to hatred or contempt." Claims were brought against him by the Ontario Human Rights Commission, the Canadian Human Rights Commission and the British Columbia Human Rights Tribunal. There is no First Amendment in Canada. But there is an 800-year cultural inheritance dating back to Magna Carta that makes the right to free speech self-evident. As such, in a glorious act of sanity that restored my love for the Great White North, the case was eventually dismissed and S13 was repealed.
I asked Mark why such an important case as Mann seems to be getting limited media scrutiny. He offered up astutely that it is a matter of the speed of the wheels of justice. "I went through a similar ordeal in Canada, but the entire matter was resolved in a relatively short time, about a year. Whereas this has been going on for four years. I think you will see more attention as the case comes towards conclusion, much like no one paid attention to the Hulk Hogan matter until he actually took the stand. Then you saw the media take notice."
The left is most adept at using the judiciary to get what it wants. Mark is being punished via the stress and expense of an interminable lawsuit for uttering the blasphemy that, in light of the East Anglia "climate-gate" scandal, climate change activists may be engaged in some questionable science to substantiate their apocolyptic vision.
Whether one believes that climate change will turn us into Venus by Thanksgiving or there's nothing to see here, an outcome in favor of the plaintiff in the Mann case could represent a serious threat to freedom of speech, in lock-step with the rolling back of this most precious right already underway across the West, as the dead of Charlie Hebdo overseas and our own conservative activists targeted for IRS audits demonstrated all too clearly. Without the uninhibited exchange of ideas, even those that give offense, all other freedoms are of little value. Somewhere along the way we have compromised this essential and unalienable right for the illusion of faux societal harmony, leaving it up to brave voices like Mark Steyn to fight a battle in which we should all be engaged if we care at all about our future.
Brad Schaeffer is an energy broker, columnist, historian and author of the World War II novel "Hummel's Cross" about a Luftwaffe flying ace who saves a family of Jews during the height of the air war over Europe. Drop him a note at: shafemans@yahoo.
–
TheBlaze contributor channel supports an open discourse on a range of views. The opinions expressed in this channel are solely those of each individual author.