Donald Trump is busily campaigning, working to turn out his moderate base of Hillary Clinton-hating pragmatists, while trying to steal her base by promising liberal-policy solutions and painting conservatives as the ignorant neanderthals the left always insists we are.
Among those besmeared right-wingers are many self-styled conservative leaders who ate the poisoned apple and have fallen into Trumpsleep.
These folks, most of whom supported The Donald in the primary, have spent the last couple months demonizing and harassing Trump critics, and insisting that the rest of the right join them in their march off the electoral cliff.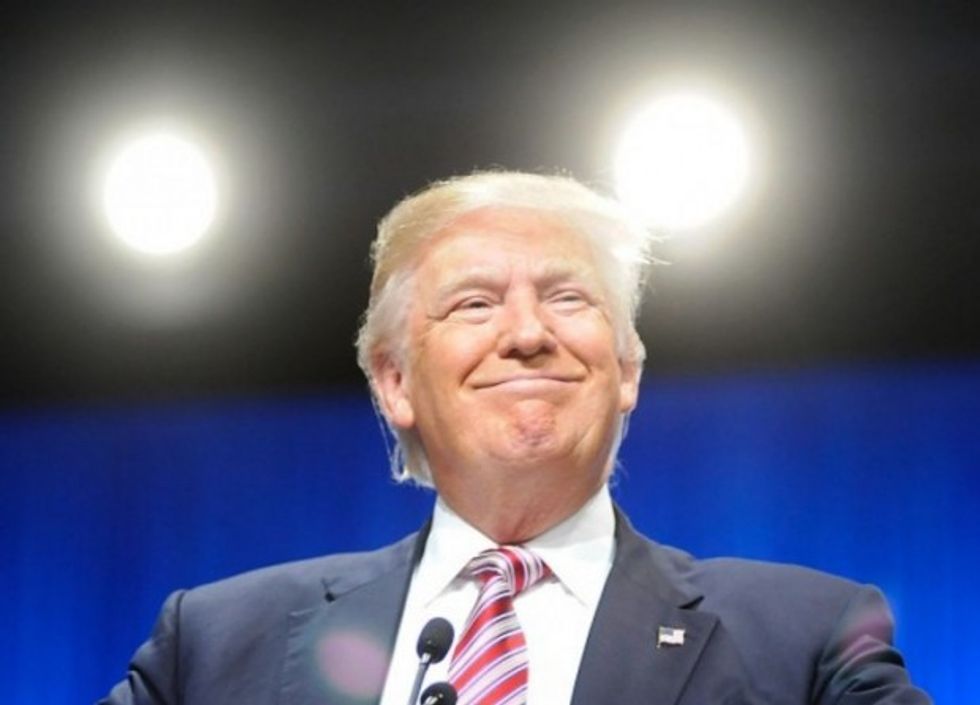 Trump Campaign photo
When the dust settles, Trump apologists will try to regain their influence within the traditional conservative circles they left behind. And that's when it will become the responsibility of the folks in those circles to disqualify them.
We must prepare to strengthen what remains. Once they've chosen to sacrifice their credibility on the altar of Trump, it's our job to ensure they aren't allowed to continue riding the conservative credentials they built their reputations on.
Here are some things a Trump supporter should never be able to get away with saying in a room full of conservatives again.
1. "Principle over party."
This line is officially off-limits for Trump Republicans who spent the last two months cozying up to Reince Priebus and the RNC, and badgering active and passive dissenters alike.
No one who booed Ted Cruz for his "vote your conscience" line in Cleveland is in a position to tout much of anything over party.
You can't condemn party bosses in one breath and then berate anyone who doesn't fall in line with them the next.
Not only did Trump's followers work to silence dissent against the party, they passed rules that further stripped power from the grassroots and delivered it on a silver platter to the RNC.
If you supported Donald Trump, you don't get to condemn the party anymore.
You are the party now.
2. "I am against the establishment."
Speaking of trampling the grassroots, we can't allow anyone to forget how many "conservative" leaders helped reinvent the establishment's image alongside Trump.
Because of their loaned credibility, a liberal New York billionnaire who funded the campaigns of establishment fixtures like Harry Reid and Nancy Pelosi was allowed to masquerade around the GOP as a conservative without having to embrace any conservative positions.
If you helped hand the GOP's keys to an eminent-domain-abusing, tax-evading, politician-buying corporatist, you aren't against the political establishment.
3. "I am a constitutionalist."
Trump's disregard for the Constitution is rivaled only by that of his Democratic competitor.
When a speaker at the Democratic national convention whips out a copy of the Constitution out on stage and proceeds to educate the Republican nominee on it, he has officially lost all constitutional credibility.
If you've spent the last eight years deriding President Barack Obama for his unconstitutional excesses, but rationalize Trump's constitutionally-illiterate policy preferences, you aren't a constitutionalist.
Drop the pretense.
4. "We have to stop the Democrats."
This might be my favorite future no-no for Trump supporters who actually thought the Donald intended to stop his good friends the Clintons from reaching the White House again.
You thought it was so important to stop the Democrats that you supported a guy who has spent his life funding Democrats, was a registered Democrat himself, raised Democrat children - who spoke at your Republican National Convention in support of liberal policies, by the way - called the corrupt Democratic nominee great presidential material, and is poised to wreak havoc up and down the Republican ticket?
Please.
If you were interested in stopping Democrats, you would not have nominated one as the Republican standard-bearer.
5. "Character counts."
Let's dispense with this fig leaf, shall we?
Donald Trump has no character. He is an unprincipled brute who acts on his basest impulses, and has been shielded from the consequences of such rashness by an inherited fortune.
If you condemned Bill Clinton's fling with Monica Lewinsky but support proud serial adulterer Donald Trump, character doesn't matter to you.
If you mocked the unfortunately-named Anthony Weiner but support a candidate who made the cover of playboy, divorced twice before marrying a porn star, and openly talks about dating his daughter, character doesn't matter to you.
If you are appalled at the crass tribalism of figures like Jeremiah Wright and Al Sharpton, but endorse Trump's degradation of women, POWs, and handicapped people, character is irrelevant to you.
If you criticized Mitt Romney's Mormon faith, but support a man who openly proclaims that he doesn't need God's forgiveness, you aren't concerned with character.
Look, I'm not saying that you can't use any of these lines if you supported Trump. In fact, I fully expect that you will.
I just don't want you to expect to do so unchallenged.
–
TheBlaze contributor channel supports an open discourse on a range of views. The opinions expressed in this channel are solely those of each individual author.