Hillary Clinton cannot win the presidency. Her entire public life has been a series of failed ideas and failed policy and she promises more of the same.
Donald Trump, however, can lose it. And if he continues to focus on matters other than Clinton he will.
Clinton did not author the policy that allowed the Islamic State to develop and grow into 18 nations, but she was a willing and energetic accomplice.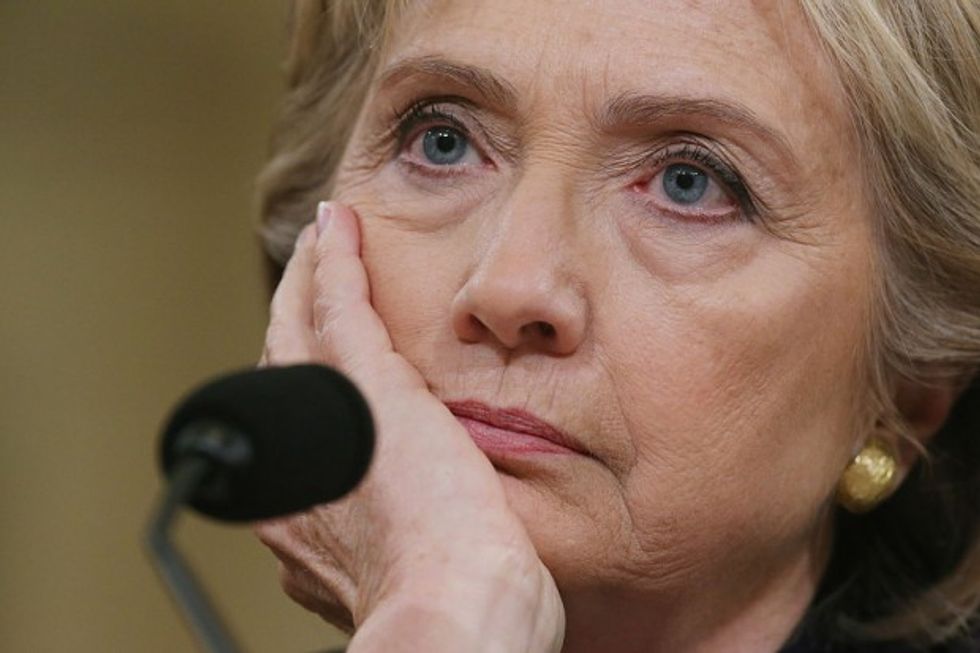 Getty Images
She pursued a policy in Libya that was opposed by the entire national security establishment, including President Barack Obama. When Qaddafi was killed, her staff congratulated her for her singular achievement.
Curiously, she has not mentioned Libya during an entire year of campaigning.
Just five years after bombing began in Libya to kill Qaddafi, we are bombing again at the request of what we claim is their government.
The death of an American ambassador and three other Americans, killed with weapons that likely came from the United States, was the ultimate result.
On the home front, we passed a trillion dollar stimulus package only to see the slowest economic growth in 80 years. We have the lowest level of workforce participation in 38 years.
And she promises to build on that record.
During the next 90 days or so, Donald Trump should confine his public comments to this:
"Hillary Clinton has promised to build on President Obama's record. If you do not have a job and Hillary is elected don't expect to get one. If you do have a job, don't expect to get a raise. And if you think San Bernardino and Orlando were frightening – you ain't seen nothin yet."
No more.
Politics is never about yesterday. Politics is about tomorrow.
Trump needs to ignore what happened yesterday. Ignore what anyone says about him. Ignore any personal questions raised by any reporter or circumstance.
I really don't care what he thinks about Paul Ryan or John McCain or Kelly Ayotte. I care only what he thinks about Hillary Clinton.
He must just repeat, over and over, "If you do not have a job and Hillary is elected don't expect to get one. If you do have a job, don't expect to get a raise. And if you think San Bernardino and Orlando were frightening – you ain't seen nothin yet."
Looking back at two failed presidencies, it is astonishing to see similar circumstances when Ronald Reagan ran for president and what we see now.
In 1980, after four years of President Jimmy Carter, our interest rates were 21 percent, home mortgages 17 percent, inflation 14 percent and unemployment exceeded 10 percent.
The Soviet Union had increased its influence in Afghanistan, Angola, Cambodia, Cuba, Ethiopia, Grenada, Iraq, Laos, Libya, Mozambique, Nicaragua, Syria, Viet Nam and Yemen.
Many of our enlisted troops were on food stamps, one-third of our aircraft could not fly for lack of spare parts and one-third of our ships were in dry dock.
After eight years of President Obama our economy is now expanding at 1.2 percent per year. This is the first president ever who did not have a single year with at least 3 percent economic growth.
Russia is on the rebound. She has increased her presence in the Mediterranean and the Middle East. She is in negotiations with Cuba, Venezuela, Nicaragua, Algeria, Cypress, Viet Nam, Singapore and the Seychelles for access to their facilities to be used by Russia's navy and strategic bombers.
Russia's ventures into Cuba, Venezuela and Nicaragua represent her largest presence in our hemisphere in history.
Iran is flouting our nuclear agreement that gave them $150 billion and the right to continue to enrich uranium. They are now buying surface-to-air missiles from Russia.
This past week we laundered $400 million in dollars for Swiss Francs and Euros and delivered them to Teheran in the dead of night in ransom for four hostages.
Iran now runs Iraq and, through Iraq, is buying fighter jets from South Korea and has signed a $4.2 billion deal with Russia for arms.
President Obama has committed to cutting our forces to pre World War II levels. Half of our cruiser fleet will be mothballed leaving our Navy at 1916 levels and an entire fighter wing will be grounded.
This is what Clinton promises to continue.
Ronald Reagan focused his entire campaign on Jimmy Carter and his record. So must Donald Trump focus on Hillary Clinton and her record.
For those of you struggling with whom to support between two flawed candidates I say only this. I don't know what Donald Trump will do in the midst of this turmoil, but I know exactly what Hillary Clinton will do.
She has a record.
If you would like to be added to John Linder's distribution list please send your email address to: linderje@yahoo.com or follow on Twitter: @linderje
–
TheBlaze contributor channel supports an open discourse on a range of views. The opinions expressed in this channel are solely those of each individual author.