God appears to be alive and well at the 2016 Olympics!
Simone Manuel, 20, made history August 11 by becoming the first African-American woman to win an Olympic medal in an individual swimming event.
Manuel tied Canadian Penny Oleksiak in the 100-meter freestyle, giving each a gold medal. But only moments after her win, Manuel refused to take the credit for it.
Emotionally charged, she immediately sought to properly allocate credit for her win with the statement, "All I can say is all glory to God." She then added she wished to share the medal's ownership with others who had helped and inspired her on her journey to win the gold.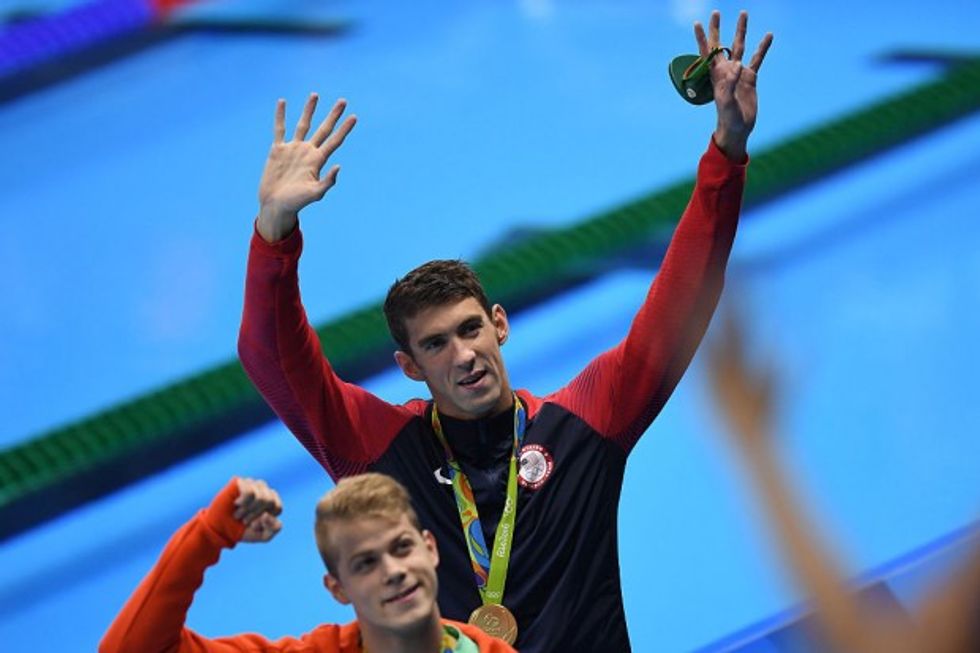 Gold medalist Michael Phelps of the United States celebrates during the medal presentation for the Men's 4 x 200m Freestyle Relay Final on Day 4 of the Rio 2016 Olympic Games at the Olympic Aquatics Stadium on August 9, 2016 in Rio de Janeiro, Brazil. (Photo by David Ramos/Getty Images)
God wracked up two Silver medals only three days earlier in the Olympic dive competition.
U.S. divers David Boudia and Steele Johnson won silver medals in the men's synchronized 10-meter platform. It was Boudia's third all-time Olympic medal and Johnson's first. But both attributed their success to their Christian faith.
The immense pressure of the competition presented both Boudin and Johnson with an "identity crisis"—one between diver and believer. Speaking for Johnson as well, Boudin said in the role of diver, the mind "goes crazy;" but, in the role of believer, both men recognized their identity was in Christ.
Johnson added, it was important for them to recognize their identity is "rooted in Christ" and not in the results of the competition. Recognizing this causes the craziness to give way to peace of mind. And it is that peace of mind that enables them to enjoy the event—ultimately diving to victory.
"If something went great, " Johnson said, "I was happy. If something didn't go great, I could still find joy because I'm at the Olympics competing with the best person, the best mentor — just one of the best people to be around. God's given us a cool opportunity, and I'm glad I could come away with an Olympic silver medal in my first-ever event.
But God's hands apparently were also doing their work on behalf of another athlete participating in the 2016 Olympics—a swimmer who continued to set records with each medal he won—the great Michael Phelps, 31.
Despite his tremendous performance in earlier Olympic competitions, by 2014 Phelps had allowed drugs and alcohol to influence his life. Suffering from that influence, he contemplated suicide.
But, fortunately for Phelps, another athlete—former Baltimore Raven football player Ray Lewis—who had gone through adversity in his own life—entered Michael's life to help him turn things around. Just like divers Boudin and Johnson who had turned to God, discovering there was more to life than winning, Phelps—with the help of Lewis—made the turn as well, making the same discovery.
By the time the swimming competition had ended, Phelps owned a total of 28 Olympic medals—23 of them gold—with six having been won in the 2016 Games (five gold and one silver).
At a time the world is in chaos—most of it seemingly self-inflicted by mankind—it is refreshing to see young athletes who, enjoying tremendous success, are so moved by their faith to credit God for it rather than claiming it for themselves.
In today's world—one in which the most benign of issues gives rise to distraught young people immediately seeking out "safe spaces" to protect themselves from life's realities—we can only hope the actions of these U.S. Olympian medal winners in crediting their faith for their success will not generate another rush to the sanctuaries.
In fact, maybe by heeding the message of faith of the Olympic athletes above, young people in need of such sanctuaries will find they are better able to cope with the realities of life from which they naively seek to hide.
–
TheBlaze contributor channel supports an open discourse on a range of views. The opinions expressed in this channel are solely those of each individual author.