Goodbye John. Don't let the door hit you in the backside on the way out.
That's my feeling about the news out today that House Speaker John Boehner is resigning from Congress (effective at the end of October).
I've been a conservative politician, commentator, author, syndicated columnist and activist my entire adult life. John Boehner is the single biggest disappointment and failure to conservative causes in my lifetime. I am thrilled to see him go. Tonight I will be dancing in the streets.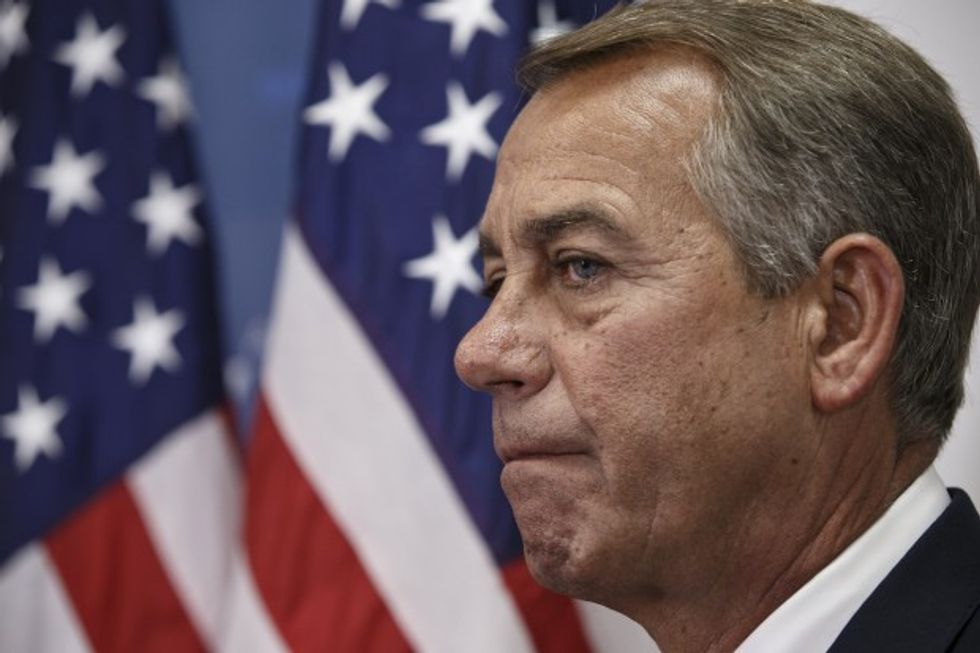 (AP Photo/J. Scott Applewhite)
My new book "The Power of RELENTLESS" describes success as being a combination of relentless energy, relentless enthusiasm, relentless chutzpah (the audacity to believe you'll always win), relentless commitment to your goals, relentless fighting spirit, and always fighting from a position of strength (relentlessly on offense, not defense).
John Boehner failed on every count.
Compromise is fine. But waving a white flag at the first sign of battle is not.
John Boehner was the Republican equivalent of the French army. He spent his career compromising before the fight even began. Worse, he defined compromise as giving President Barack Obama virtually everything he wanted.
Compromise is when one party wants a 25 percent tax hike and the other party wants a 25 percent tax cut … and you compromise on "no change." No one gets what they want.
But if Obama wants a 25 percent tax increase in the middle of a devastating recession and the GOP would like a tax cut, it's not "compromise" to accept a 20 percent tax increase. That was Boehner's strategy. That is Boehner's "record of accomplishment." He thinks giving Obama 90 percent of whatever he wants - even after a massive, historic GOP landslide - is compromise. He thinks that's leadership.
Conservatives understand that's the perfect combination of weakness, incompetence, apology, retreat and cowardice.
Republicans won in a massive, historic landslide last November. Boehner was handed total and complete victory. He had all the leverage in the world. What did he do with it?
NOTHING. Zero. Zip. Nada.
Name a victory for the good guys (the GOP)? Name a partial victory? Name something Obama wanted that he hasn't gotten since losing in that historic landslide? Obama not only came out of a humiliating landslide defeat and repudiation smelling like a rose; he not only got everything he wanted since that historic loss; Boehner couldn't even find a way to slow him down. Obama is a lame-duck landslide loser and yet with Boehner as his chief opponent, Obama's agenda is accelerating, not slowing. That says it all.
If only Boehner could have figured out a way to get even a fraction of the momentum out of a landslide victory, as Obama got from a landslide defeat, the GOP would have thrived under his leadership. Instead the GOP withered and raced backwards. The words that best describe GOP action under Boehner were "apologize" and "retreat."
Boehner's last quote about the conservatives who forced him out is a perfect reflection of what's wrong with John Boehner's leadership. He said of his conservative opposition in Congress, "They can't get to yes."
Meaning in his mind conservatives refuse to find a way to pass legislation.
There you have it. In Boehner's way of thinking the key to "success" is finding a way to say "yes" to Obama, so he can pass legislation that Obama wants. Well that's not "success" folks. That's defeat - for the GOP, for capitalism, for middle class jobs, for America, and for America's allies like Israel.
Republicans were not given a landslide mandate last November to find a way to say "yes" to Obama. Boehner is so ignorant, he doesn't understand "success" anymore than he understands his own electorate. Conservatives came out in droves last November to repudiate Obama and to stop him. Not to "get to yes." We emphatically voted "NO."
Our vote last November was about handing Boehner and the GOP Congress the power to say "NO" to everything and anything Obama wanted. Because what Obama wants will lead to the decline or death of everything conservatives and patriots believe in - capitalism, American exceptionalism, Judeo-Christian values, free markets for healthcare, less government spending, debt reduction, more money in the hands of the people who earn it, and more power to the people, not the government. To say "yes" to Obama's agenda is to say goodbye to America. John Boehner never understood that
And so today we say goodbye and good riddance to John Boehner. Tonight we celebrate. Then tomorrow it's a new day in America. Tomorrow we go on the attack. Tomorrow we fight RELENTLESSLY for victory, not compromise. Tomorrow we go on the offensive to save America.
Because the goal is to save America, not "to get to yes."
–
TheBlaze contributor channel supports an open discourse on a range of views. The opinions expressed in this channel are solely those of each individual author.