**The following is an in-depth review of "Hands of Stone" and does contain spoilers**
"Hands of Stone" is the biographical film based on the life of Roberto Duran. Duran's professional boxing career spanned more than 30 years and he is widely considered one of the greatest boxers of all time.
"Hands of Stone" introduces Roberto Duran as a child in Panama during the period of civil unrest in the country over U.S. control of the Panama Canal. The film shows that it was in this environment at a young age that Duran learned to fight and cultivated a love for boxing.
The movie shows how Duran convinced famed boxing trainer Ray Arcel to take him on - despite the fact that Arcel was unable to make money from the sport of boxing due to a bad run-in with the mob - and how he quickly rose to becoming a virtually undefeated lightweight champion before starting a rivalry with welterweight champion Sugar Ray Leonard.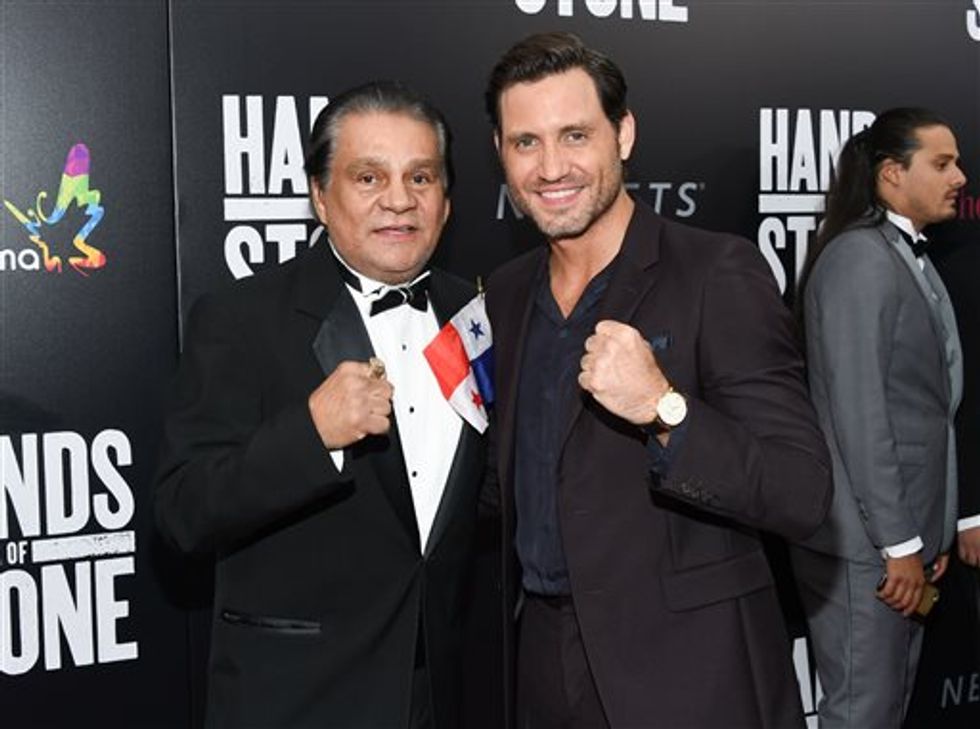 Former professional boxer Roberto Duran, left, and actor Edgar Ramirez, who plays Duran in the film, pose together at the U.S. premiere of "Hands of Stone" at the SVA Theatre on Monday, Aug. 22, 2016, in New York. (Photo by Evan Agostini/Invision/AP)
Picking a fight with Leonard in a bar, Duran soon faces Leonard in a 15-round bout that ends in a decision with Duran beating Leonard and winning The Ring, WBA and Lineal welterweight championships. Not content with the outcome, Leonard immediately wants a rematch and in an unprecedented move Duran is faced with defending his new title only five months after winning it.
Halfway during the second fight Duran throws his hands up and walks out of the ring, claiming to be finished with boxing. While a lot more could have been done with the rivalry and the events leading up to him walking away from his title defense with Leonard, these opportunities are missed. The movie does a good job developing the Duran/Arcel relationship but could have handled the Duran/Leonard rivalry better.
Boxing movies are nothing new to American cinema, with films like "Rocky," "Raging Bull," and "Million Dollar Baby" all winning the Academy Award for Best Picture. As such, there is very little that hasn't already been done in boxing movies and Roberto Duran's story - at least as it's told here - does very little to bring anything unique to the genre.
Throughout the film Duran is portrayed as aggressive, mean, and sometimes downright contemptible. It is near impossible to root for the guy or find him in any way a sympathetic character. While this is probably a fairly accurate depiction of Duran as he was, for the protagonist in a movie it does a disservice to the film. Contrasted with the supreme likeability of Leonard - played by R&B star Usher - Duran comes off more as the heavy than the hero.
The film's trailers play up the rivalry between Duran and Leonard, but very little of that is actually in the film. Most of the film's runtime is taken up by side plots and unimportant characters which all seem very inconsequential to the overall story. This causes the film to drag severely and feel twice as long as it actually is.
Robert DeNiro is fantastic as Duran's trainer Ray Arcel and Edgar Ramirez turns in a magnificent performance as Roberto Duran. Unfortunately, Usher isn't given enough to do as Sugar Ray Leonard to gauge whether he can actually act or not. He does do a good job of exuding the likeability that made Leonard one of the most beloved athletes of the 1980s, however.
In retrospect, maybe the life of Roberto Duran just wasn't interesting enough to serve as the basis for an entire movie. If there was something more interesting there, the filmmakers seem to gloss over these potential story points in order to focus on inconsequential events and side characters.
The film might have been better served by trying to actually get inside Duran's head. Why did he walk away in the middle of his second fight with Leonard? How did the five month turnaround between fights affect his mental preparedness? The film alludes to Duran and Leonard eventually becoming longtime friends; how did that happen? These questions, unfortunately, go unanswered.
Overall, if you're a fan of boxing movies, "Hands of Stone" does deliver a decent - if formulaic - boxing movie. Outside of that, however, it just doesn't have much to offer.
"Hands of Stone" currently holds a 44 percent on Rotten Tomatoes.
William Avitt will be appearing at Cincinnati Comic Expo in Cincinnati, Ohio on Saturday September 24. He will be hosting a panel on film criticism at 11am in Rm. 233 and will be on the convention floor all day.
–
TheBlaze contributor channel supports an open discourse on a range of views. The opinions expressed in this channel are solely those of each individual author.