Every December, our family has chosen names off charity trees and bought presents for needy kids and families. But this act of giving felt hollow.
There's nothing wrong with wanting to give Christmas gifts to kids, but I remember the look on a mom's face as she opened the door to accept the gifts I was delivering. She bowed her head, grabbed the bag - avoiding any eye contact. A look of shame spread across her face.
Salvation Army bell ringer volunteers William Schmidt (L), who is on his 20th year volunteering, and his grandson Bubba Wellens (R) ring their bells looking for a donation into a kettle outside a Giant grocery store November 24, 2012, in Clifton, Virgina. Salvation Army volunteers traditionally are seen collecting donations from holiday shopper for the needy between Thanksgiving and Christmas. Schmidt says he does it, ' to teach others the joy of giving. Credit: AFP/Getty Images
Our act of generosity may have met an immediate need, but it didn't solve anything long term. She is still, several years later, living in poverty - and she's not alone.
None of us want to believe that our help isn't actually helping, but what if it isn't?
What if our contributions aren't empowering people to leave a harmful situation, distancing them even further from employment and a life of opportunity?
James Whitford, founder of the Watered Gardens Rescue Mission asked himself the same question.
Whitford started the mission in Joplin, Missouri with his wife over 15 years ago. They originally thought by giving out clothes, food and shelter that they were helping, but they weren't - at least not long term.
They were meeting immediate needs but their "help" was keeping people trapped in a cycle of dependency; the exact opposite of their intent. He explained:
"At first it was, "Hey, you're hungry. We want to feed you and love you." Then they'd come back and we'd feed them again, or give them shoes. I'd ask, "What did you do with the last pair? " We began to realize that our good intentions were not actually realizing solutions.

That's when things began to change with us. Our mindset was, if we give them stuff and tell them we care, it will make a difference. The truth is, that doesn't work. It's a form of aid, and aid never resolves poverty."
That's also the realization 24-year-old CEO of Empowerment Plan, Veronika Scott came to.
In college, she was tasked to design something that filled "actual needs." She began doing research at homeless shelters and thought she'd created the perfect product - a coat that doubled as a sleeping bag.
"I was talking to the homeless population and getting feedback, and I was on like prototype number seven. And this woman came out of the shelter I was in, and she was yelling at me, she was full on screaming."
It took just 10 words to change everything for Veronika.
"We don't need coats - coats are pointless, we need jobs!" - yelled the homeless woman.
Today, Veronica runs a company employing the very population whom her product was designed to help.
"She was completely right. A coat is just a bandaid for a systemic issue. What would really have impact is hiring the population that would need them in the first place."
Seeing repeat clients, time after time, Watered Gardens Mission also changed how they define true charity.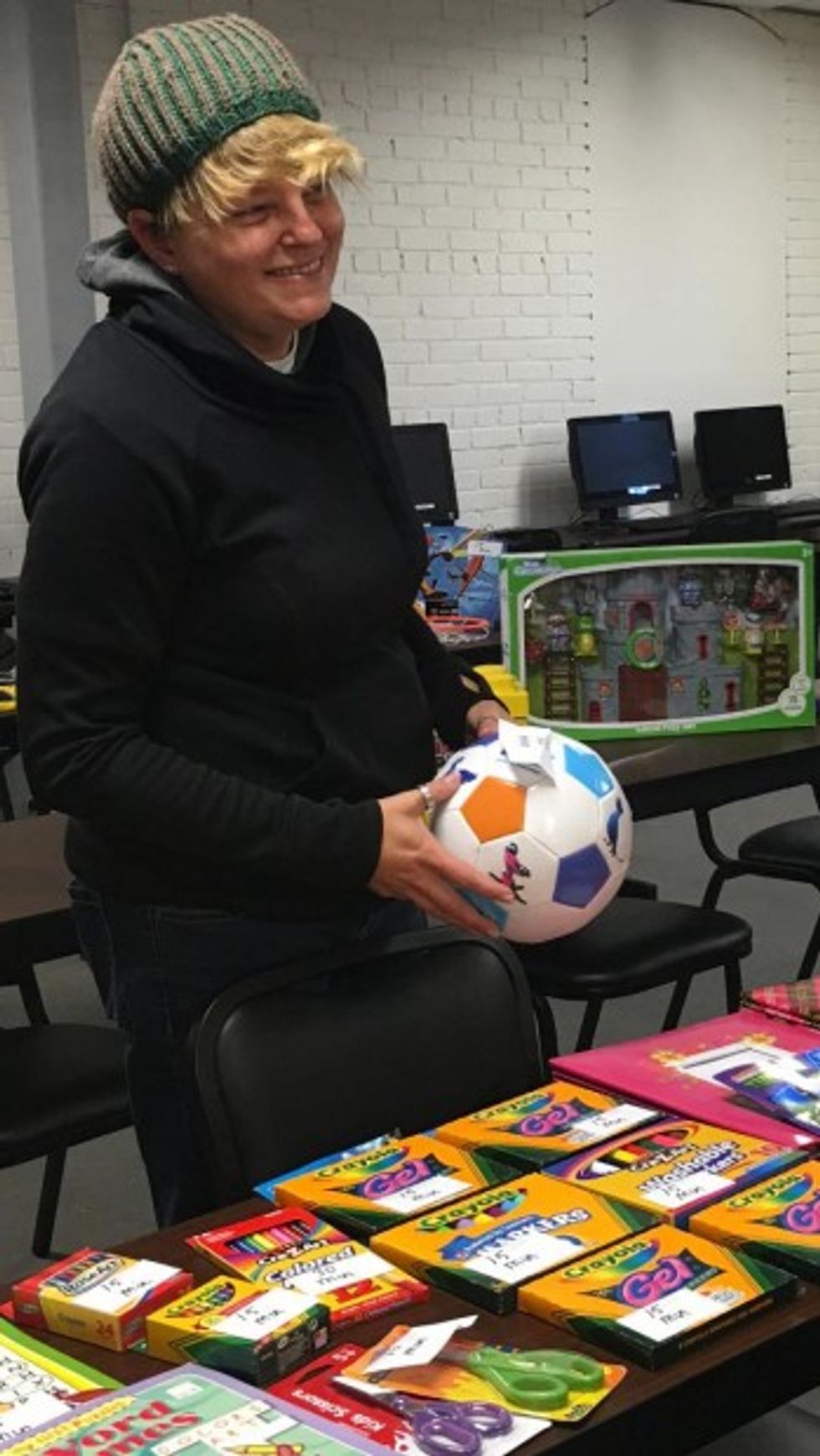 This year Tammy earned enough in the mission's "Worth Shop" to buy her children Christmas gifts. (James Whitford)
They no longer give handouts. Instead, those seeking assistance are asked to volunteer; either by giving back by completing tasks around the facility, or attending "Worth Shops."
"We have a Worth Shop. We believe work awakens worth. We understand there are dysfunctions…but what are you able to do? We focus there first. We believe that's really what awakens worth in a person."
Many former addicts credit having a job as one of the single biggest factors in their sobriety, and at Watered Gardens, they've seen it firsthand.
Whitford shared with me about one man in particular.
"John was a meth addict, on the streets for years. He would come to the mission for various things. He ended up earning the things he needed. One day he said, "I have to really change things."

He made a commitment to change and gave up his Food Stamp card. This man had not had a job. He'd admitted to selling his Food Stamps, 50 cents on the dollar, spending it on drugs. He gave it up, went to work and he's been employed for about a year and a half. He has an apartment and a savings account that's greater than most."
The handouts John received were intended to help him climb out of a bad situation, but they became a shovel - digging a hole of dependence.
Tammy, a single mother, has also been empowered by Worth Shops. This year she's able to bless her children with gifts she bought herself.
By not allowing people to simply take and be dependent on private charity, (or the government), Worth Shops have set many on a path toward independence.
"There was a guy outside my mission. He said, James, "I've never had to work for my bed and meals. You take the shame out of the game." Those are the folks where the light comes on and you know they're going to move in a better direction."
Removing shame and restoring the dignity that comes with work is exactly what's needed, according to Jobs for life. Their focus is on equipping local churches to help those in their communities find gainful employment and end systemic poverty.
Their initiative, "Flip the list" aims to change the focus of church benevolence away from handouts and toward employment.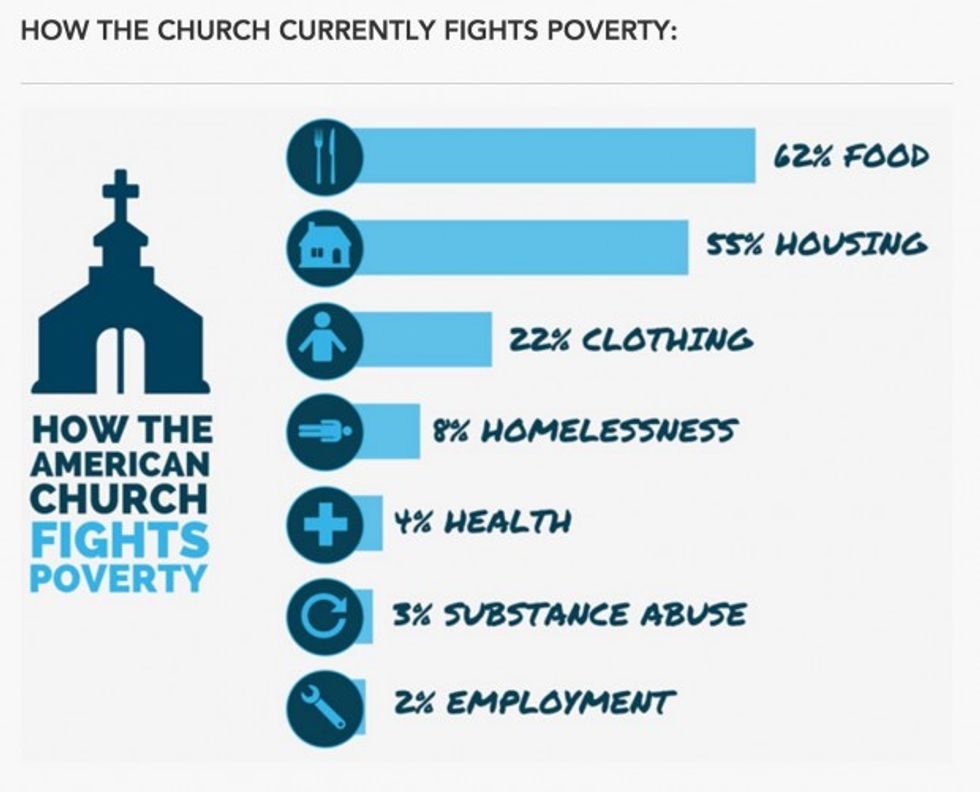 Graphic showing churches spend little on promoting jobs as a way out of dependence. (Kristina Ribali, http://www.jobsforlife.org/FliptheList)
Currently less than 2 percent of churches focus on alleviating poverty through work, while an ever increasing share of church budgets go toward resources such as food, shelter, and clothing.
More than 80 percent of the participants who completed their jobs program are working and have gainful employment. What does that mean in reality? A drastic increase in income, and a path out of poverty.
For over 18 years, I've co-owned a business with my husband, and I've seen what a job can do for someone who is broken. I've witnessed a former meth addict, three weeks clean, empowered by the belief someone had in him. We put him to work, and today, over ten years later, he's sober, providing for his wife and two kids and is a respected ministry leader.
None of that happened because of a handout - it happened because of a job.
"Give a man a fish, and he eats for a day, but teach a man to fish and he eats for life," but what happens if you require someone to work for their fish?
Not only do they learn new skills, new research out of Kansas shows that helping able-bodied adults move off of food stamps and on to work resulted in a 127 percent increase in income.
Helping someone become employed and increase their income is true charity. It's long term improvement - not a handout.
Giving someone a hot meal or fresh clothes isn't necessarily bad charity, but handouts that allow someone to stay dependent are eventually harmful.
Jobs for Life, Watered Gardens, and Empowerment Plan are doing life changing work. True charity. They're connecting with people at their felt need and caring enough about them to esteem them worthy of work.
There's no doubt in my mind that a job is one of the greatest gifts someone could ever receive.
This Christmas, I challenge you to really think about where you give your charitable contributions. As for me, I've chosen to give my money and time to charities that empower people through the dignity that comes with work.
What will you choose?
–
TheBlaze contributor channel supports an open discourse on a range of views. The opinions expressed in this channel are solely those of each individual author.