Who would have thought that Donald Trump would be such a powerful front runner that Republicans would spring into party unity to defeat him? A party unity that could have prevented Donald Trump if only it had sprung forth a titch sooner.
And who would have thought that Mormons would be the only group thought to be powerful enough to stop him? It's almost as exciting (or frustrating) as the Carolina Panthers beating the Denver Broncos in Superbowl 2016. Why Mormons?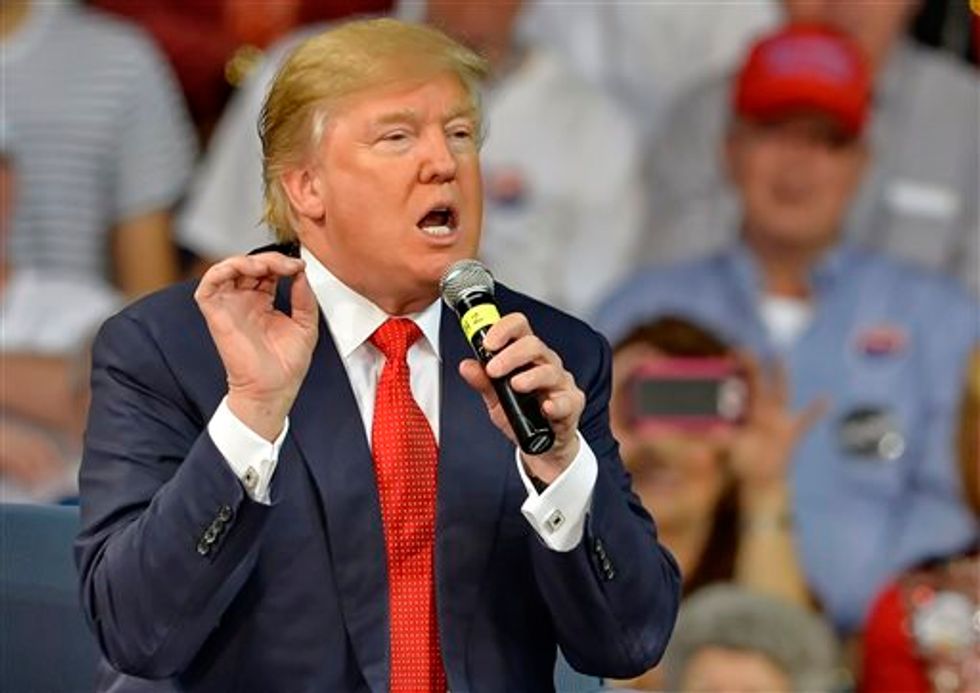 In this Dec. 12, 2015, photo, Republican presidential candidate Donald Trump speaks at a town hall meeting in the Convocation Center on the University of South Carolina Aiken campus in Aiken, S.C. Trump's supporters don't see his plan to ban Muslims from entering the U.S. as "xenophobic" or an "appeal to hate," but rather as an entirely reasonable response to a clear and present threat. (AP Photo/Richard Shiro)
It can't be explained by religious values and clean living alone. The folks of Duck Dynasty are quite impressive in that regard, and Dynasty CEO Willie Roberts himself supports the Donald. And Evangelicals in South Carolina broke for Donald Trump in such take-the-wind-out-of-his-sails numbers that Ted Cruz won no delegates and no counties. Why not Evangelicals? At least not of the South Carolina variety?
It can't be explained by prioritizing honesty and integrity in a candidate either. No particular state or group of citizens has a corner on those values, and besides, they don't seem to matter as much to Trump's ardent supporters as the other thing he brings to the table. Why are so many good, decent people willing to sacrifice honesty and integrity in their president?
Look for the answer in Utah.
In the rest of the country, higher concentrations of Mormons correlate with lower support for Trump, i.e., the more Mormons who vote, the more Ted Cruz shellacs him; the fewer Mormons who vote, the more likely Trump prevails. In Utah, conversely, non-Mormons find him just as distasteful as Mormons. There must be something more in play than Mormon sensitivity to religious persecution and fundamental disagreement with Trump's stance on immigrants. In a state with a slightly more than 62 percent Mormon majority, Ted Cruz garnered 70 percent of the vote in Tuesday's caucus, while Trump eked out a paltry 14 percent.
We're getting closer to the answer.
Show me the money, religiously speaking. Mormons and non-Mormons alike in Utah push the state to its top dog status in the weekly church attendance category. Fifty-one percent of Utahns are likely to attend church every week, more than any other state in the country. Support for Trump in Utah breaks down not along Mormon/non-Mormon lines but along active/not very active in church lines.
Many people identify faith in God as integral to their personal identity but do not participate in organized religion. Faith alone, however, powerful as it may be, is subjective and receptive to being shaped this way or that for a greater good. By contrast, church attendance is external and zero sum; you either go or you don't, and you go either more often or less often. I can tell you as a weekly church attender, it is not always the place I want to be on Sunday morning, especially for the three-hour Mormon worship block.
Sometimes it's tempting to lie in bed all day and watch Dr. Phil re-runs. The reason I do not (at least not very often) is because I have made a commitment to behave in a certain way as a member of my church. It requires effort. Utahns with their weekly church attendance have committed to a standard of behavior that sets them apart from other self-identified Christians who do not attend church as often, if at all.
It makes sense, then, that Utahns hold Donald Trump to a higher standard of behavior and have less tolerance for his less-than-Christ-like demeanor. Part of it is a holier-than-thou judgment to be sure, but I suspect the bulk of it is fairness. If we are working hard to strive for humility, charity, and self-control, it rankles to support someone who does not. The whole point of Christianity is to rise above the baser human emotions and behaviors.
St. Matthew said, "Not that which goeth into the mouth defileth a man; but that which cometh out of the mouth, this defileth a man."
St. Paul—in One Corinthians—said, "But the natural man receiveth not the things of the Spirit of God: for they are foolishness unto him: neither can he know them, because they are spiritually discerned."
Mormons express it thus: For the natural man is an enemy to God, and has been from the fall of Adam, and will be, forever and ever, unless he yields to the enticings of the Holy Spirit, and putteth off the natural man and becometh a saint through the atonement of Christ the Lord, and becometh as a child, submissive, meek, humble, patient, full of love, willing to submit to all things which the Lord seeth fit to inflict upon him, even as a child doth submit to his father.
Simply as a function of probability, regular church-goers will be exposed to these scriptures and ideas more often; the more often they're exposed, the more likely they are to be inspired by them. And the less likely, unfortunately for Donald Trump, they are to be inspired and impressed by a candidate who indulges his mouth and his natural man at every turn. If we have to subdue our mouth and natural man, why doesn't he?
What this portends for the general election is not obvious. Mike Leavitt, former governor of Utah and a top campaign advisor to Mitt Romney in 2012, suggests that Utah is the Republican canary in the coal mine: "If you lose Utah as a Republican, there is no hope." That would probably be true if Donald Trump were losing Utah as a Republican, but he's not; he's losing it as a vulgar, puerile, volatile candidate.
Church-going Utahns don't like vulgar, puerile, and volatile. It's no coincidence that polite, mild-mannered Bernie Sanders trounced bombastic, unctuous Hillary Clinton 70 to 30 in the Beehive State. And church-going Utahns reflect the sentiments of other church-going Americans all around the country. Evangelicals in South Carolina voted for Donald Trump as a group, but the subset of "practicing" Evangelicals did not. Faith in God was not by itself incompatible with Trump the candidate; faith in God plus weekly church attendance was. Religion was not the deciding factor; behavior was.
It boils down to our priorities, which come from our values, religious or otherwise. Some of us are willing to overlook his behavior in exchange for other goods, and some of us are not. The principled are willing for the GOP to go down in flames rather than vote for a candidate who appalls them politically and/or personally. The pragmatic are willing to hold their nose and vote for the Republican candidate, whoever he is. If Donald Trump can keep the White House away from Democrats, Republicans live to fight another day.
Countless Republicans, myself included, feel torn by reasonable and impassioned arguments on both sides. Would we prefer the guillotine or the hangman's noose? We may change our minds a hundred times between now and July, and another hundred times before we vote in November. Politics is a blood sport, and we're not even close to the final inning.
Some of us will take our ball and go home. Some will soul search. Some will toss a coin. As for me and my house, we will adhere to the immortal words of Camille Paglia: "Read widely and think for yourself."
Donna Carol Voss is an author, blogger, speaker, and mom. A Berkeley grad, a former atheist, pagan, and hot mess, she is now a Mormon on purpose and an original thinker on 21stcentury living. Her memoir, "One of Everything," traces the path through one of everything she took to get here. Follow her on Twitter @donnacarolvoss or stop by www.donnacarolvoss.com.
–
TheBlaze contributor channel supports an open discourse on a range of views. The opinions expressed in this channel are solely those of each individual author.