A week ago, I was a speaker on a panel at the 2016 Pennsylvania Leadership Conference, our commonwealth's version of CPAC. GOP presidential candidates Gov. John Kasich (R-Ohio) and Sen. Ted Cruz (R-Texas) were slated to speak the same afternoon.
I've never been one to thrust myself with meeting famous people, but circumstances brought me very close to both Kasich and Cruz that day. I was surprised - stunned, actually - by the vast contrast between how the two came across.
I saw Kasich first. Because I had introduced the speaker before Kasich, Rep. Mike Kelly (R-Pa.), I was in the restricted area where Kasich would enter the building. When he came through the door, he looked even smaller than he looks on TV. His face was expressionless, his eyes listless. He didn't seem happy to be there.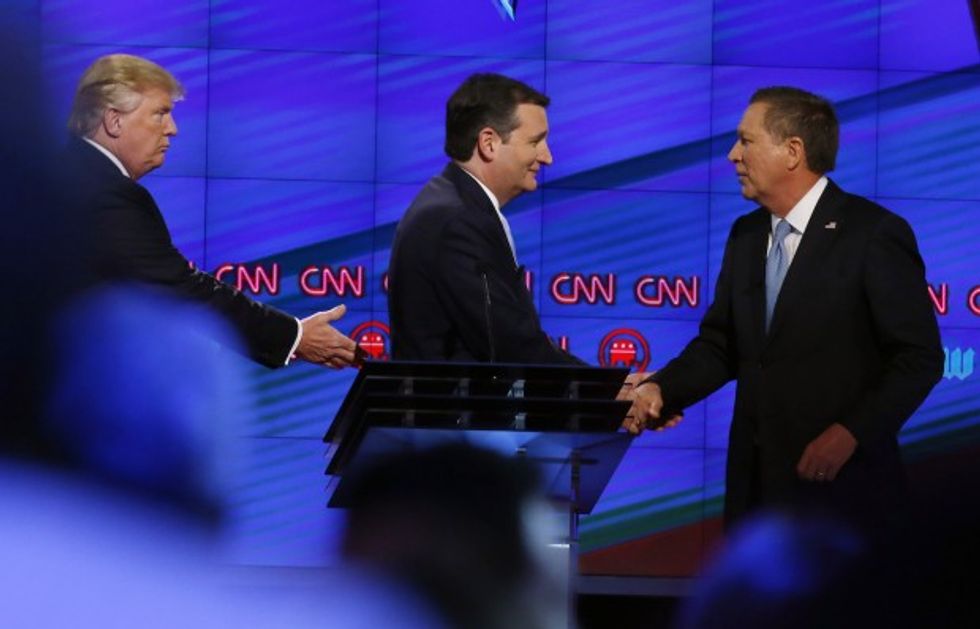 Image source: RHONA WISE/AFP/Getty Images
My first reaction was to give him the benefit of the doubt. I assumed that he was probably exhausted from the physically taxing grind of zooming all over the country, campaigning for votes. I thought he would brighten up a bit when Kelly (who had told me that he'd never met Kasich before) was introduced to the candidate. I was wrong. Kelly was his usual self - sunny, smiling, open, completely likable - and I couldn't see the slightest change at all on Kasich's face. He was remote, unresponsive, vapid. It was almost zombie-like, and made me very uncomfortable.
A short while later, after I listened to Kasich's speech. I thought the man was doing an Obama impersonation due to his repeated use of the pronoun "I." "I did this..." "I did that...," all seeming to imply "I'm really great." His speech was devoid of inspiration, off-putting, and depressing. I could only take it for four or five minutes before I slipped out the back. I wish with all my heart that Kasich enjoys a long, happy life with his lovely family and that the people of Ohio remain happy with his work in office there, but the thought of this man being the president of the United States was unsettling. I agree with Jonah Goldberg's wish that Kasich would go away.
Cruz arrived later in the afternoon. He spoke right after my panel got off stage, so once again I was at the limited-access arrival door. What a welcome change it was when Cruz entered! He was a breath of fresh air. He bounced in smiling, upbeat, joyful, energized. When he took to the stage, he thrilled the crowd, repeatedly bringing them to their feet. He projected optimism, buoyancy, a positive can-do attitude, and - more than anything else - a love of country. Where Kasich had focused on "I," Cruz's emphasis was on America. When he resorted to the first person, he phrased it in terms of "we," not "I." He was recognizing the conservative activists of Pennsylvania as teammates working together to rescue our Constitution from the abuse to which it has been subjected in recent years.
The only aspect of Cruz's speech that surprised me was what drew the loudest standing ovation, drawing the most people out of their seats in enthusiastic endorsement. He must have had 50 applause lines in a 25-30 minute speech, but what excited the audience most wasn't his call to abolish the IRS, get government off our backs, annihilate ISIS, or save the First and Second Amendments; it was that the United States would stand firmly and unapologetically at Israel's side, which I found to be telling.
I wasn't planning on writing about my time at PLC, but when I shared these impressions with a colleague, he said that a lot of people would find them interesting. I hope you were one of them.
God bless America!
Mark Hendrickson is Fellow for Economic and Social Policy with the Center for Vision & Values at Grove City College.
–
TheBlaze contributor channel supports an open discourse on a range of views. The opinions expressed in this channel are solely those of each individual author.