Who could ever forget the hilarious 1993 Saturday Night Live skit with the late funny man Chris Farley playing motivational speaker Matt Foley?
In that skit, Farley's fictional character tells two young teens who had been caught by their parents with marijuana, that if they weren't careful they could end up "eating a steady diet of government cheese and living in a van down by the river."
In 1993, American culture considered someone living in a van to be a "loser," a term that would be deemed politically incorrect today. Fast-forward to 2015 and you would be hailed as a successful up and coming millennial.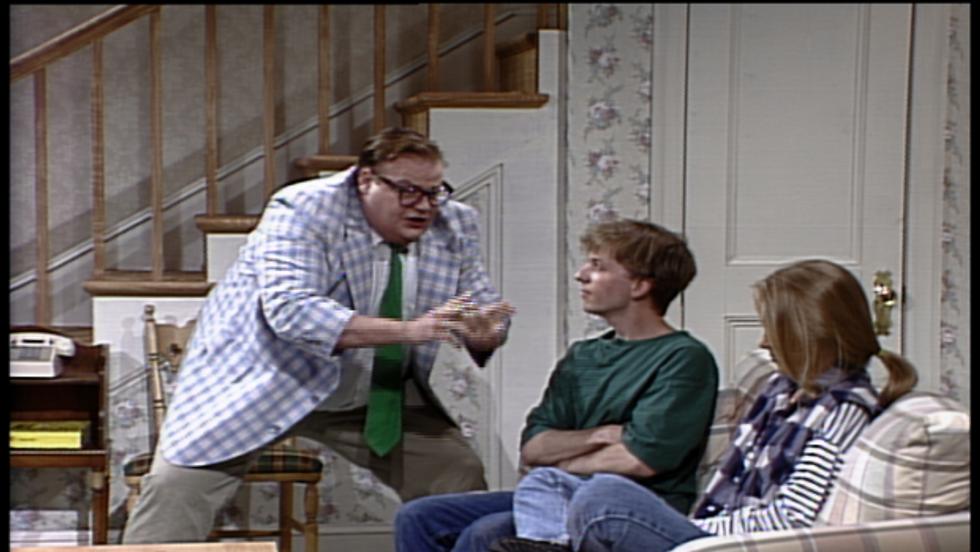 Screengrab
More than just a success, however, you would be the poster child for every leftist organization in America who believes in climate change, Agenda 21 and the most recent United Nations sanctioned Agenda 2030, a plan of action for people, planet and prosperity, according to its website.
Brandon is that successful millennial, employed by Google as a software engineer and living, not in a van and not down by the river, but in a 128-square-foot truck in Google's parking lot.
"I realized I was paying an exorbitant amount of money for the apartment I was staying in — and I was almost never home," he says. "It's really hard to justify throwing that kind of money away. You're essentially burning it — you're not putting equity in anything and you're not building it up for a future — and that was really hard for me to reconcile."
Brandon opted not to give his last name but he unabashedly provided photos of his truck that he purchased for $10,000. And the 2006 Ford truck with 157,000 miles is furnished too!
It has a bed, a dresser and a coat rack for hanging his clothes. He also says that he supplied the truck with a few stuffed animals as well. What else could he possibly need?
As for showers and meals, not a problem. I'm guessing Google pays for that and then passes the cost on to the consumer in the long-run. I also imagine that Google doesn't charge him rent for parking his truck on their lot.
Brandon eats all of his meals on Google's campus and then showers in the corporate gym after his workout. He never has to leave his home ... I mean his truck.
What does he do with the money he saves?
Brandon says that not having to pay the high cost of rent in San Francisco each month allows him to eat at the finer restaurants in the area. It will also allow him to travel in the future which he hopes to do.
Am I the only one that sees that Brandon is already living the life that Agenda 2030 would love for us all to be living sooner rather than later?
I recently invited Patrick Wood on my show, Stand For Truth Radio, to discuss the impact that Agenda 2030 will have on our lives.
Wood is the author of the book "Technocracy Rising: The Trojan Horse of Global Transformation," and someone who is very familiar with the U.N. plan and others toward "scientific dictatorship," by having us adhere to global programs such as sustainable development, green economy and smart growth.
We discussed the 17 sustainable development goals set forth in Agenda 2030 and it appears Brandon could easily boast that he is promoting goal 11, which is "Make cities and human settlements inclusive, safe, resilient and sustainable." I'd say he should even get a gold star!
He has figured out a way to obtain safe and affordable housing by living in a low cost truck and has acquired basic services, courtesy of Google. He also doesn't have to worry about high transportation costs apparently because his truck is parked in the same location most of the time.
And just think of how much he is reducing his carbon footprint and saving the environment.
Wouldn't it be great if everyone who worked at Google would just buy a truck and park it on the Google campus? Then everyone could participate in the master global plan to save the world.
Maybe you can tell that I'm not impressed with the progressive Agenda 2030 scheme to gain control over practically every aspect of our lives from what we eat, to where we live and how we live.
Ultimately, I believe in order for Agenda 2030 to be successful, at least as it pertains to housing, it will be necessary to convince millennials that they don't want to own a home and be burdened with a mortgage, that they want to live in small living quarters, because after all they only really need to sleep there and that their "smart" choices will be best not only for themselves but for everyone.
Let's hope most millennials figure out that they don't like "vans and the river" all that much.
To hear the discussion of the important elements you need to know about Agenda 2030 and what it will mean for you and your family, Wood's interview can be heard in its entirety.
Read TheBlaze news story by Kaitlyn Schallhorn here.
–
TheBlaze contributor channel supports an open discourse on a range of views. The opinions expressed in this channel are solely those of each individual author.