CNN correspondent Christiane Amanpour interviewed Paris Mayor Anne Hidalgo this week in a segment scheduled to air later in the day, but the mayor said something during the exchange that Amanpour just couldn't sit on till the afternoon:
The city of Paris is planning to sue CNN rival Fox News over recent claims made by Fox guests and hosts about so-called "no-go zones" in Paris and other cities in Europe where non-Muslims are allegedly not allowed.
I'm surprised the network didn't interrupt "CNN Newsroom" with the announcement. Maybe it did; I wasn't watching. But Amanpour tweeted it nonetheless:
BREAKING: Paris is going to sue @FoxNews after image of Paris was "insulted" and "prejudiced," Mayor @Anne_Hidalgo tells me.

— Christiane Amanpour (@camanpour)

January 20, 2015
Perhaps Amanpour should do a follow-up interview with the mayor and explain to her what a bad idea a lawsuit would be.
A government entity, even a municipality, suing a news outlet, especially one with a limited presence in its country, sets a terrible precedent. That's because it's not the government's job to hold the press accountable; on the contrary, it's the press that keeps government in check.
You and I hold the news media accountable. Every time we change the channel. Or write a blog post. Or point out a factual error on social media.
Media organizations also hold each other accountable. Cable news channels call each other out on errors all the time. And Jon Stewart, well, he gives all of them hell, especially Fox.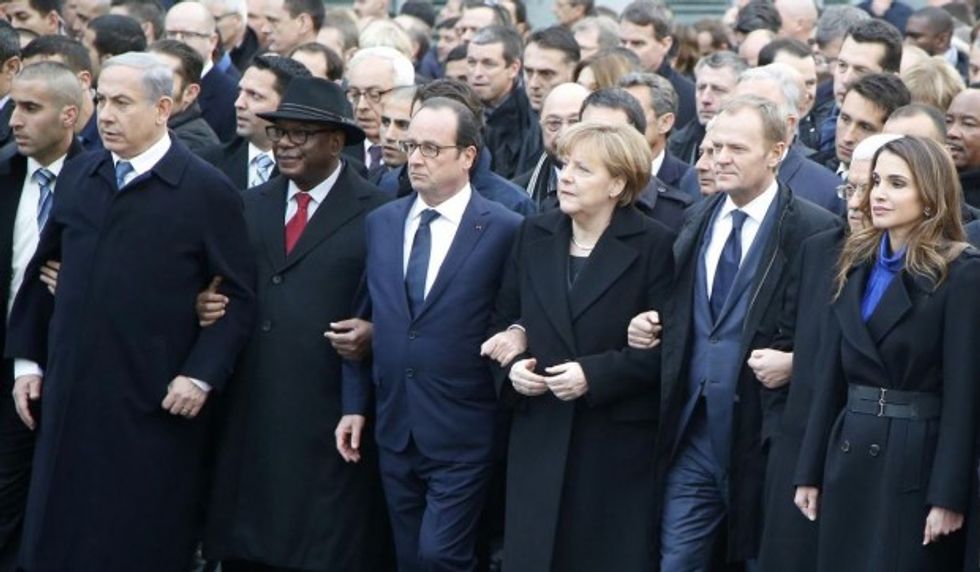 From left, Israeli Prime Minister Benjamin Netanyahu, Malian President Ibrahim Boubacar Keita, French President Francois Hollande, German Chancellor Angela Merkel, EU president Donald Tusk, Queen Rania of Jordan march in Paris, France, Sunday, Jan. 11, 2015. Thousands of people began filling France's iconic Republique plaza, and world leaders converged on Paris in a rally of defiance and sorrow on Sunday to honor the 17 victims of three days of bloodshed that left France on alert for more violence. (AP Photo/Michel Euler)
Free societies encourage competition among the press, therefore it's in each media organization's best interest to build trust with the public and to point out when its competition falls short.
And when someone screws up, they usually own it, apologize and move on.
Which Fox did at least four times. As CNN senior legal analyst Jeffrey Toobin noted, "the system has worked" and "the courts don't need to get involved here." It's part of the beauty of having a free press.
The fact is, cable news contributors and guests who continually damage a channel's credibility don't get invited back. When's the last time you saw Dick Morris?
It's somewhat bewildering that Paris, less than two weeks after hosting a march that supported free speech, is prepared to file a lawsuit against a news organization for comments made on air that the city found insulting.
Apparently the irony escapes Mayor Hidalgo.
But she can't have missed the fact that a lawsuit against Fox News would be an uphill battle. CNN points out that media law experts believe a defamation lawsuit filed in the U.S. by a city would likely be tossed right away. The Chicago Tribune, for example, was sued by the city of Chicago nearly 100 years ago and won in the Illinois Supreme Court. Courts generally come come down on the side of the media when it comes to criticizing government.
And U.S. law protects the news media from decisions made by foreign courts. With the 2010 SPEECH Act, the message to other governments is clear: Don't even try to screw with our First Amendment.
If there were such a thing as Fox News France, it might be a different story. But Fox News has no significant presence in the country. Even sister network Sky News doesn't have a French bureau. I suppose the mayor could target Fox reporters with parking tickets when they're in town covering a big story. But that's about it.
Consider this: Just a few days ago, millions of people in Paris sent the message that even insulting a religion is not out of bounds when one is exercising free speech and freedom of the press.
So when that same city resorts to shakedown and shaming tactics using the courts, it comes across as downright petty. Why Christiane Amanpour didn't push back in the interview is beyond me. Bill O'Reilly wouldn't have made it to commercial without telling the mayor that suing Fox would be a fool's errand. (How do you say "pinhead" in French?)
The reality is that people in the news media sometimes get their facts wrong. Occasionally cable news anchors and guests say dumb things. If you've ever watched Al Sharpton or Chris Matthews, you know this goes way beyond Fox News.
Let's take it even further. Consider RT. Can we sue Vladimir Putin for all the anti-American propaganda on that channel? Only in the court of public opinion. And since no one really watches RT, the verdict is already in. That's how the system works, and that's how it ought to work.
If we didn't give the press the freedom to sometimes get it wrong (in good faith, of course) it wouldn't take the risks necessary to tell the stories we need to hear. And in a world like that, government would have way too much power.
That's why the mayor of Paris needs to forget about this silly lawsuit. I'd say the same if she were going after MSNBC.
Vive la liberté de la presse.
Je suis Fox News.
Shane Raynor lives in Nashville, Tennessee and is an editor at Ministry Matters.
–
TheBlaze contributor channel supports an open discourse on a range of views. The opinions expressed in this channel are solely those of each individual author.