Former Secretary of State and current 2016 presidential candidate Hillary Clinton is on a mission and it has been completely ignored by the mainstream media.
Speaking at the sixth annual 2015 Women in the World Summit in New York recently, Clinton had a few choice things to say to the world. And even though the summit was about women, Clinton had another agenda which went mostly unreported.
Clinton, the proud recipient of the Margaret Sanger award in 2009, the award from none other than the "mother of eugenics," now wants to change your "deep seated…religious beliefs" among other aspects of your culture, so that abortions will be available without interference from principles that shouldn't matter.
"Rights have to exist in practice — not just on paper," Clinton argued. "Laws have to be backed up with resources and political will ... And deep-seated cultural codes, religious beliefs and structural biases have to be changed," Clinton added.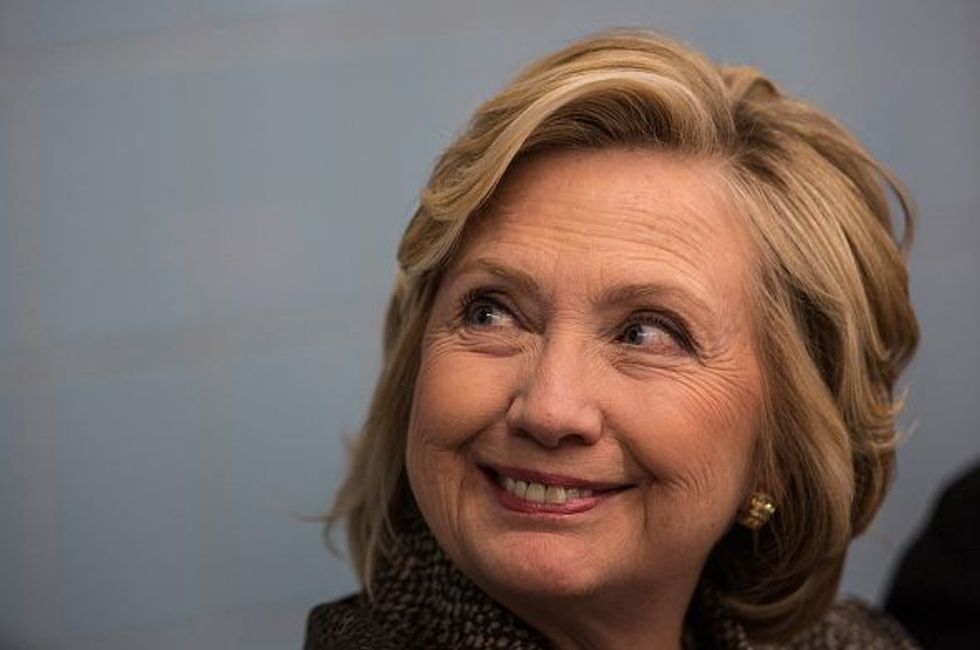 Former Secretary of State Hillary Clinton. (Photo by Andrew Burton/Getty Images)
Reminiscent of the rhetoric from President Barack Obama's "Hope & Change" campaign mantra, Clinton's new campaign slogan, at least from what was said during her New York speech, should probably be "Move over God, Family & Culture."
Reading between the lines, it was obvious that Clinton took aim at Christians in America during the recent women's summit. Implications of Clinton's speech toward Christians couldn't be clearer.
It was perhaps Clinton's attempt to hammer the final nail into America's proverbial coffin by lessening Christians' religious, cultural, and familial beliefs. If achieved, the result will be that God, the Bible and the U.S. Constitution which was founded upon Christian principles, will take a back seat to other progressive agendas, at least in a Clinton presidency.
America, under Clinton, would usher in yet another new era. It could possibly be such a cataclysmic transformation that even Obama will have to admit that he's impressed.
Perhaps hoping that she had not revealed too much, Clinton returned to the original subject about women, setting aside religion and other important beliefs for a moment, and moved on toward "unfinished business."
"As I have said and as I believe, the advancement of the full participation of women and girls in every aspect of their societies is the great unfinished business of the 21st century," Clinton claimed.
[sharequote align="center"]It could be such a cataclysmic transformation that even Obama will have to admit he's impressed.[/sharequote]
Clinton added, "Not just for women but for everyone ... And not just in faraway countries but right here in the United States."
Clinton then moved on to another part of her discourse.
Clinton, not wanting to leave out those that may have the opportunity to illegally vote for her in the 2016 election should she become the Democratic presidential nominee, tied women's rights to the rights of those illegally in the country and even took aim at talk radio.
"There are those who offer themselves as leaders who would deport mothers working to give their children a better life, rather than risk the ire of talk radio," Clinton said.
What is ironic about Clinton's speech and where it was given is that the summit was held at the David H. Koch Theater at Lincoln Center.
As you may know, Koch is a Republican and part of the "hated" Koch Brothers' dynasty that all "good" progressives on the left despise as being a participant in the "war on women."
Apparently, the irony of the venue was lost on Clinton and those in attendance.
But as for her religious principles, not to worry. I'm sure Clinton's Christian principles will never change and parts of her speech were just a misunderstanding of what she really meant, right?
Clinton clarified in June 2014 while doing her best "Nancy Pelosi" impression during a New York Times interview that she's really all about the "Word," just like you.
Clinton was asked by the interviewer if she had to name one book that made her who she is today, what would it be?
In an answer that Pelosi could be proud of, Clinton answered, "At the risk of appearing predictable, the Bible was and remains the biggest influence on my thinking."
She continued, "I was raised reading it, memorizing passages from it and being guided by it ... I still find it a source of wisdom, comfort and encouragement."
Perhaps Clinton's recent statements at the women's summit regarding religious beliefs just mirror the fact that religious liberties of Christians are currently under attack by the progressive left in this country. Maybe indicating that those beliefs must be changed is just her idea of "riding the popular left-wing progressive political agenda" with no intent to ever follow through on diminishing the rights granted to every American under the Constitution.
I'm not buying it. Let us not forget how Clinton once "evolved" on her views toward gay marriage when she was first against it and then for it.
Undoubtedly, if true to Clinton form, look for her further evolution when it comes to changing Americans' religious beliefs, family and culture should she be elected president.
And, if true to form, also expect the mainstream media to remain silent on such a crucial issue to Christians.
–
TheBlaze contributor channel supports an open discourse on a range of views. The opinions expressed in this channel are solely those of each individual author.